ERR Labor Day 5K
ERR Labor Day 5K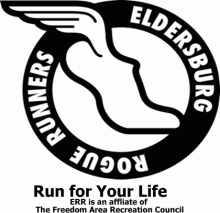 Labor Day Rogue Race
    5K Running Event
       September 7, 2020     
       at  9:00AM                                                                                                                                                                                                                                                                                                                                                                                                                                                                                                                       
  Please note our new Location
1623 Brewing Co.
5975 Exchange Dr. 
Sykesville Md 21784
     5K    9:00 a.m. (chip timed) It will be a socially distanced staggered start.
ERR Member Prices: 5K - $30
                                                                                            Non-ERR Member Prices: 5K - $35                                                                                             Virtual Option $30
Price includes a free T-shirt, Face Mask, and 1623 Limited edition drinking glass!
*NOTE* T-shirt offer is only good through 8/21/2020
For those participants 21 years and older, one free beer on 9/7/20 compliments of 1623 Brewing Co.
Bring your ID
Masks required at 1623 Brewing Co.
There will be a food truck onsite for food purchase at 1623 
Mail in Registration form or Register on ItsYourRace.com
You can also register at Tri Sport Junction
Packet pick-up: Saturday 9/5 from 1-5pm and Sunday 9/6 from 11-3 pm at Tri Sport Junction
7568 B Main Street Sykesville
NO Race Day Registration
The Labor Day Race is the Eldersburg Rogue Runners primary fundraiser. Please enjoy this event and help us continue to support our area runners, walkers and bike riders. 
                      Following guidelines this will be a non-water stop event. Please carry your own water.
A portion of the proceeds will go to the Sykesville Happython which helps bring joy to children in our community through the holiday season
ERR  provides opportunities for group runs, training, scholarships, community service opportunities, community event support, and Youth Track and Cross Country Programs.
PLEASE observe the below COVID-19 Precautions!
--Do not participate if you are feeling sick or ill, and or have a fever, or if you have been in contact with someone unrecovered from Covid-19
--Persons from high Risk groups for Covid-19 should consult their physician before participating
--Do not engage in traditional forms of physical contact ( hand shake, high fives, hugs, partner ---stretching, etc.)Do not engage in close group picture/selfies. Maintain social distance guidelines
--Do not spit or "nose Rocket" in public, Bring along tissues or hanky
--Do not share personal items such as hydration, energy gels, towels, etc
--Participants Face mask coverings are required anytime social distancing cannot be maintained
--Participants should carry personal Hydration packs and use hydration stations to refill only
--For those participating in group runs, should you test positive for Covid-19, and have attended group runs in the past 14 days, please notify your club leader. Do not participate in any group gathering until you are recovered from Covid-19 and have received approval from your Dr.
Division: 5K Place Bib # Name Gun Start Finish Gun Elapsed Age Gender Division _____________________________________________________________________________________________________________________________ 1 433 BRIAN CAVE 09:03:01.7 09:19:23.2 00:16:21.5 22 M 5K 2 436 SEAN CURRAN 09:03:01.7 09:19:41.4 00:16:39.7 35 M 5K 3 752 Tafari Stephenson 09:09:58.8 09:26:47.8 00:16:49.0 17 M 5K 4 438 PEYTON DILL 09:03:01.7 09:20:04.9 00:17:03.1 15 M 5K 5 456 JOHN FORD 09:03:01.7 09:20:15.6 00:17:13.8 28 M 5K 6 771 Seth Lassiter 09:09:58.8 09:28:02.4 00:18:03.6 16 M 5K 7 755 Jacob Havins 09:09:58.8 09:28:19.3 00:18:20.5 19 M 5K 8 603 MICHAEL WADE 09:03:01.7 09:21:26.3 00:18:24.6 17 M 5K 9 769 Davis Trump 09:09:58.8 09:28:31.5 00:18:32.7 16 M 5K 10 601 JAKE RUPPAL 09:03:01.7 09:21:38.8 00:18:37.1 31 M 5K 11 746 Chris Mead 09:09:58.8 09:28:51.3 00:18:52.4 33 M 5K 12 602 Sherry Stick 09:03:01.7 09:22:14.0 00:19:12.2 40 F 5K 13 593 Maura Knestout 09:03:01.7 09:22:15.8 00:19:14.1 27 F 5K 14 605 TOM YINGER 09:03:01.7 09:22:24.6 00:19:22.9 50 M 5K 15 597 MICHAEL MEADOWS 09:03:01.7 09:22:26.2 00:19:24.5 31 M 5K 16 606 KATE YOKAY 09:03:01.7 09:23:05.0 00:20:03.2 17 F 5K 17 764 Allan Gross 09:09:58.8 09:30:06.1 00:20:07.3 57 M 5K 18 598 ADAM MOWER 09:03:01.7 09:23:23.4 00:20:21.6 14 M 5K 19 765 Michael Martin 09:09:58.8 09:30:20.6 00:20:21.8 14 M 5K 20 439 Katie Farrar 09:03:01.7 09:23:26.0 00:20:24.3 37 F 5K 21 608 Hannah Bauer 09:03:58.1 09:24:29.7 00:20:31.6 17 F 5K 22 592 Samuel Heintz 09:03:01.7 09:23:41.4 00:20:39.6 16 M 5K 23 594 DARIO LAVELLE 09:03:01.7 09:23:48.9 00:20:47.2 10 M 5K 24 656 Israel Archuletta 09:05:58.5 09:26:48.1 00:20:49.5 41 M 5K 25 745 Nick Staniewicz 09:09:58.8 09:31:04.1 00:21:05.3 14 M 5K 26 457 JOSH FORMWALT 09:03:01.7 09:24:09.8 00:21:08.1 34 M 5K 27 759 Dan Simon 09:09:58.8 09:31:10.6 00:21:11.8 0 M 5K 28 468 SHANNON HART 09:03:01.7 09:24:18.1 00:21:16.4 22 F 5K 29 616 JOE HARVATINE 09:03:58.1 09:25:14.5 00:21:16.4 58 M 5K 30 599 IZZY PRIBULICK 09:03:01.7 09:24:24.1 00:21:22.4 17 F 5K 31 622 Ken Miller 09:03:58.1 09:25:22.9 00:21:24.8 52 M 5K 32 604 ADAM WEBB 09:03:01.7 09:24:43.7 00:21:41.9 33 M 5K 33 600 Becky Rhodes 09:03:01.7 09:24:58.7 00:21:56.9 40 F 5K 34 610 BILL BROWN 09:03:58.1 09:26:19.7 00:22:21.6 51 M 5K 35 609 Ray Bingham 09:03:58.1 09:26:27.7 00:22:29.6 61 M 5K 36 772 David Grimaldi 09:09:58.8 09:32:31.6 00:22:32.8 34 M 5K 37 434 Danny Crognale 09:03:01.7 09:25:35.7 00:22:34.0 17 M 5K 38 664 BRENDAN HOEY 09:05:58.5 09:28:34.9 00:22:36.3 15 M 5K 39 595 SALVATORE LAVELLE 09:03:01.7 09:25:38.2 00:22:36.5 13 M 5K 40 748 Shelli Beard 09:09:58.8 09:32:56.4 00:22:57.6 51 F 5K 41 612 KATHIA CASTANEDA 09:03:58.1 09:27:00.5 00:23:02.4 21 F 5K 42 649 Ben Painter 09:04:58.0 09:28:09.9 00:23:11.8 22 M 5K 43 611 HOPE CALLAWAY 09:03:58.1 09:27:16.2 00:23:18.1 16 F 5K 44 624 CLIFTON MOWER 09:03:58.1 09:27:17.9 00:23:19.8 52 M 5K 45 614 TOM EVANS 09:03:58.1 09:27:18.8 00:23:20.7 50 M 5K 46 617 MATTHEW HELMINIAK 09:03:58.1 09:27:31.9 00:23:33.7 48 M 5K 47 743 Mike Von Paris 09:09:58.8 09:33:39.3 00:23:40.5 39 M 5K 48 621 Steven Linde 09:03:58.1 09:27:38.7 00:23:40.5 27 M 5K 49 620 Rachel Linde 09:03:58.1 09:27:38.7 00:23:40.6 26 F 5K 50 630 DIANA VACCHIANO 09:03:58.1 09:27:41.2 00:23:43.0 35 F 5K 51 629 CASEY SULLIVAN 09:03:58.1 09:27:41.9 00:23:43.8 26 F 5K 52 640 KRISTIN CUNNINGHAM 09:04:58.0 09:28:44.2 00:23:46.1 36 F 5K 53 747 Jason Schaum 09:09:58.8 09:33:45.9 00:23:47.1 39 M 5K 54 607 MICHELLE BARRICK 09:03:58.1 09:27:47.1 00:23:49.0 56 F 5K 55 623 KERRI MORSE 09:03:58.1 09:28:00.1 00:24:01.9 44 F 5K 56 628 MICHELLE SLOPEK 09:03:58.1 09:28:11.8 00:24:13.7 37 F 5K 57 613 MARSHA DEMAREE 09:03:58.1 09:28:20.8 00:24:22.7 55 F 5K 58 766 Steve Ginski 09:09:58.8 09:34:23.6 00:24:24.8 32 M 5K 59 647 WILLIAM MATTHEWS 09:04:58.0 09:29:23.0 00:24:25.0 47 M 5K 60 639 JASON CORTEZZO 09:04:58.0 09:29:25.1 00:24:27.1 48 M 5K 61 763 Sydney Feola 09:09:58.8 09:34:32.5 00:24:33.7 15 F 5K 62 731 Kellye Gill 09:08:58.4 09:33:43.7 00:24:45.2 35 F 5K 63 740 ALEXANDER LEBRUN 09:08:58.4 09:33:55.9 00:24:57.5 32 M 5K 64 757 Maggie Mesceda 09:09:58.8 09:35:01.2 00:25:02.4 10 F 5K 65 615 TYLER FACINOLI 09:03:58.1 09:29:05.9 00:25:07.8 31 M 5K 66 720 AVA SNYDER 09:07:58.4 09:33:06.3 00:25:07.8 10 F 5K 67 721 ROBERT SNYDER 09:07:58.4 09:33:10.9 00:25:12.5 45 M 5K 68 728 Julia Burchett 09:08:58.4 09:34:12.6 00:25:14.1 38 F 5K 69 722 JULIA WADE 09:07:58.4 09:33:15.2 00:25:16.8 14 F 5K 70 627 ROB SLOPEK 09:03:58.1 09:29:17.7 00:25:19.6 40 M 5K 71 648 ABIGAYLE MORSE 09:04:58.0 09:30:19.4 00:25:21.3 13 F 5K 72 631 Andrew Bauer 09:04:58.0 09:30:30.5 00:25:32.5 16 M 5K 73 762 Katie Louis 09:09:58.8 09:35:41.2 00:25:42.4 16 F 5K 74 626 KIM PUTTERMAN 09:03:58.1 09:29:41.6 00:25:43.5 32 F 5K 75 651 Keith Painter 09:04:58.0 09:30:42.5 00:25:44.5 53 M 5K 76 619 ERIC JOHNSTON 09:03:58.1 09:29:42.8 00:25:44.7 56 M 5K 77 751 KYLE MCMAHON 09:09:58.8 09:35:46.6 00:25:47.7 17 M 5K 78 768 Mary Baker 09:09:58.8 09:35:58.3 00:25:59.5 40 F 5K 79 618 KAILEY JARBOE 09:03:58.1 09:29:57.7 00:25:59.6 16 F 5K 80 641 KELLY DIXON 09:04:58.0 09:31:05.2 00:26:07.2 42 F 5K 81 724 ABBY WAGNER 09:07:58.4 09:34:20.3 00:26:21.9 39 M 5K 82 654 ANDY TURGEON 09:04:58.0 09:31:32.3 00:26:34.2 58 M 5K 83 758 Stan Mesceda 09:09:58.8 09:36:43.8 00:26:45.0 13 M 5K 84 653 BEN STEIN 09:04:58.0 09:31:43.2 00:26:45.2 51 M 5K 85 644 HOLLY HERGAN 09:04:58.0 09:31:44.4 00:26:46.4 53 F 5K 86 696 KELLY SORENSEN 09:06:58.0 09:33:56.2 00:26:58.2 30 F 5K 87 727 Josh Burchett 09:08:58.4 09:35:57.3 00:26:58.8 40 M 5K 88 635 STEVE CHOP 09:04:58.0 09:32:00.4 00:27:02.3 52 M 5K 89 741 FRANK TIBURZI 09:08:58.4 09:36:02.5 00:27:04.0 61 M 5K 90 756 Stan Mesceda 09:09:58.8 09:37:05.0 00:27:06.2 43 M 5K 91 646 NINA LEDBETTER 09:04:58.0 09:32:09.9 00:27:11.8 21 F 5K 92 723 KIM WADE 09:07:58.4 09:35:11.8 00:27:13.4 39 F 5K 93 650 Katie Painter 09:04:58.0 09:32:15.0 00:27:16.9 28 F 5K 94 634 KELSEY CASS 09:04:58.0 09:32:17.2 00:27:19.2 14 F 5K 95 750 MARGARET SMITH 09:09:58.8 09:37:19.5 00:27:20.7 28 F 5K 96 738 LAWRENCE JUNKIN 09:08:58.4 09:36:25.6 00:27:27.1 57 M 5K 97 655 Manny Alvenga 09:05:58.5 09:33:36.9 00:27:38.3 35 M 5K 98 712 CINDY NIVER 09:07:58.4 09:35:43.7 00:27:45.3 41 F 5K 99 717 ED ROTHSTEIN 09:07:58.4 09:35:44.8 00:27:46.4 56 M 5K 100 737 JEFFREY JONES 09:08:58.4 09:36:47.0 00:27:48.5 48 M 5K 101 713 ABIGAIL O'NEILL 09:07:58.4 09:35:49.1 00:27:50.6 10 F 5K 102 760 Marcia Capria 09:09:58.8 09:37:49.5 00:27:50.7 57 F 5K 103 714 MICHAEL O'NEILL 09:07:58.4 09:35:50.2 00:27:51.7 37 M 5K 104 662 KATIE GUYER 09:05:58.5 09:33:57.3 00:27:58.7 14 F 5K 105 709 ROBERT MILSTEAD 09:07:58.4 09:35:58.9 00:28:00.5 62 M 5K 106 645 ERIN LAVELLE 09:04:58.0 09:33:00.6 00:28:02.5 42 F 5K 107 697 TANYA SWIFT 09:06:58.0 09:35:07.9 00:28:09.9 43 F 5K 108 761 Riley Bates 09:09:58.8 09:38:12.2 00:28:13.4 19 M 5K 109 632 EMMA CALLAWAY 09:04:58.0 09:33:13.1 00:28:15.1 16 F 5K 110 633 DAVID CALLAWAY 09:04:58.0 09:33:18.1 00:28:20.1 51 M 5K 111 675 KARA RESTIVO 09:05:58.5 09:34:18.7 00:28:20.1 39 F 5K 112 770 Andrew Meekins 09:09:58.8 09:38:20.4 00:28:21.6 41 M 5K 113 643 CHRIS GUYER 09:04:58.0 09:33:24.9 00:28:26.8 47 M 5K 114 636 CHRIS COLSON 09:04:58.0 09:33:31.8 00:28:33.7 8 M 5K 115 735 CHRISTIE HUTER 09:08:58.4 09:37:32.3 00:28:33.8 37 F 5K 116 706 Jennifer Magers 09:07:58.4 09:36:37.4 00:28:38.9 42 F 5K 117 642 ANDREA EVERTON 09:04:58.0 09:33:37.4 00:28:39.3 52 F 5K 118 739 Michael Knestout 09:08:58.4 09:37:40.6 00:28:42.1 30 M 5K 119 730 NATALIE DELREGNO 09:08:58.4 09:37:42.9 00:28:44.4 47 F 5K 120 718 SAM ROTHSTEIN 09:07:58.4 09:37:04.2 00:29:05.7 21 M 5K 121 716 AUDREY ROTHSTEIN 09:07:58.4 09:37:04.4 00:29:06.0 53 F 5K 122 674 OLGA MOGILEVICH 09:05:58.5 09:35:06.5 00:29:08.0 31 F 5K 123 676 TARA RUOCCO 09:05:58.5 09:35:08.9 00:29:10.4 51 F 5K 124 726 TRACY YOKAY 09:07:58.4 09:37:09.6 00:29:11.1 42 F 5K 125 659 BONNIE CROCHUNIS 09:05:58.5 09:35:13.7 00:29:15.1 41 F 5K 126 682 MELISSA CORTEZZO 09:06:58.0 09:36:15.6 00:29:17.6 41 F 5K 127 707 SHERRI MCCUSKER 09:07:58.4 09:37:18.7 00:29:20.3 38 F 5K 128 749 PATRICK SMITH 09:09:58.8 09:39:21.1 00:29:22.3 60 M 5K 129 715 STACEY PEARCY 09:07:58.4 09:37:21.8 00:29:23.4 40 F 5K 130 637 KEN COLSON 09:04:58.0 09:34:33.3 00:29:35.2 42 M 5K 131 684 SHARON GRAHAM 09:06:58.0 09:36:36.0 00:29:37.9 50 F 5K 132 672 KELLY MIZE 09:05:58.5 09:35:41.8 00:29:43.2 57 F 5K 133 733 KRISTA HILLIS 09:08:58.4 09:38:50.9 00:29:52.4 48 F 5K 134 708 AMY MIKTUS 09:07:58.4 09:38:02.1 00:30:03.7 51 F 5K 135 679 DAVID ARMSTRONG 09:06:58.0 09:37:04.0 00:30:06.0 56 M 5K 136 732 JACK HILLIS 09:08:58.4 09:39:06.7 00:30:08.2 52 M 5K 137 734 ROBERT HOLT 09:08:58.4 09:39:06.7 00:30:08.2 63 M 5K 138 705 HEATHER KERBER 09:07:58.4 09:38:11.0 00:30:12.5 38 F 5K 139 638 TAYLOR COLSON 09:04:58.0 09:35:19.7 00:30:21.7 11 F 5K 140 693 Gina Painter 09:06:58.0 09:37:49.3 00:30:51.3 52 F 5K 141 767 Meghan Ginski 09:09:58.8 09:41:16.8 00:31:18.0 32 F 5K 142 736 JACOB JONES 09:08:58.4 09:40:17.3 00:31:18.8 17 M 5K 143 700 BETH WHITE 09:06:58.0 09:38:19.2 00:31:21.2 46 F 5K 144 703 BETH BUCKALEW 09:07:58.4 09:39:50.4 00:31:52.0 53 F 5K 145 658 DEBBIE CLINE 09:05:58.5 09:37:52.6 00:31:54.0 59 F 5K 146 673 ARTHUR MOGILEVICH 09:05:58.5 09:37:59.7 00:32:01.2 41 M 5K 147 692 JASON NIVER 09:06:58.0 09:39:02.3 00:32:04.3 43 M 5K 148 688 KATE LEDBETTER 09:06:58.0 09:39:09.8 00:32:11.8 57 F 5K 149 702 MARGOT WOLMAN 09:06:58.0 09:39:10.9 00:32:12.8 56 F 5K 150 773 Nick Hottman 09:09:58.8 09:42:38.2 00:32:39.4 41 M 5K 151 665 BRIAN HOEY 09:05:58.5 09:38:42.5 00:32:43.9 46 M 5K 152 690 SIMONE MATTHEWS 09:06:58.0 09:39:54.6 00:32:56.5 15 F 5K 153 694 LOEL ROMEO 09:06:58.0 09:40:23.1 00:33:25.1 56 F 5K 154 698 LISA TALBOT 09:06:58.0 09:40:28.5 00:33:30.4 56 F 5K 155 686 MARTHA ISACCO 09:06:58.0 09:41:09.6 00:34:11.5 42 F 5K 156 729 CORY DELREGNO 09:08:58.4 09:43:11.4 00:34:12.9 49 M 5K 157 669 ALYSSA MEAD 09:05:58.5 09:40:12.5 00:34:13.9 47 F 5K 158 671 Summer Miller 09:05:58.5 09:40:41.8 00:34:43.2 13 F 5K 159 663 LOU ANN HELMINIAK 09:05:58.5 09:40:41.8 00:34:43.2 52 F 5K 160 725 ANNA YOKAY 09:07:58.4 09:42:47.3 00:34:48.9 14 F 5K 161 678 HEATHER WILDERSON 09:05:58.5 09:40:55.6 00:34:57.0 41 F 5K 162 754 JAMES LEWIS 09:09:58.8 09:44:57.0 00:34:58.2 36 M 5K 163 657 APRIL BAREFOOT 09:05:58.5 09:40:57.6 00:34:59.1 33 F 5K 164 753 CRYSTAL LEWIS 09:09:58.8 09:44:58.5 00:34:59.7 43 F 5K 165 687 MICHAEL JARBOE 09:06:58.0 09:42:02.3 00:35:04.2 52 M 5K 166 685 DAWN HARVATINE 09:06:58.0 09:42:06.5 00:35:08.5 58 F 5K 167 689 ANGELA LINDE 09:06:58.0 09:42:07.7 00:35:09.6 56 F 5K 168 691 LIZZET MATTHEWS 09:06:58.0 09:42:30.1 00:35:32.1 45 F 5K 169 699 MADDIE WATSON 09:06:58.0 09:42:42.6 00:35:44.6 26 F 5K 170 695 GLENN SMINK 09:06:58.0 09:43:22.4 00:36:24.4 70 M 5K 171 677 GABBY WATSON 09:05:58.5 09:42:42.7 00:36:44.1 24 F 5K 172 683 SKIP FENNELL 09:06:58.0 09:45:10.1 00:38:12.1 76 M 5K 173 661 Andrew Gill 09:05:58.5 09:46:02.8 00:40:04.2 36 M 5K 174 744 Jack Behle 09:09:58.8 09:50:11.9 00:40:13.1 64 M 5K 175 719 SUSAN SCHAMBER 09:07:58.4 09:48:28.6 00:40:30.2 59 F 5K 176 668 CARRIE MCGRATH 09:05:58.5 09:46:33.9 00:40:35.3 42 F 5K 177 660 MATT FIROR 09:05:58.5 09:59:08.7 00:53:10.1 53 M 5K