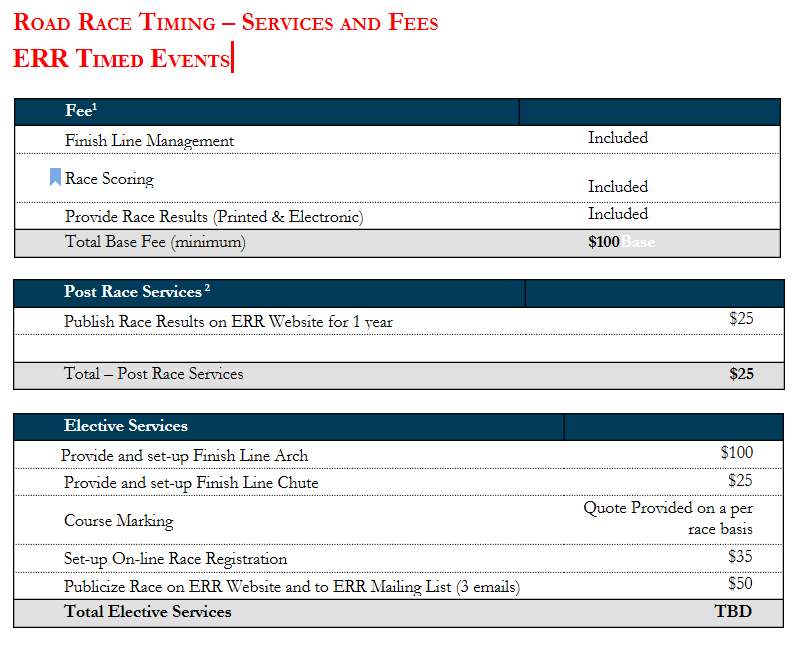 Base Road Race Service Quote Assumes


Race is in Carroll County, MD
Assumes all race participants will have a distinct race bib, with bar code tab (tear-away)
For races outside of Carroll County, a travel fee may be charged
Assumes race participant data is provided in advance electronically in a format provided by ERR.
Assumes 40% of Race Participants are Race-Day
For races in excess of 200 runners, $1 per runner over 200 will be charged.
The Finish Chute will be at least 75 Feet in length, five (5) Yards wide at the finish, and 5 (five) feet wide at the chute exit.
ERR will provide finish line spotter, Chute judges, data entry & result certification and LED Timer.
For a quote on Track & Field Services or Cross Country Meet Services, contact ERR for a quote.

Post Race Services:
Results will be posted on the results page of the ERR website: www.errun.org
ERR Race Timing Services and Fees
Pre-Race Setup

 

Race Participant Entries

Review data provided by race organizer
Enter Entries into Scoring Software
Arrive 1 hour before race. 1.5 hours for road races where race-day entries are expected

 

Finish Line Administration

Work with Race Director to finalize finish and chute placement
Race participant database set up and populated
Provide Spotter, Data Entry, and chute management (3 People).
Provide LED Digital Display Timer

 

Items provided by the Race Director/Organizer

Secure area for timing computer/printer set-up
Access to Power (ERR does have an emergency battery back-up) but hardline access to electricity is preferred
Locate in relative close proximity to Finish Line
Bottled water for Volunteers
Excel File with Pre-registered race participants by Bib-number with Age and Gender data fields (by Team if team scoring is to be done).
Race participants signing up on race-day will be assigned a distinct bib number by the race organizer

 

ERR Website

Generally, ERR does not publicize events that it does not sponsor or time.
If ERR is selected to time your Road Race, ERR members will receive a Race Entry Discount.
This discount can be provided on Race Day as a rebate, and ERR will provide a complete alphabetized list of its active membership to the race director/race registration team. This is typically a discount of $5.00.

 

Use of ERR Equipment

 

About ERR

ERR is a non-profit organization
ERR is an affiliate of The Freedom Area Recreation Council ("FARC") and The Carroll County Department of Recreation & Parks
ERR has no salaried employees and is supported entirely by volunteers
While ERR endeavors to support running activities in the County, there may be events that ERR cannot support due to lack of volunteers, calendar conflicts, lack of running club support.

 

Equipment Ownership

The Equipment (Timer, LED Timer, Arch, Finish Chute, Plungers, Printer, Computer, Timing Software etc.) are owned by ERR, not any one individual
The fee structure outlined in this document is intended to allow ERR to maintain the equipment in good-working order
On a case-by case basis, ERR may consider different fee structures (where fewer ERR volunteers are needed, support for local schools in Carroll County, ERR members are involved in organizing the race, etc.).

 

Route Approval

ERR does not require involvement in the race route design. Moreover, ERR is not to be held liable for issues arising from obtaining proper Use of Facilities and support of local authorities.
However, ERR does reserve the right to withdraw its support if ERR deems the route "unsafe".
The Final Race Route should be provided at least thirty (30) days prior to the race date. Once ERR confirms its support, the route should not be changed. Changing the route could result in ERR withdrawing its support.