ERR Labor Day 5K and 1 Mile Fun Run
ERR Labor Day 5K and 1 Mile Fun Run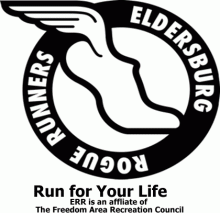 Labor Day Rogue Race
5K Running Event 
 September 4, 2023
Freedom Chiropractic & Rehab
5K 9:00 a.m. (chip timed)
1 Mile Fun Run 9:45am (not chip timed)
ERR Member Prices: 5K - $30
(Want to become an ERR member? 
https://errun.org/err-membership
)
Non-ERR Member Prices: 5K - $35
Virtual 5K: $30
Kids 1 Mile Fun Run: $10 
Prize money to the top 3 males and top 3 females,
age group medals (1st place for every 5 yrs), 9 and under - 70 and over
 
Price includes a free Tech T-shirt.
NOTE: Last day to get a T-shirt with registration is 8/15/2023!
Mail-in Registration form, Register on ItsYourRace.com, or You can also register at Tri Sport Junction.
 
Packet pick-up: Sunday, September 3, 11 am – 2 pm at
Tri Sport Junction, 7568 B Main St, Sykesville
The Labor Day Race is the Eldersburg Rogue Runners' primary fundraiser. Please enjoy this event and help us continue to support our area runners, walkers, and bike riders. A portion of the proceeds will go to the 
Athletes Serving Athletes
Race Sponsorships of $200+ include:
logo on race shirt
promotional posts on social media
logo with a link to your website on the ERR website
1 free race entry & t-shirt
ERR provides opportunities for group runs, training, scholarships, community service opportunities, community event support, and Youth Track and Cross-Country Programs.
Age Group Report: 9/4/2023 3:51:58 PM 5K Top Females Overall based on Chip Elapsed time Place Bib # Name Chip Start Finish Chip Elapse Age Gender Division _____________________________________________________________________________________________________________________________ 1 577 SHERRY STICK 09:02:32.3 09:22:54.3 00:20:21.9 45 F 5K 2 481 TAYLOR COLSON 09:02:32.3 09:24:19.5 00:21:47.1 15 F 5K 3 500 REBECCA GAUTHIER 09:02:32.3 09:24:23.0 00:21:50.7 18 F 5K 5K Age Group Results for Female Under 11 based on Chip Elapsed time Place Bib # Name Chip Start Finish Chip Elapse Age Gender Division _____________________________________________________________________________________________________________________________ 1 337 LEAH ALLETAG 09:02:32.3 09:31:13.9 00:28:41.5 10 F 5K 2 519 PENNY HOFFMAN 09:02:32.3 09:32:49.2 00:30:16.9 9 F 5K 3 534 KENZIE LABARRE 09:02:32.3 09:37:43.4 00:35:11.1 9 F 5K 4 347 KORA BUBENKO 09:02:54.1 09:56:50.7 00:53:56.6 10 F 5K 5K Age Group Results for Female 11-14 based on Chip Elapsed time Place Bib # Name Chip Start Finish Chip Elapse Age Gender Division _____________________________________________________________________________________________________________________________ 1 545 ABIGAIL O'NEILL 09:02:32.3 09:27:29.8 00:24:57.5 13 F 5K 2 338 PENNY ALLETAG 09:02:32.3 09:29:49.7 00:27:17.3 12 F 5K 5K Age Group Results for Female 15-19 based on Chip Elapsed time Place Bib # Name Chip Start Finish Chip Elapse Age Gender Division _____________________________________________________________________________________________________________________________ 1 551 MAYA POTTER 09:02:32.3 09:25:36.5 00:23:04.1 17 F 5K 2 543 Summer Miller 09:02:39.5 09:34:24.3 00:31:44.7 16 F 5K 5K Age Group Results for Female 25-29 based on Chip Elapsed time Place Bib # Name Chip Start Finish Chip Elapse Age Gender Division _____________________________________________________________________________________________________________________________ 1 579 Casey Sullivan 09:02:35.1 09:29:42.7 00:27:07.5 29 F 5K 2 476 COURTNEY COLE 09:02:32.3 09:30:35.5 00:28:03.1 26 F 5K 3 560 EMILY ROTHSTEIN 09:02:41.8 09:33:37.3 00:30:55.5 27 F 5K 4 594 CASSANDRA WEAS 09:02:46.4 09:51:24.6 00:48:38.2 27 F 5K 5K Age Group Results for Female 30-34 based on Chip Elapsed time Place Bib # Name Chip Start Finish Chip Elapse Age Gender Division _____________________________________________________________________________________________________________________________ 1 521 NEISHA HORAN 09:02:32.3 09:28:12.0 00:25:39.6 33 F 5K 2 572 GWEN SMITH 09:30:30.9 09:58:31.1 00:28:00.2 32 F 5K 3 482 KIM CONTURO 09:02:41.8 09:31:15.0 00:28:33.2 34 F 5K 4 536 NATALIE LITZAU 09:02:44.8 09:33:53.8 00:31:08.9 32 F 5K 5 549 KATIE PAINTER 09:02:39.0 09:34:39.6 00:32:00.5 31 F 5K 6 538 LAUREN MCDONOUGH 09:02:32.3 09:35:08.2 00:32:35.8 33 F 5K 7 531 TANA KING 09:02:54.3 09:35:51.1 00:32:56.8 33 F 5K 8 515 ALLISON HERRITY 09:02:37.6 09:47:11.8 00:44:34.1 30 F 5K 5K Age Group Results for Female 35-39 based on Chip Elapsed time Place Bib # Name Chip Start Finish Chip Elapse Age Gender Division _____________________________________________________________________________________________________________________________ 1 592 DIANA VACCHIANO 09:02:35.4 09:25:56.1 00:23:20.7 38 F 5K 2 516 Lindsay Hlavka 09:02:52.6 09:29:28.2 00:26:35.6 36 F 5K 3 480 MARY COLSON 09:02:37.4 09:32:42.8 00:30:05.4 38 F 5K 4 576 MICHELLE STEEN 09:02:36.9 09:32:55.8 00:30:18.8 39 F 5K 5 507 MARIA HACHE 09:02:43.7 09:33:38.2 00:30:54.5 38 F 5K 6 562 AMANDA RUTTER 09:02:36.7 09:35:25.9 00:32:49.1 37 F 5K 7 586 KARA TAMBURELLO 09:02:40.9 09:38:07.9 00:35:27.0 36 F 5K 8 535 JESSICA LEWIS 09:02:39.5 09:40:29.2 00:37:49.7 38 F 5K 9 518 CAYCE HOFFMAN 09:02:45.6 09:43:46.6 00:41:01.0 36 F 5K 10 503 RACHEL GRIFFITH 09:02:41.0 09:45:56.1 00:43:15.0 36 F 5K 11 502 KATIE GRIFFITH 09:02:41.4 09:45:56.6 00:43:15.2 36 F 5K 5K Age Group Results for Female 40-44 based on Chip Elapsed time Place Bib # Name Chip Start Finish Chip Elapse Age Gender Division _____________________________________________________________________________________________________________________________ 1 553 BECKY RHODES 09:02:32.3 09:25:26.7 00:22:54.3 43 F 5K 2 342 MARY BAKER 09:26:36.3 09:50:42.4 00:24:06.0 43 F 5K 3 340 MEGAN ANDERSON 09:02:39.1 09:28:27.8 00:25:48.7 40 F 5K 4 486 Becky Deisterhoft 09:02:32.3 09:29:21.1 00:26:48.7 41 F 5K 5 530 MICHELLE KIM 09:02:54.5 09:32:31.6 00:29:37.1 43 F 5K 6 506 NANCY HABECKER 09:02:40.6 09:32:25.2 00:29:44.5 40 F 5K 7 483 SARA CURRAN 09:02:42.7 09:35:03.3 00:32:20.5 40 F 5K 8 533 ERIN LABARRE 09:02:38.1 09:37:49.8 00:35:11.6 40 F 5K 9 564 JULIE SCHRUEFER 09:02:36.2 09:44:10.3 00:41:34.1 44 F 5K 10 597 AMY WHALEN METZ 09:02:42.5 09:49:57.7 00:47:15.1 42 F 5K 11 346 JENNIFER BUBENKO 09:02:53.6 09:56:50.8 00:53:57.1 43 F 5K 5K Age Group Results for Female 45-49 based on Chip Elapsed time Place Bib # Name Chip Start Finish Chip Elapse Age Gender Division _____________________________________________________________________________________________________________________________ 1 603 Kelly Meekins 09:02:32.3 09:25:59.3 00:23:27.0 49 F 5K 2 604 Joy Gude 09:02:32.3 09:28:14.5 00:25:42.1 49 F 5K 3 488 KELLY DIXON 09:02:35.7 09:29:46.1 00:27:10.4 45 F 5K 4 581 TANYA SWIFT 09:02:49.8 09:35:51.9 00:33:02.1 46 F 5K 5 495 MARIVEL FONTANEZ 09:02:48.9 09:36:50.4 00:34:01.5 45 F 5K 6 598 EA WHITE 09:02:44.9 09:39:34.6 00:36:49.7 49 F 5K 7 525 MARTHA ISACCO 09:02:50.0 09:48:06.8 00:45:16.8 45 F 5K 8 539 CARRIE MCGRATH 09:02:50.2 09:48:07.9 00:45:17.6 45 F 5K 9 555 JULIE RITCHIE 09:02:54.4 09:55:44.4 00:52:49.9 48 F 5K 5K Age Group Results for Female 50-54 based on Chip Elapsed time Place Bib # Name Chip Start Finish Chip Elapse Age Gender Division _____________________________________________________________________________________________________________________________ 1 541 ALYSSA MEAD 09:02:42.7 09:39:33.1 00:36:50.3 50 F 5K 2 547 CHRISTINA OGLE 09:02:45.6 09:44:10.3 00:41:24.6 52 F 5K 3 485 KELLY DAVIS 09:02:41.9 09:53:35.7 00:50:53.8 52 F 5K 4 558 NADINE ROSENDALE 09:02:56.8 09:59:41.9 00:56:45.1 51 F 5K 5K Age Group Results for Female 55-59 based on Chip Elapsed time Place Bib # Name Chip Start Finish Chip Elapse Age Gender Division _____________________________________________________________________________________________________________________________ 1 487 MARSHA DEMAREE 09:02:32.3 09:27:54.1 00:25:21.7 58 F 5K 2 493 ANDREA EVERTON 09:02:37.0 09:34:15.7 00:31:38.6 55 F 5K 3 548 GINA PAINTER 09:02:38.2 09:34:39.3 00:32:01.0 55 F 5K 4 559 AUDREY ROTHSTEIN 09:02:41.9 09:35:06.8 00:32:24.8 56 F 5K 5 343 DONNA BEAGLE 09:02:37.4 09:37:56.1 00:35:18.7 58 F 5K 6 600 Louise Helminiak 09:02:48.5 09:39:09.9 00:36:21.3 55 F 5K 5K Age Group Results for Female 60-64 based on Chip Elapsed time Place Bib # Name Chip Start Finish Chip Elapse Age Gender Division _____________________________________________________________________________________________________________________________ 1 344 MARGARET BONHAM 09:02:41.0 09:36:17.1 00:33:36.0 63 F 5K 2 609 Nina Smeltzer 09:02:32.3 09:37:02.5 00:34:30.1 64 F 5K 3 527 MOLLY JENNINGS 09:02:43.5 09:41:25.5 00:38:41.9 60 F 5K 4 345 LINDA BRENNER 09:02:45.5 09:43:14.8 00:40:29.3 60 F 5K 5 599 Pamela Dickinson 09:02:57.3 09:59:43.5 00:56:46.2 60 F 5K 5K Age Group Results for Female 65-69 based on Chip Elapsed time Place Bib # Name Chip Start Finish Chip Elapse Age Gender Division _____________________________________________________________________________________________________________________________ 1 593 KATHY WATSON 09:02:42.6 09:35:34.2 00:32:51.6 66 F 5K 5K Top Males Overall based on Chip Elapsed time Place Bib # Name Chip Start Finish Chip Elapse Age Gender Division _____________________________________________________________________________________________________________________________ 1 475 BRIAN CAVE 09:02:32.3 09:18:53.1 00:16:20.7 25 M 5K 2 484 SEAN CURRAN 09:02:32.3 09:20:00.2 00:17:27.8 38 M 5K 3 556 TRENT ROSE 09:02:32.3 09:20:06.0 00:17:33.7 25 M 5K 5K Age Group Results for Male Under 11 based on Chip Elapsed time Place Bib # Name Chip Start Finish Chip Elapse Age Gender Division _____________________________________________________________________________________________________________________________ 1 563 COLE SCHRUEFER 09:02:34.6 09:29:22.2 00:26:47.5 10 M 5K 2 473 DOMENIC CARDILE 09:02:38.0 09:35:50.1 00:33:12.0 8 M 5K 3 514 STEPHEN HEMGEN 09:02:42.4 09:37:22.6 00:34:40.1 10 M 5K 5K Age Group Results for Male 11-14 based on Chip Elapsed time Place Bib # Name Chip Start Finish Chip Elapse Age Gender Division _____________________________________________________________________________________________________________________________ 1 589 GABRIEL TULLY 09:02:32.4 09:21:49.2 00:19:16.8 14 M 5K 2 590 MICHAEL GRAYSON TULL 09:02:32.3 09:23:13.9 00:20:41.5 14 M 5K 3 509 DREW GRIMES 09:02:32.3 09:23:19.5 00:20:47.1 14 M 5K 4 336 AUSTIN ALLETAG 09:02:32.3 09:27:21.9 00:24:49.5 13 M 5K 5 491 COLIN EDSON 09:02:32.3 09:27:35.8 00:25:03.4 12 M 5K 6 478 CHRISTOPHER COLSON 09:02:32.3 09:28:36.3 00:26:03.9 11 M 5K 5K Age Group Results for Male 15-19 based on Chip Elapsed time Place Bib # Name Chip Start Finish Chip Elapse Age Gender Division _____________________________________________________________________________________________________________________________ 1 510 RYAN HARTRANFT 09:02:32.3 09:21:18.8 00:18:46.4 16 M 5K 2 608 Stanley Mesceda 09:02:32.3 09:21:47.4 00:19:15.0 16 M 5K 3 517 CONNOR HOEY 09:02:32.3 09:23:31.3 00:20:58.9 17 M 5K 4 584 OWEN SWISDAK 09:02:32.3 09:24:14.2 00:21:41.8 17 M 5K 5 540 SPENCER MCGRATH 09:02:36.6 09:27:56.6 00:25:20.0 17 M 5K 5K Age Group Results for Male 20-24 based on Chip Elapsed time Place Bib # Name Chip Start Finish Chip Elapse Age Gender Division _____________________________________________________________________________________________________________________________ 1 499 DANIEL GAUTHIER 09:02:32.3 09:23:50.5 00:21:18.1 22 M 5K 2 501 DYLAN GETTIET 09:02:32.3 09:37:48.2 00:35:15.8 22 M 5K 5K Age Group Results for Male 25-29 based on Chip Elapsed time Place Bib # Name Chip Start Finish Chip Elapse Age Gender Division _____________________________________________________________________________________________________________________________ 1 606 Miguel Kelly 09:02:32.3 09:27:56.8 00:25:24.4 25 M 5K 5K Age Group Results for Male 30-34 based on Chip Elapsed time Place Bib # Name Chip Start Finish Chip Elapse Age Gender Division _____________________________________________________________________________________________________________________________ 1 580 CONOR SULLIVAN 09:02:32.3 09:20:11.1 00:17:38.7 34 M 5K 2 497 JOHN FORD 09:02:32.3 09:20:13.2 00:17:40.8 31 M 5K 3 561 JACOB RUPPAL 09:02:32.3 09:22:16.8 00:19:44.4 34 M 5K 4 522 TIMOTHY HORAN 09:28:11.5 09:53:52.0 00:25:40.4 34 M 5K 5 574 TIM SPARZAK 09:02:54.5 09:33:30.1 00:30:35.6 33 M 5K 6 575 BEN STAFFORD 09:02:43.8 09:36:49.3 00:34:05.4 31 M 5K 5K Age Group Results for Male 35-39 based on Chip Elapsed time Place Bib # Name Chip Start Finish Chip Elapse Age Gender Division _____________________________________________________________________________________________________________________________ 1 596 Donnell Wells 09:02:32.3 09:26:08.3 00:23:35.9 35 M 5K 2 523 MARC HORN 09:02:40.2 09:28:11.9 00:25:31.6 39 M 5K 3 498 JOSH FORMWALT 09:02:36.1 09:28:30.3 00:25:54.2 37 M 5K 4 569 ANTHONY SIPOCZ 09:02:32.3 09:29:16.9 00:26:44.6 36 M 5K 5 508 RAYMOND HACHE 09:30:55.6 09:59:20.3 00:28:11.0 36 M 5K 6 339 MANNY ALVARENGA 09:02:36.9 09:31:02.6 00:28:25.7 38 M 5K 7 587 PAUL TAMBURELLO 09:02:41.7 09:35:45.0 00:33:03.2 37 M 5K 8 537 TIMOTHY LITZAU 09:02:44.5 09:36:50.7 00:34:06.1 36 M 5K 9 474 SALVATORE CARDILE 09:02:38.3 09:38.42.1 00:36:03.8 38 M 5K 5K Age Group Results for Male 40-44 based on Chip Elapsed time Place Bib # Name Chip Start Finish Chip Elapse Age Gender Division _____________________________________________________________________________________________________________________________ 1 335 John Starr 09:02:35.0 09:24:06.2 00:21:31.2 44 M 5K 2 602 Andrew Meekins 09:02:32.3 09:24:36.8 00:22:04.5 44 M 5K 3 546 MICHAEL O'NEILL 09:02:34.4 09:27:02.5 00:24:28.0 40 M 5K 4 490 GLENN EBERSOLE 09:02:36.6 09:31:30.8 00:28:54.1 44 M 5K 5 524 LANE HUFF 09:02:44.6 09:32:14.1 00:29:29.5 41 M 5K 6 554 JEREMY RITCHIE 09:02:49.4 09:41:26.6 00:38:37.1 42 M 5K 7 565 ROB SCHRUEFER 09:02:36.7 09:44:09.8 00:41:33.0 43 M 5K 5K Age Group Results for Male 45-49 based on Chip Elapsed time Place Bib # Name Chip Start Finish Chip Elapse Age Gender Division _____________________________________________________________________________________________________________________________ 1 567 TROY SCOTT 09:02:37.7 09:23:48.3 00:21:10.6 46 M 5K 2 568 DANIEL SIMON 09:02:32.3 09:24:31.6 00:21:59.2 49 M 5K 3 552 DAVID PRUNKL 09:02:35.4 09:25:53.4 00:23:17.9 49 M 5K 4 532 Matt Kowalewski 09:02:38.5 09:26:56.4 00:24:17.9 49 M 5K 5 585 STEVE SWISDAK 09:02:40.9 09:31:56.2 00:29:15.3 48 M 5K 6 605 Jeremy Gude 09:02:40.2 09:32:32.4 00:29:52.2 48 M 5K 7 511 WELLS HARTRANFT 09:02:38.5 09:34:59.5 00:32:21.0 48 M 5K 8 513 GEOFFREY HEMGEN 09:02:42.5 09:37:26.0 00:34:43.4 48 M 5K 9 479 KEN COLSON 09:02:38.0 09:39:44.6 00:37:06.6 45 M 5K 10 496 RONALD FONTANEZ 09:41:07.7 10:19:44.2 00:38:36.4 48 M 5K 11 526 ALVIN JACKSON 09:02:43.0 09:49:48.7 00:47:05.7 49 M 5K 12 595 JASON WEATHERHOLTZ 09:02:46.4 09:51:24.2 00:48:37.7 48 M 5K 5K Age Group Results for Male 50-54 based on Chip Elapsed time Place Bib # Name Chip Start Finish Chip Elapse Age Gender Division _____________________________________________________________________________________________________________________________ 1 601 Matthew Helminiak 09:02:36.3 09:26:32.4 00:23:56.0 51 M 5K 2 544 ALAN MULINDWA 09:02:32.3 09:27:07.3 00:24:34.9 50 M 5K 3 582 MARC SWISDAK 09:02:40.3 09:28:49.2 00:26:08.8 50 M 5K 4 504 ERIC GROSH 09:02:35.8 09:29:25.1 00:26:49.3 54 M 5K 5 492 TOM EVANS 09:02:37.7 09:29:32.9 00:26:55.2 53 M 5K 6 607 James Nugent 09:02:44.3 09:35:11.4 00:32:27.1 54 M 5K 7 505 CHRIS GUYER 09:02:38.9 09:36:24.8 00:33:45.8 50 M 5K 8 494 KEN FITZGERALD 09:02:41.5 09:53:34.9 00:50:53.3 53 M 5K 5K Age Group Results for Male 55-59 based on Chip Elapsed time Place Bib # Name Chip Start Finish Chip Elapse Age Gender Division _____________________________________________________________________________________________________________________________ 1 542 Ken Miller 09:02:34.2 09:25:42.6 00:23:08.4 55 M 5K 2 477 WILLIAM COLE 09:02:32.3 09:26:24.0 00:23:51.6 57 M 5K 3 550 KEITH PAINTER 09:02:39.8 09:36:05.0 00:33:25.2 56 M 5K 5K Age Group Results for Male 60-64 based on Chip Elapsed time Place Bib # Name Chip Start Finish Chip Elapse Age Gender Division _____________________________________________________________________________________________________________________________ 1 591 Andrew Turgeon 09:02:50.4 09:31:49.9 00:28:59.5 61 M 5K 2 588 FRANK TIBURZI 09:02:37.7 09:31:52.0 00:29:14.3 64 M 5K 5K Age Group Results for Male 65-69 based on Chip Elapsed time Place Bib # Name Chip Start Finish Chip Elapse Age Gender Division _____________________________________________________________________________________________________________________________ 1 341 JOHN ANDERSON JR 09:02:32.3 09:25:48.5 00:23:16.2 66 M 5K 2 566 ROBERT SCHRUEFER 09:02:36.2 09:28:42.3 00:26:06.1 66 M 5K 3 512 TIMOTHY HEARN 09:02:43.0 09:30:27.9 00:27:44.8 65 M 5K 4 520 ROBERT HOLT 09:02:32.3 09:32:19.9 00:29:47.5 66 M 5K 5 529 RONALD KATZEN 09:02:35.1 09:37:02.0 00:34:26.8 65 M 5K 5K Age Group Results for Male 70-120 based on Chip Elapsed time Place Bib # Name Chip Start Finish Chip Elapse Age Gender Division _____________________________________________________________________________________________________________________________ 1 571 GLENN SMINK 09:02:47.1 09:45:17.7 00:42:30.6 73 M 5K Division: 5K Place Bib # Name Chip Start Finish Chip Elapse Age Gender Division _____________________________________________________________________________________________________________________________ 1 475 BRIAN CAVE 09:02:32.3 09:18:53.1 00:16:20.7 25 M 5K 2 484 SEAN CURRAN 09:02:32.3 09:20:00.2 00:17:27.8 38 M 5K 3 556 TRENT ROSE 09:02:32.3 09:20:06.0 00:17:33.7 25 M 5K 4 580 CONOR SULLIVAN 09:02:32.3 09:20:11.1 00:17:38.7 34 M 5K 5 497 JOHN FORD 09:02:32.3 09:20:13.2 00:17:40.8 31 M 5K 6 510 RYAN HARTRANFT 09:02:32.3 09:21:18.8 00:18:46.4 16 M 5K 7 608 Stanley Mesceda 09:02:32.3 09:21:47.4 00:19:15.0 16 M 5K 8 589 GABRIEL TULLY 09:02:32.4 09:21:49.2 00:19:16.8 14 M 5K 9 561 JACOB RUPPAL 09:02:32.3 09:22:16.8 00:19:44.4 34 M 5K 10 577 SHERRY STICK 09:02:32.3 09:22:54.3 00:20:21.9 45 F 5K 11 590 MICHAEL GRAYSON TULL 09:02:32.3 09:23:13.9 00:20:41.5 14 M 5K 12 509 DREW GRIMES 09:02:32.3 09:23:19.5 00:20:47.1 14 M 5K 13 517 CONNOR HOEY 09:02:32.3 09:23:31.3 00:20:58.9 17 M 5K 14 567 TROY SCOTT 09:02:37.7 09:23:48.3 00:21:10.6 46 M 5K 15 499 DANIEL GAUTHIER 09:02:32.3 09:23:50.5 00:21:18.1 22 M 5K 16 335 John Starr 09:02:35.0 09:24:06.2 00:21:31.2 44 M 5K 17 584 OWEN SWISDAK 09:02:32.3 09:24:14.2 00:21:41.8 17 M 5K 18 481 TAYLOR COLSON 09:02:32.3 09:24:19.5 00:21:47.1 15 F 5K 19 500 REBECCA GAUTHIER 09:02:32.3 09:24:23.0 00:21:50.7 18 F 5K 20 568 DANIEL SIMON 09:02:32.3 09:24:31.6 00:21:59.2 49 M 5K 21 602 Andrew Meekins 09:02:32.3 09:24:36.8 00:22:04.5 44 M 5K 22 553 BECKY RHODES 09:02:32.3 09:25:26.7 00:22:54.3 43 F 5K 23 551 MAYA POTTER 09:02:32.3 09:25:36.5 00:23:04.1 17 F 5K 24 542 Ken Miller 09:02:34.2 09:25:42.6 00:23:08.4 55 M 5K 25 341 JOHN ANDERSON JR 09:02:32.3 09:25:48.5 00:23:16.2 66 M 5K 26 552 DAVID PRUNKL 09:02:35.4 09:25:53.4 00:23:17.9 49 M 5K 27 592 DIANA VACCHIANO 09:02:35.4 09:25:56.1 00:23:20.7 38 F 5K 28 603 Kelly Meekins 09:02:32.3 09:25:59.3 00:23:27.0 49 F 5K 29 596 Donnell Wells 09:02:32.3 09:26:08.3 00:23:35.9 35 M 5K 30 477 WILLIAM COLE 09:02:32.3 09:26:24.0 00:23:51.6 57 M 5K 31 601 Matthew Helminiak 09:02:36.3 09:26:32.4 00:23:56.0 51 M 5K 32 342 MARY BAKER 09:26:36.3 09:50:42.4 00:24:06.0 43 F 5K 33 532 Matt Kowalewski 09:02:38.5 09:26:56.4 00:24:17.9 49 M 5K 34 546 MICHAEL O'NEILL 09:02:34.4 09:27:02.5 00:24:28.0 40 M 5K 35 544 ALAN MULINDWA 09:02:32.3 09:27:07.3 00:24:34.9 50 M 5K 36 336 AUSTIN ALLETAG 09:02:32.3 09:27:21.9 00:24:49.5 13 M 5K 37 545 ABIGAIL O'NEILL 09:02:32.3 09:27:29.8 00:24:57.5 13 F 5K 38 491 COLIN EDSON 09:02:32.3 09:27:35.8 00:25:03.4 12 M 5K 39 540 SPENCER MCGRATH 09:02:36.6 09:27:56.6 00:25:20.0 17 M 5K 40 487 MARSHA DEMAREE 09:02:32.3 09:27:54.1 00:25:21.7 58 F 5K 41 606 Miguel Kelly 09:02:32.3 09:27:56.8 00:25:24.4 25 M 5K 42 523 MARC HORN 09:02:40.2 09:28:11.9 00:25:31.6 39 M 5K 43 521 NEISHA HORAN 09:02:32.3 09:28:12.0 00:25:39.6 33 F 5K 44 522 TIMOTHY HORAN 09:28:11.5 09:53:52.0 00:25:40.4 34 M 5K 45 604 Joy Gude 09:02:32.3 09:28:14.5 00:25:42.1 49 F 5K 46 340 MEGAN ANDERSON 09:02:39.1 09:28:27.8 00:25:48.7 40 F 5K 47 498 JOSH FORMWALT 09:02:36.1 09:28:30.3 00:25:54.2 37 M 5K 48 478 CHRISTOPHER COLSON 09:02:32.3 09:28:36.3 00:26:03.9 11 M 5K 49 566 ROBERT SCHRUEFER 09:02:36.2 09:28:42.3 00:26:06.1 66 M 5K 50 582 MARC SWISDAK 09:02:40.3 09:28:49.2 00:26:08.8 50 M 5K 51 516 Lindsay Hlavka 09:02:52.6 09:29:28.2 00:26:35.6 36 F 5K 52 569 ANTHONY SIPOCZ 09:02:32.3 09:29:16.9 00:26:44.6 36 M 5K 53 563 COLE SCHRUEFER 09:02:34.6 09:29:22.2 00:26:47.5 10 M 5K 54 486 Becky Deisterhoft 09:02:32.3 09:29:21.1 00:26:48.7 41 F 5K 55 504 ERIC GROSH 09:02:35.8 09:29:25.1 00:26:49.3 54 M 5K 56 492 TOM EVANS 09:02:37.7 09:29:32.9 00:26:55.2 53 M 5K 57 579 Casey Sullivan 09:02:35.1 09:29:42.7 00:27:07.5 29 F 5K 58 488 KELLY DIXON 09:02:35.7 09:29:46.1 00:27:10.4 45 F 5K 59 338 PENNY ALLETAG 09:02:32.3 09:29:49.7 00:27:17.3 12 F 5K 60 512 TIMOTHY HEARN 09:02:43.0 09:30:27.9 00:27:44.8 65 M 5K 61 572 GWEN SMITH 09:30:30.9 09:58:31.1 00:28:00.2 32 F 5K 62 476 COURTNEY COLE 09:02:32.3 09:30:35.5 00:28:03.1 26 F 5K 63 508 RAYMOND HACHE 09:30:55.6 09:59:20.3 00:28:24.7 36 M 5K 64 339 MANNY ALVARENGA 09:02:36.9 09:31:02.6 00:28:25.7 38 M 5K 65 482 KIM CONTURO 09:02:41.8 09:31:15.0 00:28:33.2 34 F 5K 66 337 LEAH ALLETAG 09:02:32.3 09:31:13.9 00:28:41.5 10 F 5K 67 490 GLENN EBERSOLE 09:02:36.6 09:31:30.8 00:28:54.1 44 M 5K 68 591 Andrew Turgeon 09:02:50.4 09:31:49.9 00:28:59.5 61 M 5K 69 588 FRANK TIBURZI 09:02:37.7 09:31:52.0 00:29:14.3 64 M 5K 70 585 STEVE SWISDAK 09:02:40.9 09:31:56.2 00:29:15.3 48 M 5K 71 524 LANE HUFF 09:02:44.6 09:32:14.1 00:29:29.5 41 M 5K 72 530 MICHELLE KIM 09:02:54.5 09:32:31.6 00:29:37.1 43 F 5K 73 506 NANCY HABECKER 09:02:40.6 09:32:25.2 00:29:44.5 40 F 5K 74 520 ROBERT HOLT 09:02:32.3 09:32:19.9 00:29:47.5 66 M 5K 75 605 Jeremy Gude 09:02:40.2 09:32:32.4 00:29:52.2 48 M 5K 76 480 MARY COLSON 09:02:37.4 09:32:42.8 00:30:05.4 38 F 5K 77 519 PENNY HOFFMAN 09:02:32.3 09:32:49.2 00:30:16.9 9 F 5K 78 576 MICHELLE STEEN 09:02:36.9 09:32:55.8 00:30:18.8 39 F 5K 79 574 TIM SPARZAK 09:02:54.5 09:33:30.1 00:30:35.6 33 M 5K 80 507 MARIA HACHE 09:02:43.7 09:33:38.2 00:30:54.5 38 F 5K 81 560 EMILY ROTHSTEIN 09:02:41.8 09:33:37.3 00:30:55.5 27 F 5K 82 536 NATALIE LITZAU 09:02:44.8 09:33:53.8 00:31:08.9 32 F 5K 83 493 ANDREA EVERTON 09:02:37.0 09:34:15.7 00:31:38.6 55 F 5K 84 543 Summer Miller 09:02:39.5 09:34:24.3 00:31:44.7 16 F 5K 85 549 KATIE PAINTER 09:02:39.0 09:34:39.6 00:32:00.5 31 F 5K 86 548 GINA PAINTER 09:02:38.2 09:34:39.3 00:32:01.0 55 F 5K 87 483 SARA CURRAN 09:02:42.7 09:35:03.3 00:32:20.5 40 F 5K 88 511 WELLS HARTRANFT 09:02:38.5 09:34:59.5 00:32:21.0 48 M 5K 89 559 AUDREY ROTHSTEIN 09:02:41.9 09:35:06.8 00:32:24.8 56 F 5K 90 607 James Nugent 09:02:44.3 09:35:11.4 00:32:27.1 54 M 5K 91 538 LAUREN MCDONOUGH 09:02:32.3 09:35:08.2 00:32:35.8 33 F 5K 92 562 AMANDA RUTTER 09:02:36.7 09:35:25.9 00:32:49.1 37 F 5K 93 593 KATHY WATSON 09:02:42.6 09:35:34.2 00:32:51.6 66 F 5K 94 531 TANA KING 09:02:54.3 09:35:51.1 00:32:56.8 33 F 5K 95 581 TANYA SWIFT 09:02:49.8 09:35:51.9 00:33:02.1 46 F 5K 96 587 PAUL TAMBURELLO 09:02:41.7 09:35:45.0 00:33:03.2 37 M 5K 97 473 DOMENIC CARDILE 09:02:38.0 09:35:50.1 00:33:12.0 8 M 5K 98 550 KEITH PAINTER 09:02:39.8 09:36:05.0 00:33:25.2 56 M 5K 99 344 MARGARET BONHAM 09:02:41.0 09:36:17.1 00:33:36.0 63 F 5K 100 505 CHRIS GUYER 09:02:38.9 09:36:24.8 00:33:45.8 50 M 5K 101 495 MARIVEL FONTANEZ 09:02:48.9 09:36:50.4 00:34:01.5 45 F 5K 102 575 BEN STAFFORD 09:02:43.8 09:36:49.3 00:34:05.4 31 M 5K 103 537 TIMOTHY LITZAU 09:02:44.5 09:36:50.7 00:34:06.1 36 M 5K 104 529 RONALD KATZEN 09:02:35.1 09:37:02.0 00:34:26.8 65 M 5K 105 609 Nina Smeltzer 09:02:32.3 09:37:02.5 00:34:30.1 64 F 5K 106 514 STEPHEN HEMGEN 09:02:42.4 09:37:22.6 00:34:40.1 10 M 5K 107 513 GEOFFREY HEMGEN 09:02:42.5 09:37:26.0 00:34:43.4 48 M 5K 108 534 KENZIE LABARRE 09:02:32.3 09:37:43.4 00:35:11.1 9 F 5K 109 533 ERIN LABARRE 09:02:38.1 09:37:49.8 00:35:11.6 40 F 5K 110 501 DYLAN GETTIET 09:02:32.3 09:37:48.2 00:35:15.8 22 M 5K 111 343 DONNA BEAGLE 09:02:37.4 09:37:56.1 00:35:18.7 58 F 5K 112 586 KARA TAMBURELLO 09:02:40.9 09:38:07.9 00:35:27.0 36 F 5K 113 474 SALVATORE CARDILE 09:02:38.3 09:38.42.1 00:36:03.8 38 M 5K 114 600 Louise Helminiak 09:02:48.5 09:39:09.9 00:36:21.3 55 F 5K 115 598 EA WHITE 09:02:44.9 09:39:34.6 00:36:49.7 49 F 5K 116 541 ALYSSA MEAD 09:02:42.7 09:39:33.1 00:36:50.3 50 F 5K 117 479 KEN COLSON 09:02:38.0 09:39:44.6 00:37:06.6 45 M 5K 118 535 JESSICA LEWIS 09:02:39.5 09:40:29.2 00:37:49.7 38 F 5K 119 496 RONALD FONTANEZ 09:41:07.7 10:19:44.2 00:38:36.4 48 M 5K 120 554 JEREMY RITCHIE 09:02:49.4 09:41:26.6 00:38:37.1 42 M 5K 121 527 MOLLY JENNINGS 09:02:43.5 09:41:25.5 00:38:41.9 60 F 5K 122 345 LINDA BRENNER 09:02:45.5 09:43:14.8 00:40:29.3 60 F 5K 123 518 CAYCE HOFFMAN 09:02:45.6 09:43:46.6 00:41:01.0 36 F 5K 124 547 CHRISTINA OGLE 09:02:45.6 09:44:10.3 00:41:24.6 52 F 5K 125 565 ROB SCHRUEFER 09:02:36.7 09:44:09.8 00:41:33.0 43 M 5K 126 564 JULIE SCHRUEFER 09:02:36.2 09:44:10.3 00:41:34.1 44 F 5K 127 571 GLENN SMINK 09:02:47.1 09:45:17.7 00:42:30.6 73 M 5K 128 503 RACHEL GRIFFITH 09:02:41.0 09:45:56.1 00:43:15.0 36 F 5K 129 502 KATIE GRIFFITH 09:02:41.4 09:45:56.6 00:43:15.2 36 F 5K 130 515 ALLISON HERRITY 09:02:37.6 09:47:11.8 00:44:34.1 30 F 5K 131 525 MARTHA ISACCO 09:02:50.0 09:48:06.8 00:45:16.8 45 F 5K 132 539 CARRIE MCGRATH 09:02:50.2 09:48:07.9 00:45:17.6 45 F 5K 133 526 ALVIN JACKSON 09:02:43.0 09:49:48.7 00:47:05.7 49 M 5K 134 597 AMY WHALEN METZ 09:02:42.5 09:49:57.7 00:47:15.1 42 F 5K 135 595 JASON WEATHERHOLTZ 09:02:46.4 09:51:24.2 00:48:37.7 48 M 5K 136 594 CASSANDRA WEAS 09:02:46.4 09:51:24.6 00:48:38.2 27 F 5K 137 494 KEN FITZGERALD 09:02:41.5 09:53:34.9 00:50:53.3 53 M 5K 138 485 KELLY DAVIS 09:02:41.9 09:53:35.7 00:50:53.8 52 F 5K 139 555 JULIE RITCHIE 09:02:54.4 09:55:44.4 00:52:49.9 48 F 5K 140 347 KORA BUBENKO 09:02:54.1 09:56:50.7 00:53:56.6 10 F 5K 141 346 JENNIFER BUBENKO 09:02:53.6 09:56:50.8 00:53:57.1 43 F 5K 142 558 NADINE ROSENDALE 09:02:56.8 09:59:41.9 00:56:45.1 51 F 5K 143 599 Pamela Dickinson 09:02:57.3 09:59:43.5 00:56:46.2 60 F 5K