Sykesville Shiver Shuffle 2020
Sykesville Shiver Shuffle 2020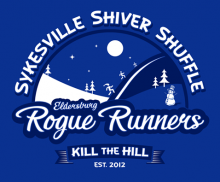 Come out and 'Kill the Hill' as you enjoy a mid-day 5k through Downtown Sykesville! Registered runners will receive a $5 coupon to use at any of the participating stores, pubs, or restaurants on Main St.
SAVE THE DATE February 16, 2020 1 PM for the 8th Annual Sykesville Shiver Shuffle 5K . Race will start and finish in Downtown Sykesville.  Make this race a part of your New Year's goal to be active! 

This year we have partnered with the Merchants on Main Street and each registered runner will receive a $5 coupon that can be used at any participating store, pub, or restaurant. Enjoy the street music and listen for the race results as you shop.
All registrations are final; no refunds due to weather or non-participation. Each participant gets a Specialty Buff and Finisher Medal.
Cash Awards to the Top 3 Overall (Male and Female)
NEW this year !! A Shiver shuffle Finisher Medal to all that cross the finish line!

  
Raffle drawings will be randomly selected and you can claim your prize at the end of your run

 As with all the ERR events we also have an outside charity benefit from this race. This year a portion of proceeds will go to the Special Olympics. Special Olympics is where athletes with intellectual disabilities celebrate and are celebrated for their accomplishments.

Packet Pick-up/Registration at Tri Sport Junction on Saturday, Feb. 15th, 10-4pm, or Race Day at Tri Sport Junction 11:30-12:30. Race starts promptly at 1:00 pm

Parking is limited in the  lots around town; however, parking is also available at Sykesville Middle School (about 1/2 mile away).
Age Group Report: 2/16/2020 3:21:18 PM 5K Top Females Overall based on Chip Elapsed time Place Bib # Name Chip Start Gun Start Finish Chip Elapsed Gun Elapsed Age Gender Division _____________________________________________________________________________________________________________________________________________________________ 1 503 Sherry Stick 12:58:35.20 12:58:31.93 13:18:46.22 00:20:11.02 00:20:14.29 41 F 5K 2 483 TONNA ARBAUGH 12:58:36.49 12:58:31.93 13:21:17.86 00:22:41.37 00:22:45.93 52 F 5K 3 480 ALEXANDRA DUPONT 12:58:38.45 12:58:31.93 13:21:49.93 00:23:11.48 00:23:18.00 32 F 5K 5K Age Group Results for Female Under 9 based on Chip Elapsed time Place Bib # Name Chip Start Gun Start Finish Chip Elapsed Gun Elapsed Age Gender Division _____________________________________________________________________________________________________________________________________________________________ 1 432 EMMA HOUCK 12:58:40.40 12:58:31.93 13:34:02.76 00:35:22.36 00:35:30.83 7 F 5K 2 443 SOPHIA CONLEY 12:58:42.10 12:58:31.93 13:42:29.70 00:43:47.60 00:43:57.77 8 F 5K 3 428 LULA ANDERSEN 12:58:31.93 12:58:31.93 13:42:27.80 00:43:55.87 00:43:55.87 7 F 5K 4 566 Evangline Nugent 12:58:47.44 12:58:31.93 13:48:51.56 00:50:04.12 00:50:19.63 8 F 5K 5K Age Group Results for Female 10-14 based on Chip Elapsed time Place Bib # Name Chip Start Gun Start Finish Chip Elapsed Gun Elapsed Age Gender Division _____________________________________________________________________________________________________________________________________________________________ 1 477 ABBY MORSE 12:58:34.71 12:58:31.93 13:22:07.05 00:23:32.34 00:23:35.12 13 F 5K 2 591 Elizabeth Mitroka 12:58:43.98 12:58:31.93 13:22:25.51 00:23:41.52 00:23:53.58 12 F 5K 3 589 Emily Mitroka 12:58:43.96 12:58:31.93 13:22:35.86 00:23:51.89 00:24:03.93 12 F 5K 4 462 ELYSE SELIGMAN 12:58:34.68 12:58:31.93 13:22:49.46 00:24:14.78 00:24:17.53 13 F 5K 5 495 Rebecca Gauthier 12:58:31.93 12:58:31.93 13:24:18.85 00:25:46.92 00:25:46.92 14 F 5K 6 565 Carlie Plitt 12:58:43.95 12:58:31.93 13:25:54.36 00:27:10.40 00:27:22.43 12 F 5K 7 422 CHLOE HAYDEN 12:58:43.99 12:58:31.93 13:27:22.26 00:28:38.27 00:28:50.33 10 F 5K 8 520 MAYA GRISSOM 12:58:31.93 12:58:31.93 13:29:52.66 00:31:20.73 00:31:20.73 11 F 5K 9 564 Cassie Plitt 12:58:39.34 12:58:31.93 13:30:09.49 00:31:30.14 00:31:37.56 10 F 5K 10 440 LILIANA WILLSON 12:58:55.88 12:58:31.93 13:32:37.92 00:33:42.04 00:34:05.99 13 F 5K 11 415 KAELYN WILDERSON 12:58:47.96 12:58:31.93 13:41:19.25 00:42:31.29 00:42:47.32 10 F 5K 12 514 KIM OSORIO-THOMAS 12:58:56.93 12:58:31.93 13:43:09.24 00:44:12.30 00:44:37.31 12 F 5K 13 479 JESSIE SHAFER 12:58:41.98 12:58:31.93 13:48:41.04 00:49:59.06 00:50:09.11 12 F 5K 5K Age Group Results for Female 15-19 based on Chip Elapsed time Place Bib # Name Chip Start Gun Start Finish Chip Elapsed Gun Elapsed Age Gender Division _____________________________________________________________________________________________________________________________________________________________ 1 575 Jillian Dorsey 12:58:31.93 12:58:31.93 13:32:45.94 00:34:14.01 00:34:14.01 15 F 5K 2 407 MADILYN MUTSCHLER 12:58:31.93 12:58:31.93 13:38:26.35 00:39:54.42 00:39:54.42 17 F 5K 5K Age Group Results for Female 20-29 based on Chip Elapsed time Place Bib # Name Chip Start Gun Start Finish Chip Elapsed Gun Elapsed Age Gender Division _____________________________________________________________________________________________________________________________________________________________ 1 546 Katlyn Painter 12:58:31.93 12:58:31.93 13:26:34.22 00:28:02.29 00:28:02.29 27 F 5K 2 445 JULIA SMYTH 12:58:31.93 12:58:31.93 13:27:05.00 00:28:33.07 00:28:33.07 29 F 5K 3 412 KELLY SORENSEN 12:58:39.40 12:58:31.93 13:27:40.80 00:29:01.39 00:29:08.87 29 F 5K 4 554 Ashleigh Martini 12:59:04.81 12:58:31.93 13:29:02.98 00:29:58.17 00:30:31.05 29 F 5K 5 403 JACQUELINE SHERWIN 12:58:31.93 12:58:31.93 13:32:25.94 00:33:54.01 00:33:54.01 23 F 5K 6 510 Rachel Reiter 12:58:31.93 12:58:31.93 13:48:32.19 00:50:00.26 00:50:00.26 24 F 5K 7 524 SARA JACOBS 12:58:31.93 12:58:31.93 13:51:47.74 00:53:15.81 00:53:15.81 25 F 5K 8 488 LAUREN BICKNELL 12:58:31.93 12:58:31.93 13:51:47.76 00:53:15.83 00:53:15.83 25 F 5K 5K Age Group Results for Female 30-39 based on Chip Elapsed time Place Bib # Name Chip Start Gun Start Finish Chip Elapsed Gun Elapsed Age Gender Division _____________________________________________________________________________________________________________________________________________________________ 1 444 CHRISTY BOYLE 12:58:37.56 12:58:31.93 13:22:44.91 00:24:07.34 00:24:12.98 35 F 5K 2 494 Traci Lijewski 12:58:31.93 12:58:31.93 13:23:55.78 00:25:23.85 00:25:23.85 34 F 5K 3 525 JOELLE CHALL 12:58:41.06 12:58:31.93 13:24:17.25 00:25:36.18 00:25:45.32 38 F 5K 4 522 RACHEL CUESTA 12:58:35.15 12:58:31.93 13:26:21.49 00:27:46.34 00:27:49.56 31 F 5K 5 484 EMILY ALEXANDER 12:58:55.20 12:58:31.93 13:28:04.86 00:29:09.65 00:29:32.93 30 F 5K 6 466 DAMARIS SANTIAGO ROS 12:58:31.93 12:58:31.93 13:28:53.36 00:30:21.43 00:30:21.43 36 F 5K 7 518 ANDREA BROOKS 12:58:53.20 12:58:31.93 13:29:46.42 00:30:53.22 00:31:14.49 33 F 5K 8 446 LAUREN BUSSELLS 12:58:38.74 12:58:31.93 13:29:52.68 00:31:13.93 00:31:20.75 36 F 5K 9 586 Lauren Sakalos 12:58:58.18 12:58:31.93 13:30:37.15 00:31:38.96 00:32:05.22 39 F 5K 10 486 CAROLINE KILDAY 12:58:38.45 12:58:31.93 13:30:29.18 00:31:50.72 00:31:57.25 34 F 5K 11 470 KERRY PHELPS 12:58:59.86 12:58:31.93 13:31:46.49 00:32:46.62 00:33:14.56 38 F 5K 12 461 KELLYE GILL 12:58:31.93 12:58:31.93 13:31:58.21 00:33:26.28 00:33:26.28 34 F 5K 13 409 CASEY HANLEY 12:58:31.93 12:58:31.93 13:33:19.95 00:34:48.02 00:34:48.02 38 F 5K 14 423 MORGAN JAVINS 12:58:31.93 12:58:31.93 13:34:08.85 00:35:36.92 00:35:36.92 37 F 5K 15 410 WENDY JANES 12:58:44.89 12:58:31.93 13:34:39.31 00:35:54.41 00:36:07.38 39 F 5K 16 430 ASHLEY DOW 12:58:48.43 12:58:31.93 13:34:49.18 00:36:00.75 00:36:17.25 32 F 5K 17 419 Erin Heinrich 12:58:53.83 12:58:31.93 13:36:33.62 00:37:39.79 00:38:01.69 39 F 5K 18 490 EMILY MULLER 12:58:44.84 12:58:31.93 13:37:49.11 00:39:04.26 00:39:17.18 37 F 5K 19 584 Ashley Coco 12:58:53.43 12:58:31.93 13:38:30.45 00:39:37.02 00:39:58.52 31 F 5K 20 538 LAUREN COLLINS 12:58:53.22 12:58:31.93 13:39:11.75 00:40:18.53 00:40:39.82 37 F 5K 21 502 Kari LeBlanc 12:59:04.57 12:58:31.93 13:42:44.70 00:43:40.13 00:44:12.77 34 F 5K 22 442 BRIDGET PICKETT 12:58:42.09 12:58:31.93 13:42:42.69 00:44:00.60 00:44:10.76 32 F 5K 23 491 MICHELLE OLAND 12:58:56.59 12:58:31.93 13:43:45.24 00:44:48.64 00:45:13.31 36 F 5K 24 574 Jackie Bednarczyk 12:58:31.93 12:58:31.93 13:47:49.20 00:49:17.27 00:49:17.27 33 F 5K 25 542 Nicole Hurley 12:58:59.83 12:58:31.93 14:08:02.89 01:09:03.06 01:09:30.96 35 F 5K 5K Age Group Results for Female 40-49 based on Chip Elapsed time Place Bib # Name Chip Start Gun Start Finish Chip Elapsed Gun Elapsed Age Gender Division _____________________________________________________________________________________________________________________________________________________________ 1 563 Jennifer Plitt 12:58:38.46 12:58:31.93 13:22:54.80 00:24:16.34 00:24:22.87 43 F 5K 2 496 Amy Easter 12:58:39.94 12:58:31.93 13:26:04.17 00:27:24.22 00:27:32.24 43 F 5K 3 476 KERRI MORSE 12:58:35.18 12:58:31.93 13:26:26.18 00:27:51.00 00:27:54.25 44 F 5K 4 499 Jen Marcinko 12:58:41.07 12:58:31.93 13:30:10.98 00:31:29.91 00:31:39.05 49 F 5K 5 536 TANYA JOHNSON 12:58:51.53 12:58:31.93 13:31:26.67 00:32:35.14 00:32:54.74 42 F 5K 6 453 GENICE RILL 12:58:44.10 12:58:31.93 13:32:10.62 00:33:26.51 00:33:38.69 46 F 5K 7 475 BECKY RHODES 12:58:56.58 12:58:31.93 13:32:26.98 00:33:30.39 00:33:55.05 40 F 5K 8 579 Nicole Dulaney 12:58:31.93 12:58:31.93 13:32:30.35 00:33:58.42 00:33:58.42 43 F 5K 9 431 BARBARA HOUCK 12:58:40.33 12:58:31.93 13:34:04.23 00:35:23.90 00:35:32.30 40 F 5K 10 498 Alyssa Mead 12:58:55.18 12:58:31.93 13:37:34.01 00:38:38.82 00:39:02.08 47 F 5K 11 512 Divya Harrison 12:58:58.87 12:58:31.93 13:37:45.43 00:38:46.56 00:39:13.50 41 F 5K 12 405 MONICA MUTSCHLER 12:58:48.47 12:58:31.93 13:38:25.17 00:39:36.70 00:39:53.24 48 F 5K 13 540 SARAH MARTIN 12:58:48.63 12:58:31.93 13:38:58.46 00:40:09.83 00:40:26.53 47 F 5K 14 464 JULIE RITCHIE 12:58:31.93 12:58:31.93 13:40:30.98 00:41:59.05 00:41:59.05 44 F 5K 15 533 KATHRYN BERLING 12:58:47.36 12:58:31.93 13:41:12.26 00:42:24.89 00:42:40.33 46 F 5K 16 414 HEATHER WILDERSON 12:58:48.40 12:58:31.93 13:41:15.00 00:42:26.59 00:42:43.07 40 F 5K 17 506 Shannon Berk 12:58:58.20 12:58:31.93 13:42:17.87 00:43:19.67 00:43:45.94 44 F 5K 18 473 SHERALEE THOMAS 12:58:31.93 12:58:31.93 13:43:13.08 00:44:41.15 00:44:41.15 47 F 5K 19 437 PATRICIA BRUNING 12:59:01.68 12:58:31.93 13:44:08.24 00:45:06.56 00:45:36.31 44 F 5K 20 417 DEANA MCKEE 12:59:01.59 12:58:31.93 13:44:09.35 00:45:07.76 00:45:37.42 40 F 5K 21 551 Karen Harding 12:59:03.08 12:58:31.93 13:46:27.29 00:47:24.20 00:47:55.36 41 F 5K 22 568 Patricia Nugent 12:58:49.40 12:58:31.93 13:53:17.64 00:54:28.24 00:54:45.71 47 F 5K 5K Age Group Results for Female 50-59 based on Chip Elapsed time Place Bib # Name Chip Start Gun Start Finish Chip Elapsed Gun Elapsed Age Gender Division _____________________________________________________________________________________________________________________________________________________________ 1 459 KATHY JIMENEZ 12:58:43.94 12:58:31.93 13:28:03.27 00:29:19.33 00:29:31.34 54 F 5K 2 497 Andrea Everton 12:58:41.08 12:58:31.93 13:28:39.97 00:29:58.88 00:30:08.04 51 F 5K 3 447 LISA SEUFERT 12:58:37.95 12:58:31.93 13:29:16.59 00:30:38.64 00:30:44.66 50 F 5K 4 535 TERESA LANGLEY 12:58:31.93 12:58:31.93 13:30:47.26 00:32:15.33 00:32:15.33 53 F 5K 5 467 MARGOT WOLMAN 12:58:50.54 12:58:31.93 13:31:07.94 00:32:17.40 00:32:36.01 55 F 5K 6 404 MARTHA NEUENHOFF 12:58:51.49 12:58:31.93 13:31:25.81 00:32:34.31 00:32:53.88 56 F 5K 7 471 MARLA NERI-SALZMAN 12:58:43.96 12:58:31.93 13:31:31.90 00:32:47.93 00:32:59.97 56 F 5K 8 469 LISA TALBOT 12:58:31.93 12:58:31.93 13:33:10.38 00:34:38.45 00:34:38.45 55 F 5K 9 472 TERRI BALL 12:58:45.18 12:58:31.93 13:33:47.61 00:35:02.43 00:35:15.68 54 F 5K 10 474 LIBBY MARCHETTI 12:58:48.35 12:58:31.93 13:34:12.74 00:35:24.38 00:35:40.81 56 F 5K 11 478 TERESA SHAFER 12:58:44.76 12:58:31.93 13:36:19.93 00:37:35.16 00:37:48.00 52 F 5K 12 455 REGINA PAINTER 12:58:31.93 12:58:31.93 13:36:34.24 00:38:02.31 00:38:02.31 52 F 5K 13 501 Kathy Miller 12:58:52.81 12:58:31.93 13:37:28.10 00:38:35.28 00:38:56.17 56 F 5K 14 517 PATTI WEAVER 12:58:52.33 12:58:31.93 13:39:37.47 00:40:45.13 00:41:05.54 55 F 5K 15 516 MICHELE LEISHER 12:58:31.93 12:58:31.93 13:39:38.41 00:41:06.48 00:41:06.48 56 F 5K 16 582 Michelle Dickinson 12:58:55.90 12:58:31.93 13:40:38.97 00:41:43.07 00:42:07.04 52 F 5K 17 581 Katie King 12:58:55.18 12:58:31.93 13:40:38.88 00:41:43.69 00:42:06.95 53 F 5K 18 487 JANICE MULLER 12:58:52.72 12:58:31.93 13:40:50.21 00:41:57.49 00:42:18.28 53 F 5K 19 576 Maureen Klein 12:58:59.84 12:58:31.93 13:44:11.39 00:45:11.55 00:45:39.46 58 F 5K 20 449 JOAN GREEN 12:59:00.94 12:58:31.93 13:51:00.15 00:51:59.21 00:52:28.22 50 F 5K 21 451 ROBBYNE MERCADANTE 12:59:01.33 12:58:31.93 13:51:01.04 00:51:59.71 00:52:29.11 54 F 5K 5K Age Group Results for Female 60-69 based on Chip Elapsed time Place Bib # Name Chip Start Gun Start Finish Chip Elapsed Gun Elapsed Age Gender Division _____________________________________________________________________________________________________________________________________________________________ 1 460 LISA LOWE 12:58:44.81 12:58:31.93 13:28:22.38 00:29:37.57 00:29:50.45 61 F 5K 2 435 MARY ELLEN WILSON 12:58:50.54 12:58:31.93 13:39:43.99 00:40:53.44 00:41:12.06 60 F 5K 3 485 MILDRED COLUSSY 12:58:50.14 12:58:31.93 13:48:18.84 00:49:28.70 00:49:46.91 67 F 5K 4 529 PATRICIA ODONNELL 12:59:01.35 12:58:31.93 13:59:34.62 01:00:33.26 01:01:02.69 60 F 5K 5K Age Group Results for Female Over 69 based on Chip Elapsed time Place Bib # Name Chip Start Gun Start Finish Chip Elapsed Gun Elapsed Age Gender Division _____________________________________________________________________________________________________________________________________________________________ 1 528 Jeanette Novak 12:58:42.09 12:58:31.93 13:44:15.11 00:45:33.02 00:45:43.18 75 F 5K 5K Top Males Overall based on Chip Elapsed time Place Bib # Name Chip Start Gun Start Finish Chip Elapsed Gun Elapsed Age Gender Division _____________________________________________________________________________________________________________________________________________________________ 1 549 Jacob Havins 12:58:31.93 12:58:31.93 13:16:35.23 00:18:03.30 00:18:03.30 19 M 5K 2 571 John Ford 12:58:34.57 12:58:31.93 13:16:38.35 00:18:03.78 00:18:06.42 28 M 5K 3 526 ANDREW FALK 12:58:35.18 12:58:31.93 13:17:48.21 00:19:13.03 00:19:16.28 38 M 5K 5K Age Group Results for Male Under 9 based on Chip Elapsed time Place Bib # Name Chip Start Gun Start Finish Chip Elapsed Gun Elapsed Age Gender Division _____________________________________________________________________________________________________________________________________________________________ 1 482 EVAN LAWSON 12:58:46.65 12:58:31.93 13:28:38.03 00:29:51.38 00:30:06.10 9 M 5K 2 411 JOSHUA JANES 12:58:46.42 12:58:31.93 13:32:39.67 00:33:53.25 00:34:07.74 8 M 5K 3 511 Brady Harrison 12:58:58.85 12:58:31.93 13:37:45.16 00:38:46.31 00:39:13.23 9 M 5K 4 521 JEBEDIAH GRISSOM 12:58:31.93 12:58:31.93 13:37:32.19 00:39:00.26 00:39:00.26 9 M 5K 5 427 LIAM ANDERSEN 12:58:31.93 12:58:31.93 13:40:08.97 00:41:37.04 00:41:37.04 9 M 5K 5K Age Group Results for Male 10-14 based on Chip Elapsed time Place Bib # Name Chip Start Gun Start Finish Chip Elapsed Gun Elapsed Age Gender Division _____________________________________________________________________________________________________________________________________________________________ 1 420 JAKE HAYDEN 12:58:31.93 12:58:31.93 13:20:52.61 00:22:20.68 00:22:20.68 14 M 5K 2 561 Brendan Hoey 12:58:31.93 12:58:31.93 13:21:47.71 00:23:15.78 00:23:15.78 14 M 5K 3 556 Adam Mower 12:58:35.15 12:58:31.93 13:22:03.38 00:23:28.23 00:23:31.45 14 M 5K 4 532 KAMERON PICKETT 12:58:42.80 12:58:31.93 13:23:20.39 00:24:37.59 00:24:48.46 10 M 5K 5 534 AIDAN JONES 12:58:45.88 12:58:31.93 13:39:09.02 00:40:23.14 00:40:37.09 11 M 5K 5K Age Group Results for Male 15-19 based on Chip Elapsed time Place Bib # Name Chip Start Gun Start Finish Chip Elapsed Gun Elapsed Age Gender Division _____________________________________________________________________________________________________________________________________________________________ 1 531 AUSTIN CIRRI 12:58:39.93 12:58:31.93 13:20:49.53 00:22:09.60 00:22:17.60 15 M 5K 2 408 LOGAN CYFORD 12:58:39.36 12:58:31.93 13:22:52.44 00:24:13.08 00:24:20.51 15 M 5K 3 567 Joshua Nugent 12:58:46.69 12:58:31.93 13:48:52.87 00:50:06.17 00:50:20.94 17 M 5K 5K Age Group Results for Male 20-29 based on Chip Elapsed time Place Bib # Name Chip Start Gun Start Finish Chip Elapsed Gun Elapsed Age Gender Division _____________________________________________________________________________________________________________________________________________________________ 1 530 BENJAMIN GREENE 12:58:39.95 12:58:31.93 13:19:55.93 00:21:15.98 00:21:24.00 26 M 5K 2 553 Devin Herrick 12:59:04.79 12:58:31.93 13:27:01.31 00:27:56.51 00:28:29.38 27 M 5K 3 519 KYLE HITESHEW 12:58:31.93 12:58:31.93 13:29:52.65 00:31:20.72 00:31:20.72 28 M 5K 5K Age Group Results for Male 30-39 based on Chip Elapsed time Place Bib # Name Chip Start Gun Start Finish Chip Elapsed Gun Elapsed Age Gender Division _____________________________________________________________________________________________________________________________________________________________ 1 416 ADAM WEBB 12:58:31.93 12:58:31.93 13:20:10.06 00:21:38.13 00:21:38.13 32 M 5K 2 548 Ryan Herzing 12:58:31.93 12:58:31.93 13:20:13.67 00:21:41.74 00:21:41.74 36 M 5K 3 590 Tim Mitroka 12:58:43.25 12:58:31.93 13:22:01.12 00:23:17.87 00:23:29.19 38 M 5K 4 493 Ricky Farr 12:58:50.52 12:58:31.93 13:23:23.98 00:24:33.46 00:24:52.05 34 M 5K 5 424 SEAN JAVINS 12:58:42.08 12:58:31.93 13:25:04.10 00:26:22.02 00:26:32.17 39 M 5K 6 573 Bryan Bedzrizxh 12:58:47.32 12:58:31.93 13:26:18.94 00:27:31.62 00:27:47.01 34 M 5K 7 523 CARL ROBEY 12:58:30.57 12:58:31.93 13:26:23.50 00:27:52.92 00:27:51.57 34 M 5K 8 515 ROBERT ABRAMSON 12:58:45.76 12:58:31.93 13:26:51.74 00:28:05.97 00:28:19.81 39 M 5K 9 481 KEITH KOHR 12:58:31.93 12:58:31.93 13:26:38.97 00:28:07.04 00:28:07.04 37 M 5K 10 578 Mike Dulaney 12:58:53.34 12:58:31.93 13:27:12.44 00:28:19.10 00:28:40.51 39 M 5K 11 463 JEREMY RITCHIE 12:58:31.93 12:58:31.93 13:28:33.47 00:30:01.54 00:30:01.54 38 M 5K 12 429 RYAN DOW 12:58:49.29 12:58:31.93 13:34:50.61 00:36:01.31 00:36:18.68 33 M 5K 13 585 Tim Brooks 12:58:53.98 12:58:31.93 13:38:28.89 00:39:34.91 00:39:56.96 31 M 5K 14 550 Christopher Snyder 12:59:10.64 12:58:31.93 13:40:27.69 00:41:17.05 00:41:55.76 30 M 5K 15 509 Colin Rau 12:59:00.77 12:58:31.93 13:48:27.63 00:49:26.86 00:49:55.70 32 M 5K 16 489 PAUL BICKNELL 12:58:31.93 12:58:31.93 13:51:50.22 00:53:18.29 00:53:18.29 30 M 5K 5K Age Group Results for Male 40-49 based on Chip Elapsed time Place Bib # Name Chip Start Gun Start Finish Chip Elapsed Gun Elapsed Age Gender Division _____________________________________________________________________________________________________________________________________________________________ 1 418 STUART CURTIN 12:58:31.93 12:58:31.93 13:24:13.65 00:25:41.72 00:25:41.72 42 M 5K 2 559 August Merker 12:58:53.25 12:58:31.93 13:26:49.60 00:27:56.34 00:28:17.67 44 M 5K 3 572 Jon Hill 12:58:46.71 12:58:31.93 13:26:43.83 00:27:57.12 00:28:11.90 40 M 5K 4 401 CHRIS GUYER 12:58:31.93 12:58:31.93 13:28:09.97 00:29:38.04 00:29:38.04 47 M 5K 5 425 JEFF LAWSON 12:58:31.93 12:58:31.93 13:28:37.46 00:30:05.53 00:30:05.53 43 M 5K 6 587 Jason Niver 12:58:31.93 12:58:31.93 13:33:01.42 00:34:29.49 00:34:29.49 43 M 5K 7 562 Alan East 12:58:43.34 12:58:31.93 13:36:14.56 00:37:31.22 00:37:42.63 49 M 5K 8 513 John Harrison 12:58:59.84 12:58:31.93 13:37:46.18 00:38:46.33 00:39:14.25 42 M 5K 9 406 KEITH MUTSCHLER 12:58:31.93 12:58:31.93 13:38:25.90 00:39:53.97 00:39:53.97 48 M 5K 10 505 Justin Berk 12:58:31.93 12:58:31.93 13:42:15.44 00:43:43.51 00:43:43.51 46 M 5K 11 426 DAN ANDERSEN 12:58:31.93 12:58:31.93 13:42:27.81 00:43:55.88 00:43:55.88 41 M 5K 12 570 Mitch Dubb 12:58:51.73 12:58:31.93 13:47:48.57 00:48:56.83 00:49:16.64 47 M 5K 5K Age Group Results for Male 50-59 based on Chip Elapsed time Place Bib # Name Chip Start Gun Start Finish Chip Elapsed Gun Elapsed Age Gender Division _____________________________________________________________________________________________________________________________________________________________ 1 458 JOE BURKE 12:58:31.93 12:58:31.93 13:19:38.58 00:21:06.65 00:21:06.65 58 M 5K 2 492 Ken Miller 12:58:31.93 12:58:31.93 13:20:45.99 00:22:14.06 00:22:14.06 51 M 5K 3 560 Tom Evans 12:58:41.05 12:58:31.93 13:22:16.74 00:23:35.69 00:23:44.81 50 M 5K 4 555 Clifton Mower 12:58:39.94 12:58:31.93 13:22:57.78 00:24:17.84 00:24:25.85 51 M 5K 5 508 Tim Litz 12:58:37.97 12:58:31.93 13:23:29.71 00:24:51.74 00:24:57.78 56 M 5K 6 545 James Mize 12:58:31.93 12:58:31.93 13:23:36.73 00:25:04.80 00:25:04.80 53 M 5K 7 539 MARK WELSH 12:58:36.99 12:58:31.93 13:25:02.18 00:26:25.18 00:26:30.25 54 M 5K 8 527 ANDREW TURGEON 12:58:50.01 12:58:31.93 13:25:47.52 00:26:57.51 00:27:15.59 57 M 5K 9 454 KEITH PAINTER 12:58:37.97 12:58:31.93 13:26:59.66 00:28:21.69 00:28:27.73 52 M 5K 10 413 ROBERT LOGAN 12:58:59.88 12:58:31.93 13:28:00.08 00:29:00.20 00:29:28.15 58 M 5K 11 537 DAVE ARMSTRONG 12:58:39.11 12:58:31.93 13:28:08.52 00:29:29.41 00:29:36.59 55 M 5K 12 421 PAUL HAYDEN 12:58:43.97 12:58:31.93 13:28:19.61 00:29:35.63 00:29:47.68 50 M 5K 13 557 Rick Romeo 12:58:31.93 12:58:31.93 13:30:19.91 00:31:47.98 00:31:47.98 56 M 5K 14 569 Jimmy Nugent 12:58:50.05 12:58:31.93 13:31:02.20 00:32:12.15 00:32:30.27 51 M 5K 15 441 DAVID WILLSON 12:58:56.62 12:58:31.93 13:31:30.16 00:32:33.54 00:32:58.23 53 M 5K 16 552 Craig Harding 12:59:03.41 12:58:31.93 13:34:19.77 00:35:16.36 00:35:47.84 50 M 5K 17 448 CHCK SEUFERT 12:58:31.93 12:58:31.93 13:33:51.51 00:35:19.58 00:35:19.58 50 M 5K 18 500 Mark Miller 12:58:53.24 12:58:31.93 13:35:48.35 00:36:55.11 00:37:16.42 54 M 5K 19 543 Michael Spaulding 12:58:31.93 12:58:31.93 14:08:15.70 01:09:43.77 01:09:43.77 55 M 5K 5K Age Group Results for Male 60-69 based on Chip Elapsed time Place Bib # Name Chip Start Gun Start Finish Chip Elapsed Gun Elapsed Age Gender Division _____________________________________________________________________________________________________________________________________________________________ 1 588 John Chall 12:58:37.01 12:58:31.93 13:21:10.72 00:22:33.70 00:22:38.79 62 M 5K 2 544 Robert Holt 12:58:31.93 12:58:31.93 13:29:54.16 00:31:22.23 00:31:22.23 62 M 5K 3 541 CRAIG WEAVER 12:58:52.81 12:58:31.93 13:33:25.26 00:34:32.45 00:34:53.33 61 M 5K 4 583 Peter Knapstein 12:58:38.43 12:58:31.93 13:40:29.62 00:41:51.18 00:41:57.69 63 M 5K 5 580 Jack Bettle 12:58:36.79 12:58:31.93 13:42:08.50 00:43:31.70 00:43:36.57 64 M 5K 6 577 Gary Childs 12:59:01.37 12:58:31.93 13:44:11.84 00:45:10.46 00:45:39.91 61 M 5K