Sykesville Shiver Shuffle 2018
Sykesville Shiver Shuffle 2018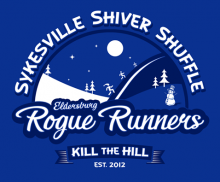 Come out and 'Kill the Hill' as you enjoy a mid-day 5k through Downtown Sykesville! Registered runners will receive a beer (21+) from Baldwin's Station, some warm crab soup from E.W. Beck's and other goodies.
 
SAVE THE DATE  February 18, 2018 1 PM for the 6th Annual Sykesville Shiver Shuffle 5K . Race will start and finish in Downtown Sykesville.  Make this race a part of your New Year's goal to be active! Join us post race at the Big Tent in Baldwins Parking lot for one free Beer from Baldwin's Station, some warm MD Crab Soup from E.W. Becks and other post race goodies. Additional beverages will be for sale and many Main Street Merchants will be open and having special discounts for participants. The race shirt this year will be a long sleeve navy cotton t-shirt (UNISEX SIZES). An additional gender-specific royal blue microfleece vest with the race's logo will also be available for an additional $25. Race shirts or sizes not guaranteed after January 25th so don't wait!!
Register before December 31, 2017 for a discount (https://sykesvilleshivershuffle2018.itsyourrace.com/register/). All registrations are final; no refunds due to weather or non-participation.
Cash Awards to the Top 3 Overall (Male and Female)
Medals awarded to winners of age groups.
Sykesville Pottery and Arts Center is offering activities for children ages 6 and up during the race (

12:30-2:30

). For $15/kid (cash only) they will take part in a small craft project, get a light snack and enjoy a movie. Call 410-552-9797 by

February 12

to reserve a spot (limit 30 kids)!
Must have ID to receive your 1 free beer.    
Packet Pick-up/Registration at Tri Sport Junction on Friday, Feb. 16th, 4-6:30pm, and Saturday, Feb. 17th, 10-2 pm, or Race Day in Baldwin's Parking lot 11:30.  Race starts promptly at 1:00 pm
Parking is limited in the  lots around town; however, parking is also available at Sykesville Middle School (about 1/2 mile away).    
Division: 5K Position Bib Name Gun Start Finish Gun Elaps Age Gender Division _____________________________________________________________________________________________________________________________ 1 119 ERIC SCHULER 13:05:12 13:22:27 00:17:16 24 M 5K 2 140 Kevin Bowman 13:05:12 13:24:44 00:19:32 30 M 5K 3 101 HOGAN MOWER 13:05:12 13:24:46 00:19:34 16 M 5K 4 127 SHERRY STICK 13:05:12 13:24:57 00:19:45 39 F 5K 5 52 BRIAN FLEMING 13:05:12 13:25:25 00:20:13 35 M 5K 6 118 JACOB RUPPAL 13:05:12 13:26:16 00:21:05 29 M 5K 7 114 BECKY RHODES 13:05:12 13:26:20 00:21:09 38 F 5K 8 173 Laura Hartman 13:05:12 13:26:40 00:21:29 35 F 5K 9 84 LEEANN MACHIESKY 13:05:12 13:27:04 00:21:53 39 F 5K 10 171 Kevin Flynn 13:05:12 13:27:33 00:22:22 51 M 5K 11 88 CORI MALEY 13:05:12 13:27:53 00:22:42 32 F 5K 12 78 ALLISON LEIMKUHLER 13:05:12 13:28:12 00:23:00 12 F 5K 13 57 DAVID GRIMALDI 13:05:12 13:28:21 00:23:09 31 M 5K 14 145 Bill Leffingwell 13:05:12 13:28:25 00:23:13 52 M 5K 15 50 TOM EVANS 13:05:12 13:28:25 00:23:14 48 M 5K 16 144 Jason Noble 13:05:12 13:28:33 00:23:21 38 M 5K 17 147 Jeff Francis 13:05:12 13:28:40 00:23:29 51 M 5K 18 85 JAMIE MACHIESKY 13:05:12 13:29:05 00:23:53 38 M 5K 19 176 Mary Baker 13:05:12 13:29:13 00:24:01 37 F 5K 20 68 LES KIRKEGAARD 13:05:12 13:29:13 00:24:01 51 M 5K 21 133 STEPHEN WALSH 13:05:12 13:29:14 00:24:03 30 M 5K 22 91 KELSI MIKLO 13:05:12 13:29:17 00:24:06 16 F 5K 23 48 JULIE CORONA 13:05:12 13:29:38 00:24:26 26 F 5K 24 132 JACOB WAGNER 13:05:12 13:29:40 00:24:28 38 M 5K 25 81 ERIC LIBERATORE 13:05:12 13:29:41 00:24:29 28 M 5K 26 73 Dario Lavelle 13:05:12 13:29:44 00:24:33 7 M 5K 27 72 Salvatore Lavelle 13:05:12 13:29:45 00:24:33 11 M 5K 28 116 KAREN RINEHART 13:05:12 13:29:50 00:24:39 50 F 5K 29 74 JEFF LAWSON 13:05:12 13:29:53 00:24:41 41 M 5K 30 123 JACOB SHATTO 13:05:12 13:30:07 00:24:56 43 M 5K 31 128 Casey Sullivan 13:05:12 13:30:17 00:25:05 23 F 5K 32 135 Mark Welsh 13:05:12 13:30:37 00:25:26 52 M 5K 33 51 MICHELE FIRLIE 13:05:12 13:30:50 00:25:38 48 F 5K 34 100 CLIFTON MOWER 13:05:12 13:30:51 00:25:39 49 M 5K 35 39 KENNETH BRIGGS 13:05:12 13:30:54 00:25:43 61 M 5K 36 89 CLINT MCKEE 13:05:12 13:30:59 00:25:47 30 M 5K 37 131 ABBY WAGNER 13:05:12 13:31:18 00:26:07 36 F 5K 38 111 KIM PUTTERMAN 13:05:12 13:31:33 00:26:22 29 F 5K 39 47 JACKIE CORONA 13:05:12 13:32:22 00:27:10 29 F 5K 40 54 FRANK GALLI 13:05:12 13:32:35 00:27:23 33 M 5K 41 146 Andrew Turgeon 13:05:12 13:32:35 00:27:23 55 M 5K 42 59 CHRIS GUYER 13:05:12 13:32:40 00:27:28 45 M 5K 43 104 EMILIA MOWER 13:05:12 13:32:46 00:27:35 14 F 5K 44 95 James Mize 13:05:12 13:32:54 00:27:42 52 M 5K 45 55 TERI GIBSON 13:05:12 13:32:58 00:27:46 53 F 5K 46 143 John Linde 13:05:12 13:33:19 00:28:07 55 M 5K 47 77 SHERRI LEIMKUHLER 13:05:12 13:33:41 00:28:30 47 F 5K 48 142 David Armstrong 13:05:12 13:33:50 00:28:38 53 M 5K 49 45 THOMAS CONRAD 13:05:12 13:33:53 00:28:41 56 M 5K 50 53 STEVEN FRENCH 13:05:12 13:34:05 00:28:54 50 M 5K 51 105 MARLA NERI-SALZMAN 13:05:12 13:34:10 00:28:59 54 F 5K 52 96 Kelly Mize 13:05:12 13:34:17 00:29:05 55 F 5K 53 117 DAVID ROTSTEIN 13:05:12 13:34:41 00:29:29 51 M 5K 54 83 ROBERT LOGAN 13:05:12 13:34:42 00:29:30 56 M 5K 55 80 JAMES LENTSCHER 13:05:12 13:34:42 00:29:31 41 M 5K 56 149 Mark Gossage 13:05:12 13:34:59 00:29:47 32 M 5K 57 109 Katlyn Painter 13:05:12 13:35:15 00:30:03 25 F 5K 58 64 Chris Hodge 13:05:12 13:35:20 00:30:08 52 M 5K 59 87 ALLE MACHIESKY 13:05:12 13:35:53 00:30:41 10 F 5K 60 46 TAMARA CONRAD 13:05:12 13:35:57 00:30:45 55 F 5K 61 37 ERIC BLADE 13:05:12 13:36:18 00:31:06 51 M 5K 62 99 ABIGAYLE MORSE 13:05:12 13:36:34 00:31:23 11 F 5K 63 98 KERRI MORSE 13:05:12 13:36:38 00:31:26 42 F 5K 64 42 RACHEL BUTLER 13:05:12 13:36:45 00:31:33 39 F 5K 65 43 SCOTT BUTLER 13:05:12 13:36:46 00:31:34 50 M 5K 66 71 Erin Lavelle 13:05:12 13:37:03 00:31:51 39 F 5K 67 124 KELLY SORENSEN 13:05:12 13:37:21 00:32:10 27 F 5K 68 108 Keith Painter 13:05:12 13:37:35 00:32:24 50 M 5K 69 148 David Wilson 13:05:12 13:37:40 00:32:29 56 M 5K 70 106 CYNTHIA NIVER 13:05:12 13:37:41 00:32:30 38 F 5K 71 102 ADAM MOWER 13:05:12 13:37:58 00:32:47 12 M 5K 72 120 ANGELA SEBRING 13:05:12 13:38:19 00:33:07 35 F 5K 73 122 LISA SEUFERT 13:05:12 13:38:25 00:33:13 48 F 5K 74 90 MARIA MERRILL 13:05:12 13:38:42 00:33:31 49 F 5K 75 130 CHRISTINA WAGNER 13:05:12 13:38:42 00:33:31 34 F 5K 76 75 BRIAN LAWTON 13:05:12 13:38:50 00:33:39 47 M 5K 77 107 JASON NIVER 13:05:12 13:39:20 00:34:08 40 M 5K 78 65 KAYLA JOHNSON 13:05:12 13:39:21 00:34:09 27 F 5K 79 110 KERRY PHELPS 13:05:12 13:39:40 00:34:29 36 F 5K 80 35 LAURA BECK 13:05:12 13:39:42 00:34:30 49 F 5K 81 70 WANDA KUPERUS 13:05:12 13:39:42 00:34:31 47 F 5K 82 115 GENICE RILL 13:05:12 13:39:43 00:34:31 44 F 5K 83 97 SHERRY MOBLEY 13:05:12 13:39:48 00:34:37 46 F 5K 84 44 ALYSSA CAIN 13:05:12 13:40:02 00:34:51 36 F 5K 85 112 GINA RASSA 13:05:12 13:40:03 00:34:52 47 F 5K 86 67 MEGAN KIRKEGAARD 13:05:12 13:40:19 00:35:07 51 F 5K 87 58 RACHEL GUDE 13:05:12 13:40:19 00:35:08 45 F 5K 88 94 AMANDA MILLER 13:05:12 13:40:36 00:35:24 38 F 5K 89 129 SUSAN SWENSEN 13:05:12 13:40:41 00:35:30 56 F 5K 90 113 RITA REYNOLDS 13:05:12 13:40:42 00:35:30 56 F 5K 91 92 KATHY MILLER 13:05:12 13:40:43 00:35:31 54 F 5K 92 31 LORA ALLISON 13:05:12 13:40:43 00:35:32 41 F 5K 93 61 DAVE HAYWARD 13:05:12 13:40:45 00:35:33 53 M 5K 94 121 CHUCK SEUFERT 13:05:12 13:41:17 00:36:05 48 M 5K 95 125 JESSICA SPEICH 13:05:12 13:41:47 00:36:36 27 F 5K 96 40 CARA BUCKMAN 13:05:12 13:42:33 00:37:22 26 F 5K 97 126 GLENN SPITZER 13:05:12 13:42:46 00:37:35 71 M 5K 98 60 RENEE HANSEN 13:05:12 13:42:48 00:37:37 45 F 5K 99 93 MARK MILLER 13:05:12 13:42:54 00:37:42 52 M 5K 100 82 PATRICE LIVESAY 13:05:12 13:42:54 00:37:43 49 F 5K 101 172 Patti Weaver 13:05:12 13:43:12 00:38:00 53 F 5K 102 30 Gina Painter 13:05:12 13:43:13 00:38:02 50 F 5K 103 79 Michele Leisher 13:05:12 13:43:14 00:38:03 54 F 5K 104 56 JAIME GRAUEL 13:05:12 13:44:00 00:38:48 48 F 5K 105 137 MaryEllen Wilson 13:05:12 13:45:11 00:39:59 58 F 5K 106 34 Lula Andersen 13:05:12 13:46:34 00:41:22 5 F 5K 107 41 CASSANDRA BURKE 13:05:12 13:46:35 00:41:23 46 F 5K 108 69 LAUREN KOEPPER 13:05:12 13:46:47 00:41:36 28 F 5K 109 66 ROSEMARIE JONES 13:05:12 13:47:05 00:41:53 48 F 5K 110 36 NANCY BEEBE 13:05:12 13:47:05 00:41:53 50 F 5K 111 32 DANIEL ANDERSEN 13:05:12 13:47:48 00:42:37 39 M 5K 112 33 Liam Andersen 13:05:12 13:47:48 00:42:37 7 M 5K 113 62 NORMAILED HEITJAN 13:05:12 13:49:18 00:44:07 36 F 5K 114 63 NICK HEITJAN 13:05:12 13:49:19 00:44:07 37 M 5K 115 86 MARY FRANCES MACHIES 13:05:12 13:49:57 00:44:46 59 F 5K 116 38 CANDACE BLANCETT 13:05:12 13:50:15 00:45:04 29 F 5K 117 103 PATRICIA MOWER 13:05:12 13:57:13 00:52:02 47 F 5K 118 138 Meg Robertson 13:05:12 13:57:13 00:52:02 25 F 5K 119 139 Kathryn Robertson 13:05:12 13:57:13 00:52:02 29 F 5K ---------------------------------------------------------------------------------------------------------------- ----------------------------------------------------------------------------------------------------------------------------------- Age Group Report: 2/18/2018 2:44:17 PM 5K Top Females Overall based on Gun Elapsed time Position Bib Name Gun Start Finish Gun Elaps Age Gender Division _____________________________________________________________________________________________________________________________ 1 127 SHERRY STICK 13:05:12 13:24:57 00:19:45 39 F 5K 2 114 BECKY RHODES 13:05:12 13:26:20 00:21:09 38 F 5K 3 173 Laura Hartman 13:05:12 13:26:40 00:21:29 35 F 5K 5K Age Group Results for Female Under 11 based on Gun Elapsed time Position Bib Name Gun Start Finish Gun Elaps Age Gender Division _____________________________________________________________________________________________________________________________ 1 87 ALLE MACHIESKY 13:05:12 13:35:53 00:30:41 10 F 5K 5K Age Group Results for Female 11-15 based on Gun Elapsed time Position Bib Name Gun Start Finish Gun Elaps Age Gender Division _____________________________________________________________________________________________________________________________ 1 78 ALLISON LEIMKUHLER 13:05:12 13:28:12 00:23:00 12 F 5K 5K Age Group Results for Female 16-20 based on Gun Elapsed time Position Bib Name Gun Start Finish Gun Elaps Age Gender Division _____________________________________________________________________________________________________________________________ 1 91 KELSI MIKLO 13:05:12 13:29:17 00:24:06 16 F 5K 5K Age Group Results for Female 21-25 based on Gun Elapsed time Position Bib Name Gun Start Finish Gun Elaps Age Gender Division _____________________________________________________________________________________________________________________________ 1 128 Casey Sullivan 13:05:12 13:30:17 00:25:05 23 F 5K 5K Age Group Results for Female 26-30 based on Gun Elapsed time Position Bib Name Gun Start Finish Gun Elaps Age Gender Division _____________________________________________________________________________________________________________________________ 1 48 JULIE CORONA 13:05:12 13:29:38 00:24:26 26 F 5K 5K Age Group Results for Female 31-35 based on Gun Elapsed time Position Bib Name Gun Start Finish Gun Elaps Age Gender Division _____________________________________________________________________________________________________________________________ 1 88 CORI MALEY 13:05:12 13:27:53 00:22:42 32 F 5K 5K Age Group Results for Female 36-40 based on Gun Elapsed time Position Bib Name Gun Start Finish Gun Elaps Age Gender Division _____________________________________________________________________________________________________________________________ 1 84 LEEANN MACHIESKY 13:05:12 13:27:04 00:21:53 39 F 5K 5K Age Group Results for Female 41-45 based on Gun Elapsed time Position Bib Name Gun Start Finish Gun Elaps Age Gender Division _____________________________________________________________________________________________________________________________ 1 98 KERRI MORSE 13:05:12 13:36:38 00:31:26 42 F 5K 5K Age Group Results for Female 46-50 based on Gun Elapsed time Position Bib Name Gun Start Finish Gun Elaps Age Gender Division _____________________________________________________________________________________________________________________________ 1 116 KAREN RINEHART 13:05:12 13:29:50 00:24:39 50 F 5K 5K Age Group Results for Female 51-55 based on Gun Elapsed time Position Bib Name Gun Start Finish Gun Elaps Age Gender Division _____________________________________________________________________________________________________________________________ 1 55 TERI GIBSON 13:05:12 13:32:58 00:27:46 53 F 5K 5K Age Group Results for Female 56-60 based on Gun Elapsed time Position Bib Name Gun Start Finish Gun Elaps Age Gender Division _____________________________________________________________________________________________________________________________ 1 129 SUSAN SWENSEN 13:05:12 13:40:41 00:35:30 56 F 5K 5K Top Males Overall based on Gun Elapsed time Position Bib Name Gun Start Finish Gun Elaps Age Gender Division _____________________________________________________________________________________________________________________________ 1 119 ERIC SCHULER 13:05:12 13:22:27 00:17:16 24 M 5K 2 140 Kevin Bowman 13:05:12 13:24:44 00:19:32 30 M 5K 3 101 HOGAN MOWER 13:05:12 13:24:46 00:19:34 16 M 5K 5K Age Group Results for Male Under 11 based on Gun Elapsed time Position Bib Name Gun Start Finish Gun Elaps Age Gender Division _____________________________________________________________________________________________________________________________ 1 73 Dario Lavelle 13:05:12 13:29:44 00:24:33 7 M 5K 5K Age Group Results for Male 11-15 based on Gun Elapsed time Position Bib Name Gun Start Finish Gun Elaps Age Gender Division _____________________________________________________________________________________________________________________________ 1 72 Salvatore Lavelle 13:05:12 13:29:45 00:24:33 11 M 5K 5K Age Group Results for Male 26-30 based on Gun Elapsed time Position Bib Name Gun Start Finish Gun Elaps Age Gender Division _____________________________________________________________________________________________________________________________ 1 118 JACOB RUPPAL 13:05:12 13:26:16 00:21:05 29 M 5K 5K Age Group Results for Male 31-35 based on Gun Elapsed time Position Bib Name Gun Start Finish Gun Elaps Age Gender Division _____________________________________________________________________________________________________________________________ 1 52 BRIAN FLEMING 13:05:12 13:25:25 00:20:13 35 M 5K 5K Age Group Results for Male 36-40 based on Gun Elapsed time Position Bib Name Gun Start Finish Gun Elaps Age Gender Division _____________________________________________________________________________________________________________________________ 1 144 Jason Noble 13:05:12 13:28:33 00:23:21 38 M 5K 5K Age Group Results for Male 41-45 based on Gun Elapsed time Position Bib Name Gun Start Finish Gun Elaps Age Gender Division _____________________________________________________________________________________________________________________________ 1 74 JEFF LAWSON 13:05:12 13:29:53 00:24:41 41 M 5K 5K Age Group Results for Male 46-50 based on Gun Elapsed time Position Bib Name Gun Start Finish Gun Elaps Age Gender Division _____________________________________________________________________________________________________________________________ 1 50 TOM EVANS 13:05:12 13:28:25 00:23:14 48 M 5K 5K Age Group Results for Male 51-55 based on Gun Elapsed time Position Bib Name Gun Start Finish Gun Elaps Age Gender Division _____________________________________________________________________________________________________________________________ 1 171 Kevin Flynn 13:05:12 13:27:33 00:22:22 51 M 5K 5K Age Group Results for Male 56-60 based on Gun Elapsed time Position Bib Name Gun Start Finish Gun Elaps Age Gender Division _____________________________________________________________________________________________________________________________ 1 45 THOMAS CONRAD 13:05:12 13:33:53 00:28:41 56 M 5K 5K Age Group Results for Male 61-65 based on Gun Elapsed time Position Bib Name Gun Start Finish Gun Elaps Age Gender Division _____________________________________________________________________________________________________________________________ 1 39 KENNETH BRIGGS 13:05:12 13:30:54 00:25:43 61 M 5K 5K Age Group Results for Male 71-75 based on Gun Elapsed time Position Bib Name Gun Start Finish Gun Elaps Age Gender Division _____________________________________________________________________________________________________________________________ 1 126 GLENN SPITZER 13:05:12 13:42:46 00:37:35 71 M 5K