Sykesville Shiver Shuffle 5K 2019
Sykesville Shiver Shuffle 5K 2019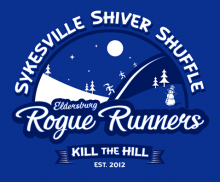 Come out and 'Kill the Hill' as you enjoy a mid-day 5k through Downtown Sykesville! Registered runners will receive a $5.00 Coupon to be used at any participating Main St Store, Pub, or Restaurant! Main Street is ready for you and friends to have a great Time!! 
 
SAVE THE DATE  February 24, 2019 at 1 PM for the 7th Annual Sykesville Shiver Shuffle 5K . Race will start and finish in Downtown Sykesville.  Make this race a part of your New Year's goal to be active! To make this race more affordable the 1/4 Zip Premium is Optional!            Race premiums are not guaranteed after January 30th so don't wait!!
   All registrations are final; no refunds due to weather or non-participation.
Cash Awards to the Top 3 Overall (Male and Female)
Medals awarded to winners of age groups.
Raffle prizes will be randomly chosen and you can claim your prize at  the end of your run.
Packet Pick-up/Registration at Tri Sport Junction on Saturday, Feb. 23rd, 10-4 pm, or Race Day in Tri Sport Junction 11:30-12:30 pm.  Race starts promptly at 1:00 pm
Parking is limited in the  lots around town; however, parking is also available at Sykesville Middle School (about 1/2 mile away).    
Age Group Report: 2/24/2019 6:13:16 PM 5K Top Females Overall based on Chip Elapsed time Place Bib # Name Chip Start Gun Start Finish Chip Elapsed Gun Elapsed Age Gender Division _____________________________________________________________________________________________________________________________________________________________ 1 588 SHERRY STICK 12:59:32.61 12:59:31.61 13:19:28.57 00:19:55.96 00:19:56.95 40 F 5K 2 575 BECKY RHODES 12:59:32.67 12:59:31.61 13:21:08.96 00:21:36.29 00:21:37.35 39 F 5K 3 563 KERRI MORSE 12:59:33.85 12:59:31.61 13:22:57.60 00:23:23.75 00:23:25.99 43 F 5K 5K Age Group Results for Female Under 11 based on Chip Elapsed time Place Bib # Name Chip Start Gun Start Finish Chip Elapsed Gun Elapsed Age Gender Division _____________________________________________________________________________________________________________________________________________________________ 1 440 Lula Andersen 12:59:40.66 12:59:31.61 13:37:46.08 00:38:05.42 00:38:14.47 6 F 5K 2 566 Kyawin Nash 12:59:36.20 12:59:31.61 13:53:14.35 00:53:38.14 00:53:42.73 10 F 5K 5K Age Group Results for Female 11-15 based on Chip Elapsed time Place Bib # Name Chip Start Gun Start Finish Chip Elapsed Gun Elapsed Age Gender Division _____________________________________________________________________________________________________________________________________________________________ 1 562 ABBY MORSE 12:59:33.54 12:59:31.61 13:26:55.73 00:27:22.18 00:27:24.11 12 F 5K 2 469 ANNA FURIC 12:59:35.00 12:59:31.61 13:27:49.99 00:28:14.98 00:28:18.37 15 F 5K 3 494 Anijah Kenny 12:59:38.17 12:59:31.61 13:43:27.60 00:43:49.43 00:43:55.99 13 F 5K 4 102 Kennedy Watson 12:59:38.61 12:59:31.61 13:43:28.33 00:43:49.71 00:43:56.71 14 F 5K 5 577 ABIGAIL RITCHIE 13:00:01.65 12:59:31.61 13:44:42.42 00:44:40.76 00:45:10.80 12 F 5K 5K Age Group Results for Female 20-29 based on Chip Elapsed time Place Bib # Name Chip Start Gun Start Finish Chip Elapsed Gun Elapsed Age Gender Division _____________________________________________________________________________________________________________________________________________________________ 1 151 Taylor Houser 12:59:35.55 12:59:31.61 13:25:45.08 00:26:09.52 00:26:13.47 26 F 5K 2 580 LINDSEY ROMEO 12:59:39.94 12:59:31.61 13:28:52.74 00:29:12.79 00:29:21.12 28 F 5K 3 117 PAIGE OLSON 12:59:41.64 12:59:31.61 13:29:29.54 00:29:47.90 00:29:57.93 24 F 5K 4 471 LAUREN GRABOWSKI 12:59:49.60 12:59:31.61 13:31:15.29 00:31:25.69 00:31:43.68 29 F 5K 5 585 JACQUELINE SHERWIN 12:59:38.95 12:59:31.61 13:34:00.32 00:34:21.36 00:34:28.71 22 F 5K 6 114 Hannah Snyder 12:59:38.80 12:59:31.61 13:34:42.09 00:35:03.28 00:35:10.48 28 F 5K 7 105 BECKY WILLIAMSON 12:59:40.19 12:59:31.61 13:36:01.40 00:36:21.21 00:36:29.79 25 F 5K 8 455 NAOMI DERRICK 12:59:56.66 12:59:31.61 13:36:38.73 00:36:42.06 00:37:07.12 25 F 5K 9 136 Christen Woolford 13:00:02.34 12:59:31.61 13:43:34.83 00:43:32.48 00:44:03.21 24 F 5K 10 137 Tiffany Fare 13:00:02.24 12:59:31.61 13:43:35.13 00:43:32.89 00:44:03.52 24 F 5K 11 467 JILLIAN FOGELSANGER 12:59:43.90 12:59:31.61 13:45:46.96 00:46:03.06 00:46:15.35 28 F 5K 12 441 RACHEL ATHEY 12:59:43.32 12:59:31.61 13:45:46.40 00:46:03.08 00:46:14.79 27 F 5K 5K Age Group Results for Female 30-39 based on Chip Elapsed time Place Bib # Name Chip Start Gun Start Finish Chip Elapsed Gun Elapsed Age Gender Division _____________________________________________________________________________________________________________________________________________________________ 1 443 Mary Baker 12:59:33.07 12:59:31.61 13:23:10.51 00:23:37.43 00:23:38.89 38 F 5K 2 488 SHELLEY HOUSE 12:59:42.89 12:59:31.61 13:24:09.38 00:24:26.48 00:24:37.76 35 F 5K 3 533 TRACI LIJEWSKI 12:59:36.73 12:59:31.61 13:24:13.10 00:24:36.36 00:24:41.48 33 F 5K 4 129 Jennifer Patton 12:59:31.61 12:59:31.61 13:24:37.01 00:25:05.39 00:25:05.39 31 F 5K 5 131 Julia Burchett 12:59:39.55 12:59:31.61 13:27:12.40 00:27:32.85 00:27:40.79 37 F 5K 6 145 Nancy Habecker 12:59:44.98 12:59:31.61 13:28:33.66 00:28:48.67 00:29:02.05 35 F 5K 7 557 AMANDA MERRIAM 12:59:47.62 12:59:31.61 13:31:14.11 00:31:26.48 00:31:42.49 32 F 5K 8 572 SARAH PARSONS 12:59:40.05 12:59:31.61 13:32:52.35 00:33:12.29 00:33:20.73 38 F 5K 9 493 KRISTEN KEISER 12:59:53.95 12:59:31.61 13:34:09.31 00:34:15.35 00:34:37.69 38 F 5K 10 589 NATOSCHA TAYLOR 12:59:44.73 12:59:31.61 13:34:14.65 00:34:29.92 00:34:43.04 32 F 5K 11 107 JESSICA WILT 12:59:45.43 12:59:31.61 13:34:15.88 00:34:30.44 00:34:44.27 38 F 5K 12 139 Wendy Janes 12:59:46.03 12:59:31.61 13:34:34.19 00:34:48.15 00:35:02.57 38 F 5K 13 115 Kerry Phelps 12:59:51.61 12:59:31.61 13:35:14.04 00:35:22.43 00:35:42.43 37 F 5K 14 127 Katie Arnold 12:59:41.64 12:59:31.61 13:36:55.68 00:37:14.04 00:37:24.07 37 F 5K 15 452 EMILY DEAN 12:59:31.61 12:59:31.61 13:37:59.50 00:38:27.88 00:38:27.88 33 F 5K 16 120 Meghan Messer 12:59:57.09 12:59:31.61 13:40:14.75 00:40:17.66 00:40:43.14 33 F 5K 17 445 JACKIE BEDNARCZYK 12:59:50.42 12:59:31.61 13:41:40.73 00:41:50.30 00:42:09.12 32 F 5K 18 473 RACHEL GRIFFITH 12:59:49.74 12:59:31.61 13:41:53.22 00:42:03.48 00:42:21.61 31 F 5K 19 472 KATIE GRIFFITH 12:59:49.47 12:59:31.61 13:41:53.52 00:42:04.05 00:42:21.91 31 F 5K 20 465 ALLISON FISHER 12:59:50.18 12:59:31.61 13:41:55.95 00:42:05.77 00:42:24.34 30 F 5K 21 498 JESSICA KRANTZ 12:59:48.21 12:59:31.61 13:42:37.21 00:42:49.00 00:43:05.60 37 F 5K 22 490 ASHLEY JARRETT 12:59:58.20 12:59:31.61 13:49:18.42 00:49:20.22 00:49:46.81 33 F 5K 23 592 Abby Wagner 12:59:37.93 12:59:31.61 13:52:53.99 00:53:16.06 00:53:22.38 37 F 5K 5K Age Group Results for Female 40-49 based on Chip Elapsed time Place Bib # Name Chip Start Gun Start Finish Chip Elapsed Gun Elapsed Age Gender Division _____________________________________________________________________________________________________________________________________________________________ 1 464 MICHELE FIRLIE 12:59:50.00 12:59:31.61 13:23:55.79 00:24:05.78 00:24:24.17 49 F 5K 2 126 Celia Chavez 12:59:37.08 12:59:31.61 13:25:22.31 00:25:45.23 00:25:50.70 41 F 5K 3 456 Kelly Dixon 12:59:31.61 12:59:31.61 13:26:21.99 00:26:50.37 00:26:50.37 40 F 5K 4 119 KATHRYN O'LEARY 12:59:33.00 12:59:31.61 13:27:04.41 00:27:31.40 00:27:32.80 44 F 5K 5 109 Lori Lau 12:59:41.86 12:59:31.61 13:28:37.63 00:28:55.77 00:29:06.02 41 F 5K 6 583 LISA SEUFERT 12:59:35.57 12:59:31.61 13:30:04.40 00:30:28.83 00:30:32.79 49 F 5K 7 476 RACHEL GUDE 12:59:48.85 12:59:31.61 13:33:40.89 00:33:52.04 00:34:09.28 46 F 5K 8 484 MARY HILL 12:59:45.21 12:59:31.61 13:35:33.13 00:35:47.91 00:36:01.51 40 F 5K 9 141 Janet Effler 12:59:44.20 12:59:31.61 13:35:32.87 00:35:48.67 00:36:01.25 44 F 5K 10 112 Karen Stump 12:59:53.41 12:59:31.61 13:36:40.06 00:36:46.65 00:37:08.45 43 F 5K 11 560 SHERRY MOBLEY 12:59:51.69 12:59:31.61 13:38:15.49 00:38:23.79 00:38:43.88 47 F 5K 12 483 REBECCA HEAGY 12:59:51.43 12:59:31.61 13:40:26.52 00:40:35.09 00:40:54.90 47 F 5K 13 564 VICKI MOYER 12:59:46.46 12:59:31.61 13:41:24.97 00:41:38.51 00:41:53.36 49 F 5K 14 579 JULIE RITCHIE 13:00:03.00 12:59:31.61 13:44:36.49 00:44:33.49 00:45:04.87 43 F 5K 15 576 AMY RICHARD 12:59:58.84 12:59:31.61 13:49:17.88 00:49:19.04 00:49:46.27 43 F 5K 16 446 JOY BELL 12:59:59.44 12:59:31.61 13:50:56.33 00:50:56.88 00:51:24.71 40 F 5K 17 590 CHRISTENE THOMAS 12:59:58.56 12:59:31.61 13:50:56.41 00:50:57.84 00:51:24.79 43 F 5K 18 448 TAMMY CANTU 13:00:01.10 12:59:31.61 13:52:10.17 00:52:09.07 00:52:38.55 45 F 5K 19 565 Tammy Muir 13:00:01.55 12:59:31.61 13:52:11.03 00:52:09.48 00:52:39.42 46 F 5K 20 586 JENNIFER SLICHER 13:00:00.83 12:59:31.61 13:52:10.33 00:52:09.50 00:52:38.72 45 F 5K 21 561 MICHELLE MONTERO 12:59:46.13 12:59:31.61 13:52:29.12 00:52:42.99 00:52:57.51 44 F 5K 22 492 KATHY KASTBERG 12:59:45.25 12:59:31.61 13:52:29.48 00:52:44.23 00:52:57.86 46 F 5K 23 453 Julie Della-Maria 12:59:41.86 12:59:31.61 13:52:55.38 00:53:13.51 00:53:23.76 43 F 5K 5K Age Group Results for Female 50-59 based on Chip Elapsed time Place Bib # Name Chip Start Gun Start Finish Chip Elapsed Gun Elapsed Age Gender Division _____________________________________________________________________________________________________________________________________________________________ 1 138 Marsha Demaree 12:59:36.06 12:59:31.61 13:25:39.31 00:26:03.24 00:26:07.69 54 F 5K 2 567 MARTHA NEUENHOFF 12:59:52.35 12:59:31.61 13:29:18.02 00:29:25.67 00:29:46.41 55 F 5K 3 559 KELLY MIZE 12:59:38.80 12:59:31.61 13:29:37.63 00:29:58.82 00:30:06.01 56 F 5K 4 470 TERI GIBSON 12:59:54.35 12:59:31.61 13:30:40.01 00:30:45.66 00:31:08.40 54 F 5K 5 103 Patti Weaver 12:59:53.99 12:59:31.61 13:31:46.57 00:31:52.57 00:32:14.95 54 F 5K 6 116 Loel Romeo 12:59:39.42 12:59:31.61 13:35:12.39 00:35:32.96 00:35:40.78 54 F 5K 7 530 Michele Leisher 12:59:52.97 12:59:31.61 13:37:11.08 00:37:18.10 00:37:39.47 55 F 5K 8 496 MEGAN KIRKEGAARD 12:59:31.61 12:59:31.61 13:37:42.43 00:38:10.82 00:38:10.82 52 F 5K 9 444 EILEEN BARRY 12:59:49.11 12:59:31.61 13:38:23.43 00:38:34.32 00:38:51.82 56 F 5K 10 584 PAULA SHEPHERD 12:59:47.75 12:59:31.61 13:39:17.03 00:39:29.28 00:39:45.42 58 F 5K 11 451 KAREN DAVIS 12:59:55.40 12:59:31.61 13:42:06.24 00:42:10.84 00:42:34.63 52 F 5K 12 558 ANDREA MISNER 12:59:40.89 12:59:31.61 13:43:27.58 00:43:46.68 00:43:55.96 53 F 5K 13 487 LESLIE HORTON 12:59:31.61 12:59:31.61 13:49:47.88 00:50:16.27 00:50:16.27 56 F 5K 5K Age Group Results for Female 60-69 based on Chip Elapsed time Place Bib # Name Chip Start Gun Start Finish Chip Elapsed Gun Elapsed Age Gender Division _____________________________________________________________________________________________________________________________________________________________ 1 104 ELIZABETH WILLIAMS 12:59:55.11 12:59:31.61 13:32:51.41 00:32:56.29 00:33:19.79 60 F 5K 2 489 MARGARET HUNT 12:59:48.45 12:59:31.61 13:36:25.54 00:36:37.09 00:36:53.93 67 F 5K 3 587 DEBORAH SMITH 12:59:41.00 12:59:31.61 13:40:14.92 00:40:33.91 00:40:43.30 61 F 5K 4 477 SUSAN GUM 12:59:42.22 12:59:31.61 13:43:31.73 00:43:49.51 00:44:00.12 61 F 5K 5 449 MILDRED COLUSSY 12:59:42.36 12:59:31.61 13:48:19.85 00:48:37.49 00:48:48.24 66 F 5K 6 571 DARLENE OVERHOLTZER 12:59:31.61 12:59:31.61 13:49:48.28 00:50:16.67 00:50:16.67 60 F 5K 5K Age Group Results for Female Over 69 based on Chip Elapsed time Place Bib # Name Chip Start Gun Start Finish Chip Elapsed Gun Elapsed Age Gender Division _____________________________________________________________________________________________________________________________________________________________ 1 569 JEANETTE A NOVAK 12:59:38.19 12:59:31.61 13:45:27.55 00:45:49.36 00:45:55.94 74 F 5K 5K Top Males Overall based on Chip Elapsed time Place Bib # Name Chip Start Gun Start Finish Chip Elapsed Gun Elapsed Age Gender Division _____________________________________________________________________________________________________________________________________________________________ 1 132 Sheldon Degenhardt 12:59:32.63 12:59:31.61 13:19:53.99 00:20:21.36 00:20:22.37 54 M 5K 2 118 Chris Mead 12:59:32.39 12:59:31.61 13:21:09.43 00:21:37.04 00:21:37.82 32 M 5K 3 466 BRIAN FLEMING 12:59:32.75 12:59:31.61 13:22:06.99 00:22:34.24 00:22:35.38 36 M 5K 5K Age Group Results for Male Under 11 based on Chip Elapsed time Place Bib # Name Chip Start Gun Start Finish Chip Elapsed Gun Elapsed Age Gender Division _____________________________________________________________________________________________________________________________________________________________ 1 140 Joshua Janes 12:59:46.28 12:59:31.61 13:34:23.92 00:34:37.64 00:34:52.31 7 M 5K 2 439 Liam Andersen 12:59:31.61 12:59:31.61 13:35:47.74 00:36:16.13 00:36:16.13 8 M 5K 3 128 Lucas Rhodes 12:59:35.16 12:59:31.61 13:36:18.98 00:36:43.81 00:36:47.36 9 M 5K 4 122 Jack Behle 12:59:34.17 12:59:31.61 13:37:57.39 00:38:23.21 00:38:25.77 6 M 5K 5 442 James Baker 12:59:34.99 12:59:31.61 13:40:29.84 00:40:54.84 00:40:58.22 8 M 5K 5K Age Group Results for Male 11-15 based on Chip Elapsed time Place Bib # Name Chip Start Gun Start Finish Chip Elapsed Gun Elapsed Age Gender Division _____________________________________________________________________________________________________________________________________________________________ 1 101 Eddie Watson 12:59:35.69 12:59:31.61 13:22:33.11 00:22:57.41 00:23:01.49 14 M 5K 2 480 JAKE HAYDEN 12:59:33.13 12:59:31.61 13:23:52.45 00:24:19.32 00:24:20.84 13 M 5K 3 457 Matthew Dixon 12:59:37.21 12:59:31.61 13:31:22.23 00:31:45.02 00:31:50.62 11 M 5K 5K Age Group Results for Male 20-29 based on Chip Elapsed time Place Bib # Name Chip Start Gun Start Finish Chip Elapsed Gun Elapsed Age Gender Division _____________________________________________________________________________________________________________________________________________________________ 1 150 Oscar Calleias 12:59:35.63 12:59:31.61 13:25:45.84 00:26:10.20 00:26:14.22 24 M 5K 2 146 John Soroul 12:59:50.64 12:59:31.61 13:28:42.05 00:28:51.40 00:29:10.44 25 M 5K 3 142 Ryan Richardson 12:59:35.54 12:59:31.61 13:31:33.15 00:31:57.61 00:32:01.54 20 M 5K 4 454 MATT DERRICK 12:59:57.23 12:59:31.61 13:36:38.47 00:36:41.24 00:37:06.86 26 M 5K 5K Age Group Results for Male 30-39 based on Chip Elapsed time Place Bib # Name Chip Start Gun Start Finish Chip Elapsed Gun Elapsed Age Gender Division _____________________________________________________________________________________________________________________________________________________________ 1 581 TREVOR SELLERS 12:59:35.23 12:59:31.61 13:23:27.59 00:23:52.35 00:23:55.97 31 M 5K 2 474 DAVID GRIMALDI 12:59:42.48 12:59:31.61 13:23:35.93 00:23:53.44 00:24:04.32 32 M 5K 3 468 JOSH FORMWALT 12:59:33.12 12:59:31.61 13:24:10.38 00:24:37.25 00:24:38.77 33 M 5K 4 124 Rob Slopek 12:59:36.10 12:59:31.61 13:25:22.39 00:25:46.29 00:25:50.77 39 M 5K 5 143 Bryan Bednarczyk 12:59:47.23 12:59:31.61 13:27:42.26 00:27:55.02 00:28:10.64 33 M 5K 6 460 GLENN EBERSOLE 12:59:47.08 12:59:31.61 13:28:06.51 00:28:19.42 00:28:34.89 39 M 5K 7 475 JONATHAN GROSS 12:59:34.59 12:59:31.61 13:28:18.68 00:28:44.08 00:28:47.07 37 M 5K 8 113 Mark Gossage 12:59:47.88 12:59:31.61 13:32:08.42 00:32:20.54 00:32:36.81 33 M 5K 9 578 JEREMY RITCHIE 12:59:31.61 12:59:31.61 13:34:53.27 00:35:21.66 00:35:21.66 37 M 5K 10 121 Greg Messrr 12:59:57.05 12:59:31.61 13:40:17.12 00:40:20.07 00:40:45.51 35 M 5K 5K Age Group Results for Male 40-49 based on Chip Elapsed time Place Bib # Name Chip Start Gun Start Finish Chip Elapsed Gun Elapsed Age Gender Division _____________________________________________________________________________________________________________________________________________________________ 1 461 THOMAS EVANS 12:59:33.90 12:59:31.61 13:22:47.97 00:23:14.07 00:23:16.36 49 M 5K 2 499 JEFF LAWSON 12:59:35.97 12:59:31.61 13:24:09.48 00:24:33.51 00:24:37.87 42 M 5K 3 133 August Merker 12:59:31.61 12:59:31.61 13:26:29.45 00:26:57.84 00:26:57.84 43 M 5K 4 478 CHRIS GUYER 12:59:37.07 12:59:31.61 13:27:24.35 00:27:47.27 00:27:52.73 46 M 5K 5 147 Alan East 12:59:42.97 12:59:31.61 13:34:35.47 00:34:52.50 00:35:03.86 48 M 5K 6 582 CHUCK SEUFERT 12:59:35.19 12:59:31.61 13:34:37.08 00:35:01.89 00:35:05.47 49 M 5K 7 482 CHRISTOPHER HEAGY 12:59:55.20 12:59:31.61 13:35:48.65 00:35:53.45 00:36:17.04 44 M 5K 8 568 JASON NIVER 12:59:43.79 12:59:31.61 13:36:21.69 00:36:37.90 00:36:50.08 41 M 5K 9 353 Dan Andersen 12:59:40.68 12:59:31.61 13:36:59.73 00:37:19.04 00:37:28.12 40 M 5K 10 459 Mitchell Dubbs 12:59:51.12 12:59:31.61 13:41:40.81 00:41:49.69 00:42:09.20 46 M 5K 11 463 TIMOTHY EVANS 12:59:48.86 12:59:31.61 13:42:24.68 00:42:35.81 00:42:53.07 48 M 5K 5K Age Group Results for Male 50-59 based on Chip Elapsed time Place Bib # Name Chip Start Gun Start Finish Chip Elapsed Gun Elapsed Age Gender Division _____________________________________________________________________________________________________________________________________________________________ 1 134 Joe Burke 12:59:34.62 12:59:31.61 13:22:54.46 00:23:19.83 00:23:22.84 57 M 5K 2 148 Ken Miller 12:59:34.51 12:59:31.61 13:23:32.97 00:23:58.46 00:24:01.36 50 M 5K 3 149 Tom Rooney 12:59:34.24 12:59:31.61 13:23:36.01 00:24:01.76 00:24:04.39 56 M 5K 4 135 John Way 12:59:31.61 12:59:31.61 13:23:35.76 00:24:04.15 00:24:04.15 53 M 5K 5 534 STEWART MAYHEW 13:00:02.88 12:59:31.61 13:25:36.63 00:25:33.74 00:26:05.01 51 M 5K 6 144 Simon Crisp 12:59:35.14 12:59:31.61 13:25:33.21 00:25:58.07 00:26:01.60 53 M 5K 7 495 LES KIRKEGAARD 12:59:50.44 12:59:31.61 13:26:10.15 00:26:19.71 00:26:38.54 52 M 5K 8 591 ANDREW TURGEON 12:59:45.97 12:59:31.61 13:26:05.75 00:26:19.77 00:26:34.13 56 M 5K 9 111 Doug Stump 12:59:52.94 12:59:31.61 13:28:34.25 00:28:41.31 00:29:02.64 51 M 5K 10 570 ERIK OLSON 12:59:40.98 12:59:31.61 13:30:07.88 00:30:26.90 00:30:36.26 53 M 5K 11 458 MICHAEL DUBBS 12:59:53.65 12:59:31.61 13:32:27.67 00:32:34.01 00:32:56.06 56 M 5K 12 125 Mark Herboldt 12:59:31.61 12:59:31.61 13:33:23.13 00:33:51.52 00:33:51.52 53 M 5K 13 123 Mark Miller 12:59:31.61 12:59:31.61 13:39:15.68 00:39:44.07 00:39:44.07 53 M 5K 14 481 DAVE HAYWARD 12:59:55.83 12:59:31.61 13:42:06.88 00:42:11.05 00:42:35.27 54 M 5K 5K Age Group Results for Male 60-69 based on Chip Elapsed time Place Bib # Name Chip Start Gun Start Finish Chip Elapsed Gun Elapsed Age Gender Division _____________________________________________________________________________________________________________________________________________________________ 1 447 KENNETH BRIGGS 12:59:36.73 12:59:31.61 13:24:45.82 00:25:09.09 00:25:14.20 62 M 5K 2 450 JOHN DAVIS 12:59:36.41 12:59:31.61 13:28:38.67 00:29:02.26 00:29:07.06 62 M 5K 3 486 ROBERT HOLT 12:59:37.20 12:59:31.61 13:30:56.94 00:31:19.74 00:31:25.33 61 M 5K 4 152 Brad Westhafer 12:59:38.11 12:59:31.61 13:37:49.03 00:38:10.91 00:38:17.41 67 M 5K 5 110 Gary Scarbeau 12:59:40.81 12:59:31.61 13:40:19.89 00:40:39.07 00:40:48.27 68 M 5K 5K Age Group Results for Male Over 69 based on Chip Elapsed time Place Bib # Name Chip Start Gun Start Finish Chip Elapsed Gun Elapsed Age Gender Division _____________________________________________________________________________________________________________________________________________________________ 1 130 Jim Bitgood 12:59:52.01 12:59:31.61 13:34:38.31 00:34:46.30 00:35:06.70 73 M 5K ----------------------------------------------------------------------------------------------------------------------------------------------------------- Divisions Include: 5K Place Bib # Name Chip Start Gun Start Finish Chip Elapsed Gun Elapsed Age Gender Division _____________________________________________________________________________________________________________________________________________________________ 1 588 SHERRY STICK 12:59:32.61 12:59:31.61 13:19:28.57 00:19:55.96 00:19:56.95 40 F 5K 2 132 Sheldon Degenhardt 12:59:32.63 12:59:31.61 13:19:53.99 00:20:21.36 00:20:22.37 54 M 5K 3 575 BECKY RHODES 12:59:32.67 12:59:31.61 13:21:08.96 00:21:36.29 00:21:37.35 39 F 5K 4 118 Chris Mead 12:59:32.39 12:59:31.61 13:21:09.43 00:21:37.04 00:21:37.82 32 M 5K 5 466 BRIAN FLEMING 12:59:32.75 12:59:31.61 13:22:06.99 00:22:34.24 00:22:35.38 36 M 5K 6 101 Eddie Watson 12:59:35.69 12:59:31.61 13:22:33.11 00:22:57.41 00:23:01.49 14 M 5K 7 461 THOMAS EVANS 12:59:33.90 12:59:31.61 13:22:47.97 00:23:14.07 00:23:16.36 49 M 5K 8 134 Joe Burke 12:59:34.62 12:59:31.61 13:22:54.46 00:23:19.83 00:23:22.84 57 M 5K 9 563 KERRI MORSE 12:59:33.85 12:59:31.61 13:22:57.60 00:23:23.75 00:23:25.99 43 F 5K 10 443 Mary Baker 12:59:33.07 12:59:31.61 13:23:10.51 00:23:37.43 00:23:38.89 38 F 5K 11 581 TREVOR SELLERS 12:59:35.23 12:59:31.61 13:23:27.59 00:23:52.35 00:23:55.97 31 M 5K 12 148 Ken Miller 12:59:34.51 12:59:31.61 13:23:32.97 00:23:58.46 00:24:01.36 50 M 5K 13 135 John Way 12:59:31.61 12:59:31.61 13:23:35.76 00:24:04.15 00:24:04.15 53 M 5K 14 474 DAVID GRIMALDI 12:59:42.48 12:59:31.61 13:23:35.93 00:23:53.44 00:24:04.32 32 M 5K 15 149 Tom Rooney 12:59:34.24 12:59:31.61 13:23:36.01 00:24:01.76 00:24:04.39 56 M 5K 16 480 JAKE HAYDEN 12:59:33.13 12:59:31.61 13:23:52.45 00:24:19.32 00:24:20.84 13 M 5K 17 464 MICHELE FIRLIE 12:59:50.00 12:59:31.61 13:23:55.79 00:24:05.78 00:24:24.17 49 F 5K 18 488 SHELLEY HOUSE 12:59:42.89 12:59:31.61 13:24:09.38 00:24:26.48 00:24:37.76 35 F 5K 19 499 JEFF LAWSON 12:59:35.97 12:59:31.61 13:24:09.48 00:24:33.51 00:24:37.87 42 M 5K 20 468 JOSH FORMWALT 12:59:33.12 12:59:31.61 13:24:10.38 00:24:37.25 00:24:38.77 33 M 5K 21 533 TRACI LIJEWSKI 12:59:36.73 12:59:31.61 13:24:13.10 00:24:36.36 00:24:41.48 33 F 5K 22 129 Jennifer Patton 12:59:31.61 12:59:31.61 13:24:37.01 00:25:05.39 00:25:05.39 31 F 5K 23 447 KENNETH BRIGGS 12:59:36.73 12:59:31.61 13:24:45.82 00:25:09.09 00:25:14.20 62 M 5K 24 126 Celia Chavez 12:59:37.08 12:59:31.61 13:25:22.31 00:25:45.23 00:25:50.70 41 F 5K 25 124 Rob Slopek 12:59:36.10 12:59:31.61 13:25:22.39 00:25:46.29 00:25:50.77 39 M 5K 26 144 Simon Crisp 12:59:35.14 12:59:31.61 13:25:33.21 00:25:58.07 00:26:01.60 53 M 5K 27 534 STEWART MAYHEW 13:00:02.88 12:59:31.61 13:25:36.63 00:25:33.74 00:26:05.01 51 M 5K 28 138 Marsha Demaree 12:59:36.06 12:59:31.61 13:25:39.31 00:26:03.24 00:26:07.69 54 F 5K 29 151 Taylor Houser 12:59:35.55 12:59:31.61 13:25:45.08 00:26:09.52 00:26:13.47 26 F 5K 30 150 Oscar Calleias 12:59:35.63 12:59:31.61 13:25:45.84 00:26:10.20 00:26:14.22 24 M 5K 31 591 ANDREW TURGEON 12:59:45.97 12:59:31.61 13:26:05.75 00:26:19.77 00:26:34.13 56 M 5K 32 495 LES KIRKEGAARD 12:59:50.44 12:59:31.61 13:26:10.15 00:26:19.71 00:26:38.54 52 M 5K 33 456 Kelly Dixon 12:59:31.61 12:59:31.61 13:26:21.99 00:26:50.37 00:26:50.37 40 F 5K 34 133 August Merker 12:59:31.61 12:59:31.61 13:26:29.45 00:26:57.84 00:26:57.84 43 M 5K 35 562 ABBY MORSE 12:59:33.54 12:59:31.61 13:26:55.73 00:27:22.18 00:27:24.11 12 F 5K 36 119 KATHRYN O'LEARY 12:59:33.00 12:59:31.61 13:27:04.41 00:27:31.40 00:27:32.80 44 F 5K 37 131 Julia Burchett 12:59:39.55 12:59:31.61 13:27:12.40 00:27:32.85 00:27:40.79 37 F 5K 38 478 CHRIS GUYER 12:59:37.07 12:59:31.61 13:27:24.35 00:27:47.27 00:27:52.73 46 M 5K 39 143 Bryan Bednarczyk 12:59:47.23 12:59:31.61 13:27:42.26 00:27:55.02 00:28:10.64 33 M 5K 40 469 ANNA FURIC 12:59:35.00 12:59:31.61 13:27:49.99 00:28:14.98 00:28:18.37 15 F 5K 41 460 GLENN EBERSOLE 12:59:47.08 12:59:31.61 13:28:06.51 00:28:19.42 00:28:34.89 39 M 5K 42 475 JONATHAN GROSS 12:59:34.59 12:59:31.61 13:28:18.68 00:28:44.08 00:28:47.07 37 M 5K 43 145 Nancy Habecker 12:59:44.98 12:59:31.61 13:28:33.66 00:28:48.67 00:29:02.05 35 F 5K 44 111 Doug Stump 12:59:52.94 12:59:31.61 13:28:34.25 00:28:41.31 00:29:02.64 51 M 5K 45 109 Lori Lau 12:59:41.86 12:59:31.61 13:28:37.63 00:28:55.77 00:29:06.02 41 F 5K 46 450 JOHN DAVIS 12:59:36.41 12:59:31.61 13:28:38.67 00:29:02.26 00:29:07.06 62 M 5K 47 146 John Soroul 12:59:50.64 12:59:31.61 13:28:42.05 00:28:51.40 00:29:10.44 25 M 5K 48 580 LINDSEY ROMEO 12:59:39.94 12:59:31.61 13:28:52.74 00:29:12.79 00:29:21.12 28 F 5K 49 567 MARTHA NEUENHOFF 12:59:52.35 12:59:31.61 13:29:18.02 00:29:25.67 00:29:46.41 55 F 5K 50 117 PAIGE OLSON 12:59:41.64 12:59:31.61 13:29:29.54 00:29:47.90 00:29:57.93 24 F 5K 51 559 KELLY MIZE 12:59:38.80 12:59:31.61 13:29:37.63 00:29:58.82 00:30:06.01 56 F 5K 52 583 LISA SEUFERT 12:59:35.57 12:59:31.61 13:30:04.40 00:30:28.83 00:30:32.79 49 F 5K 53 570 ERIK OLSON 12:59:40.98 12:59:31.61 13:30:07.88 00:30:26.90 00:30:36.26 53 M 5K 54 470 TERI GIBSON 12:59:54.35 12:59:31.61 13:30:40.01 00:30:45.66 00:31:08.40 54 F 5K 55 486 ROBERT HOLT 12:59:37.20 12:59:31.61 13:30:56.94 00:31:19.74 00:31:25.33 61 M 5K 56 557 AMANDA MERRIAM 12:59:47.62 12:59:31.61 13:31:14.11 00:31:26.48 00:31:42.49 32 F 5K 57 471 LAUREN GRABOWSKI 12:59:49.60 12:59:31.61 13:31:15.29 00:31:25.69 00:31:43.68 29 F 5K 58 457 Matthew Dixon 12:59:37.21 12:59:31.61 13:31:22.23 00:31:45.02 00:31:50.62 11 M 5K 59 142 Ryan Richardson 12:59:35.54 12:59:31.61 13:31:33.15 00:31:57.61 00:32:01.54 20 M 5K 60 103 Patti Weaver 12:59:53.99 12:59:31.61 13:31:46.57 00:31:52.57 00:32:14.95 54 F 5K 61 113 Mark Gossage 12:59:47.88 12:59:31.61 13:32:08.42 00:32:20.54 00:32:36.81 33 M 5K 62 458 MICHAEL DUBBS 12:59:53.65 12:59:31.61 13:32:27.67 00:32:34.01 00:32:56.06 56 M 5K 63 104 ELIZABETH WILLIAMS 12:59:55.11 12:59:31.61 13:32:51.41 00:32:56.29 00:33:19.79 60 F 5K 64 572 SARAH PARSONS 12:59:40.05 12:59:31.61 13:32:52.35 00:33:12.29 00:33:20.73 38 F 5K 65 125 Mark Herboldt 12:59:31.61 12:59:31.61 13:33:23.13 00:33:51.52 00:33:51.52 53 M 5K 66 476 RACHEL GUDE 12:59:48.85 12:59:31.61 13:33:40.89 00:33:52.04 00:34:09.28 46 F 5K 67 585 JACQUELINE SHERWIN 12:59:38.95 12:59:31.61 13:34:00.32 00:34:21.36 00:34:28.71 22 F 5K 68 493 KRISTEN KEISER 12:59:53.95 12:59:31.61 13:34:09.31 00:34:15.35 00:34:37.69 38 F 5K 69 589 NATOSCHA TAYLOR 12:59:44.73 12:59:31.61 13:34:14.65 00:34:29.92 00:34:43.04 32 F 5K 70 107 JESSICA WILT 12:59:45.43 12:59:31.61 13:34:15.88 00:34:30.44 00:34:44.27 38 F 5K 71 140 Joshua Janes 12:59:46.28 12:59:31.61 13:34:23.92 00:34:37.64 00:34:52.31 7 M 5K 72 139 Wendy Janes 12:59:46.03 12:59:31.61 13:34:34.19 00:34:48.15 00:35:02.57 38 F 5K 73 147 Alan East 12:59:42.97 12:59:31.61 13:34:35.47 00:34:52.50 00:35:03.86 48 M 5K 74 582 CHUCK SEUFERT 12:59:35.19 12:59:31.61 13:34:37.08 00:35:01.89 00:35:05.47 49 M 5K 75 130 Jim Bitgood 12:59:52.01 12:59:31.61 13:34:38.31 00:34:46.30 00:35:06.70 73 M 5K 76 114 Hannah Snyder 12:59:38.80 12:59:31.61 13:34:42.09 00:35:03.28 00:35:10.48 28 F 5K 77 578 JEREMY RITCHIE 12:59:31.61 12:59:31.61 13:34:53.27 00:35:21.66 00:35:21.66 37 M 5K 78 116 Loel Romeo 12:59:39.42 12:59:31.61 13:35:12.39 00:35:32.96 00:35:40.78 54 F 5K 79 115 Kerry Phelps 12:59:51.61 12:59:31.61 13:35:14.04 00:35:22.43 00:35:42.43 37 F 5K 80 141 Janet Effler 12:59:44.20 12:59:31.61 13:35:32.87 00:35:48.67 00:36:01.25 44 F 5K 81 484 MARY HILL 12:59:45.21 12:59:31.61 13:35:33.13 00:35:47.91 00:36:01.51 40 F 5K 82 439 Liam Andersen 12:59:31.61 12:59:31.61 13:35:47.74 00:36:16.13 00:36:16.13 8 M 5K 83 482 CHRISTOPHER HEAGY 12:59:55.20 12:59:31.61 13:35:48.65 00:35:53.45 00:36:17.04 44 M 5K 84 105 BECKY WILLIAMSON 12:59:40.19 12:59:31.61 13:36:01.40 00:36:21.21 00:36:29.79 25 F 5K 85 128 Lucas Rhodes 12:59:35.16 12:59:31.61 13:36:18.98 00:36:43.81 00:36:47.36 9 M 5K 86 568 JASON NIVER 12:59:43.79 12:59:31.61 13:36:21.69 00:36:37.90 00:36:50.08 41 M 5K 87 489 MARGARET HUNT 12:59:48.45 12:59:31.61 13:36:25.54 00:36:37.09 00:36:53.93 67 F 5K 88 454 MATT DERRICK 12:59:57.23 12:59:31.61 13:36:38.47 00:36:41.24 00:37:06.86 26 M 5K 89 455 NAOMI DERRICK 12:59:56.66 12:59:31.61 13:36:38.73 00:36:42.06 00:37:07.12 25 F 5K 90 112 Karen Stump 12:59:53.41 12:59:31.61 13:36:40.06 00:36:46.65 00:37:08.45 43 F 5K 91 127 Katie Arnold 12:59:41.64 12:59:31.61 13:36:55.68 00:37:14.04 00:37:24.07 37 F 5K 92 353 Dan Andersen 12:59:40.68 12:59:31.61 13:36:59.73 00:37:19.04 00:37:28.12 40 M 5K 93 530 Michele Leisher 12:59:52.97 12:59:31.61 13:37:11.08 00:37:18.10 00:37:39.47 55 F 5K 94 496 MEGAN KIRKEGAARD 12:59:31.61 12:59:31.61 13:37:42.43 00:38:10.82 00:38:10.82 52 F 5K 95 440 Lula Andersen 12:59:40.66 12:59:31.61 13:37:46.08 00:38:05.42 00:38:14.47 6 F 5K 96 152 Brad Westhafer 12:59:38.11 12:59:31.61 13:37:49.03 00:38:10.91 00:38:17.41 67 M 5K 97 122 Jack Behle 12:59:34.17 12:59:31.61 13:37:57.39 00:38:23.21 00:38:25.77 6 M 5K 98 452 EMILY DEAN 12:59:31.61 12:59:31.61 13:37:59.50 00:38:27.88 00:38:27.88 33 F 5K 99 560 SHERRY MOBLEY 12:59:51.69 12:59:31.61 13:38:15.49 00:38:23.79 00:38:43.88 47 F 5K 100 444 EILEEN BARRY 12:59:49.11 12:59:31.61 13:38:23.43 00:38:34.32 00:38:51.82 56 F 5K 101 123 Mark Miller 12:59:31.61 12:59:31.61 13:39:15.68 00:39:44.07 00:39:44.07 53 M 5K 102 584 PAULA SHEPHERD 12:59:47.75 12:59:31.61 13:39:17.03 00:39:29.28 00:39:45.42 58 F 5K 103 120 Meghan Messer 12:59:57.09 12:59:31.61 13:40:14.75 00:40:17.66 00:40:43.14 33 F 5K 104 587 DEBORAH SMITH 12:59:41.00 12:59:31.61 13:40:14.92 00:40:33.91 00:40:43.30 61 F 5K 105 121 Greg Messrr 12:59:57.05 12:59:31.61 13:40:17.12 00:40:20.07 00:40:45.51 35 M 5K 106 110 Gary Scarbeau 12:59:40.81 12:59:31.61 13:40:19.89 00:40:39.07 00:40:48.27 68 M 5K 107 483 REBECCA HEAGY 12:59:51.43 12:59:31.61 13:40:26.52 00:40:35.09 00:40:54.90 47 F 5K 108 442 James Baker 12:59:34.99 12:59:31.61 13:40:29.84 00:40:54.84 00:40:58.22 8 M 5K 109 564 VICKI MOYER 12:59:46.46 12:59:31.61 13:41:24.97 00:41:38.51 00:41:53.36 49 F 5K 110 445 JACKIE BEDNARCZYK 12:59:50.42 12:59:31.61 13:41:40.73 00:41:50.30 00:42:09.12 32 F 5K 111 459 Mitchell Dubbs 12:59:51.12 12:59:31.61 13:41:40.81 00:41:49.69 00:42:09.20 46 M 5K 112 473 RACHEL GRIFFITH 12:59:49.74 12:59:31.61 13:41:53.22 00:42:03.48 00:42:21.61 31 F 5K 113 472 KATIE GRIFFITH 12:59:49.47 12:59:31.61 13:41:53.52 00:42:04.05 00:42:21.91 31 F 5K 114 465 ALLISON FISHER 12:59:50.18 12:59:31.61 13:41:55.95 00:42:05.77 00:42:24.34 30 F 5K 115 451 KAREN DAVIS 12:59:55.40 12:59:31.61 13:42:06.24 00:42:10.84 00:42:34.63 52 F 5K 116 481 DAVE HAYWARD 12:59:55.83 12:59:31.61 13:42:06.88 00:42:11.05 00:42:35.27 54 M 5K 117 463 TIMOTHY EVANS 12:59:48.86 12:59:31.61 13:42:24.68 00:42:35.81 00:42:53.07 48 M 5K 118 498 JESSICA KRANTZ 12:59:48.21 12:59:31.61 13:42:37.21 00:42:49.00 00:43:05.60 37 F 5K 119 558 ANDREA MISNER 12:59:40.89 12:59:31.61 13:43:27.58 00:43:46.68 00:43:55.96 53 F 5K 120 494 Anijah Kenny 12:59:38.17 12:59:31.61 13:43:27.60 00:43:49.43 00:43:55.99 13 F 5K 121 102 Kennedy Watson 12:59:38.61 12:59:31.61 13:43:28.33 00:43:49.71 00:43:56.71 14 F 5K 122 477 SUSAN GUM 12:59:42.22 12:59:31.61 13:43:31.73 00:43:49.51 00:44:00.12 61 F 5K 123 136 Christen Woolford 13:00:02.34 12:59:31.61 13:43:34.83 00:43:32.48 00:44:03.21 24 F 5K 124 137 Tiffany Fare 13:00:02.24 12:59:31.61 13:43:35.13 00:43:32.89 00:44:03.52 24 F 5K 125 579 JULIE RITCHIE 13:00:03.00 12:59:31.61 13:44:36.49 00:44:33.49 00:45:04.87 43 F 5K 126 577 ABIGAIL RITCHIE 13:00:01.65 12:59:31.61 13:44:42.42 00:44:40.76 00:45:10.80 12 F 5K 127 569 JEANETTE A NOVAK 12:59:38.19 12:59:31.61 13:45:27.55 00:45:49.36 00:45:55.94 74 F 5K 128 441 RACHEL ATHEY 12:59:43.32 12:59:31.61 13:45:46.40 00:46:03.08 00:46:14.79 27 F 5K 129 467 JILLIAN FOGELSANGER 12:59:43.90 12:59:31.61 13:45:46.96 00:46:03.06 00:46:15.35 28 F 5K 130 449 MILDRED COLUSSY 12:59:42.36 12:59:31.61 13:48:19.85 00:48:37.49 00:48:48.24 66 F 5K 131 576 AMY RICHARD 12:59:58.84 12:59:31.61 13:49:17.88 00:49:19.04 00:49:46.27 43 F 5K 132 490 ASHLEY JARRETT 12:59:58.20 12:59:31.61 13:49:18.42 00:49:20.22 00:49:46.81 33 F 5K 133 487 LESLIE HORTON 12:59:31.61 12:59:31.61 13:49:47.88 00:50:16.27 00:50:16.27 56 F 5K 134 571 DARLENE OVERHOLTZER 12:59:31.61 12:59:31.61 13:49:48.28 00:50:16.67 00:50:16.67 60 F 5K 135 446 JOY BELL 12:59:59.44 12:59:31.61 13:50:56.33 00:50:56.88 00:51:24.71 40 F 5K 136 590 CHRISTENE THOMAS 12:59:58.56 12:59:31.61 13:50:56.41 00:50:57.84 00:51:24.79 43 F 5K 137 448 TAMMY CANTU 13:00:01.10 12:59:31.61 13:52:10.17 00:52:09.07 00:52:38.55 45 F 5K 138 586 JENNIFER SLICHER 13:00:00.83 12:59:31.61 13:52:10.33 00:52:09.50 00:52:38.72 45 F 5K 139 565 Tammy Muir 13:00:01.55 12:59:31.61 13:52:11.03 00:52:09.48 00:52:39.42 46 F 5K 140 561 MICHELLE MONTERO 12:59:46.13 12:59:31.61 13:52:29.12 00:52:42.99 00:52:57.51 44 F 5K 141 492 KATHY KASTBERG 12:59:45.25 12:59:31.61 13:52:29.48 00:52:44.23 00:52:57.86 46 F 5K 142 592 Abby Wagner 12:59:37.93 12:59:31.61 13:52:53.99 00:53:16.06 00:53:22.38 37 F 5K 143 453 Julie Della-Maria 12:59:41.86 12:59:31.61 13:52:55.38 00:53:13.51 00:53:23.76 43 F 5K 144 566 Kyawin Nash 12:59:36.20 12:59:31.61 13:53:14.35 00:53:38.14 00:53:42.73 10 F 5K