Run of The Century
Run of The Century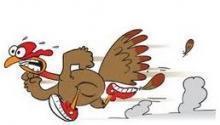 12th Annual Run of the Century
 Saturday November 23, 2019                                                                      
 8:45 AM 5K start / 9:30 AM Fun Run/Walk                                                          
Road Race to benefit Century High School Athletics and the Maryland Chapter of the Association for Suicide Prevention
Race Details:  Registration opens at 7:45am.  The 5k Run/Walk will start at 8:45am and the Fun Run at 9:30.  
Location:  Century High School, 355 Ronsdale Road, Eldersburg 21784                                              
Registration:  Pre-register!! Race shirt is only for 5K and only guaranteed if registration is post marked by November 1, 2019.  Refreshments and Door Prizes will be provided for 5K participants.  Awards given for age groups and overall winners.  For more information or questions contact runofthecentury@gmail.com.   We encourage you to register online at www.active.com. 
Cost:                     
5K Advanced registration - $25.00          5k Student Rate (18 and younger) - $20.00
5K Same day registration - $30.00                    5k ERR Member Rate - $20.00
1M Fun Run – Free! (no need to register)                                     
On Line: Register at www.active.com. 
By Mail: Mail your completed registration with payment to:  Run of the Century c/o ERR, PO Box 1726, Eldersburg, MD  21784.  Please do not send cash.  Make checks payable to the Eldersburg Rogue Runners (ERR).
Pre-Registration/Packet Pick-up:  Friday, November 22nd from 5:00-7:00 pm at Tri Sport Junction, 7568 B Main
St., Sykesville MD.                                       
Age Group Report: 11/23/2019 9:55:06 AM 5K Top Females Overall based on Gun Elapsed time Place Bib # Name Gun Start Finish Gun Elapsed Age Gender Division _____________________________________________________________________________________________________________________________ 1 792 Sherry Stick 08:47:53.8 09:07:26.8 00:19:33.0 41 F 5K 5K Age Group Results for Female Under 12 based on Gun Elapsed time Place Bib # Name Gun Start Finish Gun Elapsed Age Gender Division _____________________________________________________________________________________________________________________________ 1 777 Abby Morse 08:47:53.8 09:09:15.6 00:21:21.8 12 F 5K 2 343 Jocelyn Gifford 08:47:53.8 09:10:28.7 00:22:34.8 12 F 5K 3 295 Taylor Colson 08:47:53.8 09:19:00.1 00:31:06.3 11 F 5K 4 810 Katie Collins 08:47:53.8 09:19:52.8 00:31:59.0 11 F 5K 5 334 Lydia Feola 08:47:53.8 09:30:01.5 00:42:07.7 9 F 5K 5K Age Group Results for Female 13-15 based on Gun Elapsed time Place Bib # Name Gun Start Finish Gun Elapsed Age Gender Division _____________________________________________________________________________________________________________________________ 1 344 Alayna Gifford 08:47:53.8 09:09:31.1 00:21:37.2 14 F 5K 2 275 Hope Callaway 08:47:53.8 09:10:51.3 00:22:57.4 15 F 5K 3 788 Elyse Seligman 08:47:53.8 09:10:59.9 00:23:06.0 13 F 5K 4 335 Sydney Feola 08:47:53.8 09:12:33.2 00:24:39.4 14 F 5K 5 286 Emma Callaway 08:47:53.8 09:16:40.3 00:28:46.4 15 F 5K 6 791 Mikayla Stanton 08:47:53.8 09:19:07.8 00:31:13.9 14 F 5K 7 827 Nadya Firor 08:47:53.8 09:34:41.5 00:46:47.7 15 F 5K 5K Age Group Results for Female 16-19 based on Gun Elapsed time Place Bib # Name Gun Start Finish Gun Elapsed Age Gender Division _____________________________________________________________________________________________________________________________ 1 338 Lydia Flynn 08:47:53.8 09:13:51.1 00:25:57.3 18 F 5K 5K Age Group Results for Female 20-29 based on Gun Elapsed time Place Bib # Name Gun Start Finish Gun Elapsed Age Gender Division _____________________________________________________________________________________________________________________________ 1 340 Marie Flynn 08:47:53.8 09:15:55.1 00:28:01.2 24 F 5K 2 768 Natalie Litzau 08:47:53.8 09:25:17.5 00:37:23.6 28 F 5K 5K Age Group Results for Female 30-39 based on Gun Elapsed time Place Bib # Name Gun Start Finish Gun Elapsed Age Gender Division _____________________________________________________________________________________________________________________________ 1 269 Alyssa Cain 08:47:53.8 09:18:33.8 00:30:39.9 38 F 5K 2 800 Katharine Werner 08:47:53.8 09:37:37.6 00:49:43.7 37 F 5K 3 789 Adelle Southall 08:47:53.8 09:37:37.6 00:49:43.7 37 F 5K 5K Age Group Results for Female 40-49 based on Gun Elapsed time Place Bib # Name Gun Start Finish Gun Elapsed Age Gender Division _____________________________________________________________________________________________________________________________ 1 812 Heather Wetherson 08:47:53.8 09:10:58.0 00:23:04.1 44 F 5K 2 778 Kerri Morse 08:47:53.8 09:11:36.7 00:23:42.9 44 F 5K 3 298 Emy Coonts 08:47:53.8 09:14:45.8 00:26:51.9 45 F 5K 4 787 Carrie Sauter 08:47:53.8 09:16:24.1 00:28:30.2 45 F 5K 5 573 Erin Lavelle 08:47:53.8 09:17:31.0 00:29:37.2 41 F 5K 6 801 Charlene Williams 08:47:53.8 09:17:33.8 00:29:40.0 48 F 5K 7 795 Lisa Taltavull 08:47:53.8 09:17:44.5 00:29:50.7 42 F 5K 8 797 Mary Voorhees 08:47:53.8 09:17:47.8 00:29:53.9 42 F 5K 9 770 Jennifer Marcinko 08:47:53.8 09:18:56.0 00:31:02.1 49 F 5K 10 337 Kim Fitzgerald 08:47:53.8 09:20:29.3 00:32:35.5 48 F 5K 11 771 Alyssa Mead 08:47:53.8 09:23:52.8 00:35:58.9 47 F 5K 12 333 Christa Feola 08:47:53.8 09:30:07.1 00:42:13.3 45 F 5K 13 821 Judith Losoya 08:47:53.8 09:34:46.9 00:46:53.0 49 F 5K 14 785 Lynn Roach 08:47:53.8 09:35:19.4 00:47:25.5 48 F 5K 15 345 Heather Grimsley 08:47:53.8 09:35:19.4 00:47:25.5 45 F 5K 16 772 Michelle Melton 08:47:53.8 09:35:20.5 00:47:26.7 46 F 5K 5K Age Group Results for Female 50-59 based on Gun Elapsed time Place Bib # Name Gun Start Finish Gun Elapsed Age Gender Division _____________________________________________________________________________________________________________________________ 1 790 Kristin Stanton 08:47:53.8 09:22:32.0 00:34:38.1 52 F 5K 2 806 Gina Painter 08:47:53.8 09:23:42.0 00:35:48.1 52 F 5K 3 826 Kate Ledbetter 08:47:53.8 09:24:07.9 00:36:14.1 56 F 5K 4 776 Kelly Mize 08:47:53.8 09:24:08.7 00:36:14.8 57 F 5K 5 802 MaryEllen Wilson 08:47:53.8 09:28:12.6 00:40:18.7 59 F 5K 6 803 Margot Wolman 08:47:53.8 09:34:43.2 00:46:49.3 55 F 5K 7 822 Noelle Eckert 08:47:53.8 09:34:46.8 00:46:53.0 52 F 5K 8 268 Barbara Burke 08:47:53.8 09:37:15.0 00:49:21.1 55 F 5K 9 804 Kate Zimmer 08:47:53.8 09:37:16.2 00:49:22.4 54 F 5K 5K Age Group Results for Female 60 and Over based on Gun Elapsed time Place Bib # Name Gun Start Finish Gun Elapsed Age Gender Division _____________________________________________________________________________________________________________________________ 1 828 Jane Linde 08:47:53.8 09:19:23.3 00:31:29.4 60 F 5K 2 296 Mildred Colussy 08:47:53.8 09:35:20.5 00:47:26.7 67 F 5K 5K Top Males Overall based on Gun Elapsed time Place Bib # Name Gun Start Finish Gun Elapsed Age Gender Division _____________________________________________________________________________________________________________________________ 1 349 Hayden Hebert 08:47:53.8 09:04:49.3 00:16:55.5 17 M 5K 5K Age Group Results for Male Under 12 based on Gun Elapsed time Place Bib # Name Gun Start Finish Gun Elapsed Age Gender Division _____________________________________________________________________________________________________________________________ 1 813 Nathan Frattali 08:47:53.8 09:07:30.9 00:19:37.0 10 M 5K 2 643 Dario Lavelle 08:47:53.8 09:08:45.6 00:20:51.8 9 M 5K 3 765 Evan Lawson 08:47:53.8 09:17:56.5 00:30:02.6 9 M 5K 4 809 Zachary Collins 08:47:53.8 09:19:51.7 00:31:57.8 12 M 5K 5 262 Eli Bauer 08:47:53.8 09:30:49.9 00:42:56.0 9 M 5K 5K Age Group Results for Male 13-15 based on Gun Elapsed time Place Bib # Name Gun Start Finish Gun Elapsed Age Gender Division _____________________________________________________________________________________________________________________________ 1 318 Peyton Dill 08:47:53.8 09:06:48.2 00:18:54.4 15 M 5K 2 783 Noah Petroski 08:47:53.8 09:08:12.6 00:20:18.8 13 M 5K 3 347 Riley Hanson 08:47:53.8 09:09:35.9 00:21:42.1 15 M 5K 4 815 Connor Haven 08:47:53.8 09:09:45.2 00:21:51.4 13 M 5K 5 780 Adam Mower 08:47:53.8 09:10:03.2 00:22:09.3 14 M 5K 6 350 Brendan Hoey 08:47:53.8 09:10:19.2 00:22:25.3 14 M 5K 7 637 Salvatore Lavelle 08:47:53.8 09:10:27.9 00:22:34.0 13 M 5K 8 339 Eamonn Flynn 08:47:53.8 09:12:11.9 00:24:18.0 13 M 5K 9 794 Owen Swisdak 08:47:53.8 09:16:22.4 00:28:28.5 13 M 5K 10 816 Michael Hemingway 08:47:53.8 09:18:34.9 00:30:41.1 13 M 5K 11 808 Christopher Collins 08:47:53.8 09:20:46.2 00:32:52.4 14 M 5K 5K Age Group Results for Male 16-19 based on Gun Elapsed time Place Bib # Name Gun Start Finish Gun Elapsed Age Gender Division _____________________________________________________________________________________________________________________________ 1 341 Ian Flynn 08:47:53.8 09:07:09.1 00:19:15.3 16 M 5K 2 774 Aiden Michael 08:47:53.8 09:09:10.5 00:21:16.6 16 M 5K 3 766 Jaden Lewis 08:47:53.8 09:09:31.1 00:21:37.2 16 M 5K 4 348 Jacob Havins 08:47:53.8 09:12:56.5 00:25:02.7 18 M 5K 5 336 Andrei Firor 08:47:53.8 09:13:03.6 00:25:09.8 18 M 5K 6 817 Anthony Sarceno 08:47:53.8 09:13:09.5 00:25:15.7 18 M 5K 5K Age Group Results for Male 20-29 based on Gun Elapsed time Place Bib # Name Gun Start Finish Gun Elapsed Age Gender Division _____________________________________________________________________________________________________________________________ 1 342 Douglas Flynn 08:47:53.8 09:06:47.2 00:18:53.4 20 M 5K 5K Age Group Results for Male 30-39 based on Gun Elapsed time Place Bib # Name Gun Start Finish Gun Elapsed Age Gender Division _____________________________________________________________________________________________________________________________ 1 270 Michael Cain 08:47:53.8 09:10:55.6 00:23:01.8 39 M 5K 2 820 Stephan Robinson 08:47:53.8 09:11:14.3 00:23:20.4 37 M 5K 3 773 Justin Metzger 08:47:53.8 09:12:56.5 00:25:02.7 38 M 5K 4 824 Jason Schaum 08:47:53.8 09:14:26.3 00:26:32.5 38 M 5K 5 767 Timothy Litzau 08:47:53.8 09:25:17.2 00:37:23.4 32 M 5K 5K Age Group Results for Male 40-49 based on Gun Elapsed time Place Bib # Name Gun Start Finish Gun Elapsed Age Gender Division _____________________________________________________________________________________________________________________________ 1 819 Daniel Simon 08:47:53.8 09:10:52.1 00:22:58.3 46 M 5K 2 574 Ryan Kelly 08:47:53.8 09:13:07.9 00:25:14.1 41 M 5K 3 782 Jason Petroski 08:47:53.8 09:14:46.5 00:26:52.7 42 M 5K 4 793 Stephen Swisdak 08:47:53.8 09:15:55.7 00:28:01.9 44 M 5K 5 764 Jeff Lawson 08:47:53.8 09:17:56.9 00:30:03.0 43 M 5K 6 290 Ken Colson 08:47:53.8 09:18:59.9 00:31:06.0 42 M 5K 7 491 Brian Hoey 08:47:53.8 09:20:23.7 00:32:29.9 45 M 5K 8 267 Marcus Bauer 08:47:53.8 09:30:52.8 00:42:58.9 48 M 5K 5K Age Group Results for Male 50-59 based on Gun Elapsed time Place Bib # Name Gun Start Finish Gun Elapsed Age Gender Division _____________________________________________________________________________________________________________________________ 1 805 Ken Miller 08:47:53.8 09:10:44.9 00:22:51.1 51 M 5K 2 779 Clifton Mower 08:47:53.8 09:11:53.1 00:23:59.3 51 M 5K 3 818 Mark Welsh 08:47:53.8 09:12:57.9 00:25:04.0 54 M 5K 4 796 Andy Turgeon 08:47:53.8 09:13:20.5 00:25:26.6 57 M 5K 5 346 Eric Grosh 08:47:53.8 09:13:42.4 00:25:48.6 50 M 5K 6 811 Tim Jetton 08:47:53.8 09:14:01.4 00:26:07.6 53 M 5K 7 823 Matthew Cohn 08:47:53.8 09:15:18.5 00:27:24.7 51 M 5K 8 271 David Callaway 08:47:53.8 09:16:40.9 00:28:47.1 50 M 5K 9 825 Rich Brunner 08:47:53.8 09:16:52.4 00:28:58.5 55 M 5K 10 814 Doug Brooks 08:47:53.8 09:18:49.3 00:30:55.5 58 M 5K 11 807 Stephen Collins 08:47:53.8 09:20:06.7 00:32:12.8 52 M 5K 12 781 Warren Naviasky 08:47:53.8 09:21:09.1 00:33:15.2 52 M 5K 13 798 John Wandishin 08:47:53.8 09:21:51.1 00:33:57.2 59 M 5K 14 786 Dave Rotstein 08:47:53.8 09:34:46.8 00:46:53.0 53 M 5K 5K Age Group Results for Male 60 and Over based on Gun Elapsed time Place Bib # Name Gun Start Finish Gun Elapsed Age Gender Division _____________________________________________________________________________________________________________________________ 1 287 Steven Campbell 08:47:53.8 09:15:52.6 00:27:58.7 60 M 5K