Merritt 5K for Ovarian Cancer - Shake your Teal Feathers
Merritt 5K for Ovarian Cancer - Shake your Teal Feathers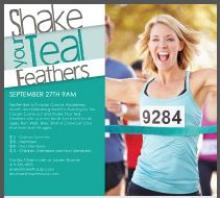 Each year, about 20,000 women in the United States get ovarian cancer. Among women in the United States, ovarian cancer is the eighth most common cancer and the fifth leading cause of cancer death, after lung and bronchus, breast, colorectal, and pancreatic cancers. Ovarian cancer causes more deaths than any other cancer of the female reproductive system.
According to the Center for Disease Control:
*It is estimated that in 2014,  21,980 women will be diagnosed with ovarian cancer and 14,270 will die from the disease.
*Ovarian Cancer is not an uncommon disease, occurring in 1 of every 72 women. When ovarian cancer is detected early, before it has spread beyond the ovaries, more than 90% of women will survive longer than five years.
*Only 15% of women are diagnosed in the early stages. Currently, 50% of women diagnosed with ovarian cancer die from the disease within five years.
*When diagnosed in advanced stages, the chance of five- year survival is only 44%.
So it's time for you to join us and "Shake Your Teal Feathers" on September 27th at 9:00am. Help us fight to find a cure. This is a family friendly race so bring the kids and walk, run, bike, scooter or stroll, just cross that finish line!!
Eldersburg Rogue Runners Hy-Tek's MEET MANAGER 12:56 PM 9/27/2014 Merritt's Shake Your Teal Feathers 5K - 9/27/2014 Merrit Athletic Club - Eldersburg Event - Mixed 5k Run RR ======================================================================= Name Age Times ======================================================================= Results - Women 5000 Run 1 Decker, Melissa W34 23:26.5 2 Twigg, Colleen W36 28:26.7 3 Humphreys, Elizabeth W 29:03.2 4 Wepasnick, Meg W56 29:20.6 5 Devincent, Kristin W38 29:35.1 6 Markland, Christina W 29:43.8 7 Winkeljohn, Mary Beth W53 32:00.8 8 Sliviak, Ruth W51 32:36.6 9 Weaver, Patricia W 32:37.6 10 Bauer, Tracey W44 32:53.9 11 Fornadel, Sue W 33:09.8 12 Miller, Tracey W 34:19.8 13 Brooks, Sonja W48 34:27.1 14 Murphy, Rachel W 36:11.7 15 McKenney, Kathleen W48 36:48.4 16 Coonts, Elizabeth W9 41:20.1 17 Coonts, Emy W 41:21.0 18 Wilson, Stephanie W27 41:26.8 19 Wilson, MaryEllen W54 41:31.8 20 Oxford, Rosemary W41 42:28.0 21 Corrieri, Anna W5 42:55.3 22 Corrieri, Nina W10 43:04.0 23 Corrieri, Eva W 43:18.4 24 DeLaCueva, Zuzel W51 45:27.8 25 Ruby, Tina W36 46:12.5 26 Nair, Sureena W37 46:15.8 27 Nusbaum, Holly W 47:11.4 28 Wilson, Claire W12 47:50.2 29 Perry, Termikka W15 47:56.7 30 Skursky, Carole W49 49:52.7 31 Sullivan, Kathleen W66 49:53.0 32 Engle, Michele W 51:00.5 33 Cooney, Bonnie W 51:02.4 34 Krishnamurthy, Bharathi W42 51:07.6 35 Kare, Abhira W6 51:07.9 36 Lewis, Reilly W10 54:22.9 37 Lafiner, Mary W48 56:51.8 38 Veihmeyer, Tracey W 56:52.5 39 Lewis, Rhys W4 56:59.3 40 lewis, Reyna W1 57:03.8 41 Lively, Kassidy W7 57:33.5 42 Yackman, Maxine W68 57:43.0 43 Lively, Nancy W 57:43.6 44 Lively, Linda W68 57:44.1 45 Kraisser, Tiffany W23 59:09.5 46 Wepasnick, Alycia W30 59:10.8 47 Yonkovich, Taciana W41 1:01:22.3 48 Carrigo, Stephanie W 1:01:25.0 49 Carrigo, Cheryl W 1:03:01.5 50 Zepp, Susan W 1:05:43.6 51 Boone, Jody W 1:05:46.1 52 Dietrich, Carol W 1:05:49.4 53 Twigg, Thalia W4 1:05:51.1 54 schaum, Molly W 1:27:04.9 55 Schaum, Bryna W33 1:27:49.3 56 Brunner, Kyla W3 1:27:53.0 57 Brunner, Lauren W34 1:27:53.9 Results - Men 5000 Run 1 Nusbaum, Hunter M 17:36.6 (Bike Rider) 2 Wilson, Dave M52 24:00.2 (1st Place M Runner) 3 Wepasnick, Kevin M30 24:06.6 (2nd Place M Runner) 4 Decker, David M34 25:10.2 (3rd Place M Runner) 5 Gosnell, Mike M19 27:41.2 6 DelMartin, Jeff M24 28:03.3 7 Schaum, Jason M33 28:22.3 8 Wpasnick, Max M57 28:38.3 9 Pace, Randy M 29:25.5 10 McDowell, Bob M60 29:34.1 11 Beam, Byron M 31:35.6 12 Sanders, Jacob M 32:06.3 13 Nusbaum, Randy M 32:27.8 14 Fornadel, Bryan M 33:10.2 15 Croft, Jeff M 33:24.5 16 Kare, Prashanth M42 35:01.5 17 England, Donny M 37:03.7 18 England, Donnie M 37:04.5 19 Cain, Michael M 43:43.7 20 Hillman, Bruce M 46:26.8 21 Ruby, Steve M43 46:27.1 22 Lewis, William M38 57:03.5 23 Lively, Keith M41 57:44.6 24 Yackman, Harry M66 57:47.2 25 Lively, Van M2 57:48.0 26 Yanez, Jose M40 58:05.3 27 Yonkovich, Kurt M41 1:01:20.8 28 Zepp, Tom M 1:03:01.9 29 Dietrich, Eric M33 1:05:48.1 30 Twigg, Gideon M35 1:27:04.5 31 Dougherty, Charles M65 1:27:49.7 32 Brunner, Shane M1 1:27:54.2 33 Brunner, Jason M37 1:27:55.7