Carroll County Triple Crown
Carroll County Triple Crown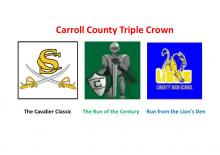 The Carroll County Triple Crown is a series of three 5K races. Each race will be held at a different High School. The Cavalier Classic Trail Run, October 8, 2016 at South Carroll High School, The Run of the Century road race,  November 18,2016 at Century High School, and The Run from the Lion's Den Trail Run, December 3, 2016 at Lberty High School.
Sign up now for the CCTC series to receive discounts on races and to be eligible for the CCTC medal.
Offering a packet pick up date for each race 5-7 pm on Oct 7th, Nov 18th, and Dec 2nd, at Tri Sport Junction, 7568 Main St Sykesville MD.  10% discount on purchases, to all pre-registrants during packet pick-up.  
Of course you can sign up for each race indiviually but you need to sign up for the series  to  get your medal. Medals wil be awarded at Last race on Dec 3rd.