Run from the Lions Den 5K
Run from the Lions Den 5K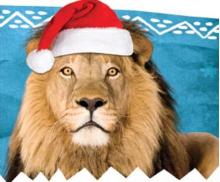 Come join in the fun at Liberty's Track and Field Inaugural Run from the Lion's Den, 5K trail run (or walk), through the school's cross country course on the school grounds.
A portion of the proceeds will be donated to Carroll County Food Sunday. So, don't forget to bring your non-perishable food item on race day. Carroll County Food Sunday (CCFS) is a 501c3 non-profit organization of volunteers and members of the community coming together as neighbors helping neighbors by supporting Carroll County residents in meeting their emergency and supplemental food needs.
Event details and schedule
Pre-register!!!  A race shirt is only guaranteed if registration is received by November 20, 2015.
Race start time is 9:00am. Race day registration ($25) and packet pick-up starts at 8:00am. 
All pre and post-race activities will take place inside Liberty High School. Refreshments and snacks will be provided to all 5k participants. 
Pre-race packet pick-up: Friday, Dec 4th (3-7pm) at Tri Sport Junction, 7568 Main Street, Sykesville, MD 21784. A 10% discount on purchases, to all pre-registrants during packet pick-up.  
For more information or questions email: RunLionsDen@gmail.com
Eldersburg Rogue Runners Hy-Tek's MEET MANAGER 9:56 AM 12/5/2015 Page 1 Run From The Lions Den - 12/5/2015 Liberty High School Rankings Event 1 Mixed 5k Run RR ======================================================================= Name Age School Finals Points ======================================================================= Overall Women's First Place Finisher 1 Sipocz, Patricia W52 26:02.6 Overall Men's First Place Finisher 1 Saxon, Daniel M14 18:46.3 14 & Under Results - Women 5000 Run 1 Zietowski, Jenna W13 26:29.1 2 Padula, Maria W14 28:38.0 3 Firor, Nadya W11 29:06.0 4 Miller, Summer W8 33:07.6 5 Saum, Durienne W11 34:40.9 6 Bowling, Rachel W14 37:28.6 7 Morrison, Emily W14 37:53.2 8 Mead, Riley W14 38:29.1 9 Sturm, Abby W14 44:02.0 15-19 Results - Women 5000 Run 1 Zietowski, Evelyn W17 26:20.1 2 Starego, Nicole W17 26:20.5 3 Byrne, Alex W16 28:27.3 4 Lance, Erin W15 28:38.3 5 Bulakites', Emma W16 28:38.8 6 Ward, Branin W15 28:39.5 7 Gallagher, Keelyn W16 29:23.3 8 Hodgkiss, Hannah W15 29:23.7 9 Spittel, Fallon W16 30:47.7 10 Zawitoski, Haley W16 31:49.1 11 Hittel, Christina W16 31:49.4 12 Huber, Greta W15 34:12.2 13 Kudrich, Lauren W16 34:12.7 14 Buckalew, Caitlyn W15 37:29.0 15 Hodgson, Sarah W15 37:48.3 16 Jacobs, Amy W15 37:51.8 17 Mulholland, Shannon W16 38:28.6 18 Weisgerber, Ashlyn W16 38:29.8 19 Byrne, Meredith W15 44:03.0 20-29 Results - Women 5000 Run 1 Fleischer, Forest W24 29:11.6 2 neeley, ann W27 30:25.7 3 MacGegor, Victoria W22 31:38.0 30-39 Results - Women 5000 Run 1 Niver, Cynthia W36 30:41.8 2 Glaeser, Laura W35 33:29.4 40-49 Results - Women 5000 Run 1 Armstrong, Sue W42 30:30.2 2 Esteban, Menchu W44 30:39.2 3 Buckalew, Beth W48 33:11.4 4 Leonhartt, Maureen W49 33:28.5 5 Wills, Deanna W42 37:41.9 6 Lilly, Gwen W49 37:47.7 7 Epler, Susan W42 45:06.0 8 DiVenti, Tara W49 46:32.5 9 Case, Carolyn W45 46:33.0 50-59 Results - Women 5000 Run 1 Larsen, Christine W50 28:40.6 2 Wolman, Margot W51 32:36.8 3 Ledbetter, Kate W52 33:12.2 4 Linde, Angela W51 38:50.0 5 Wilson, MaryEllen W56 45:07.0 14 & Under Results - Men 5000 Run 1 Ventura, Aiden M11 23:35.4 2 Kraus, Sam M14 24:04.0 3 Epler, Tristan M13 24:06.2 4 Poling, David M14 25:29.5 5 White, Alex M14 25:30.3 6 Queen, Steven M14 26:17.1 7 Jones, Dylan M14 26:21.6 8 Firor, Andrei M14 28:54.2 9 Saum, Trace M13 28:55.3 10 Hiebler, Ben M12 29:46.7 11 Hiebler, Ryan M10 30:04.4 12 Apellaniz, Tyler M14 30:32.1 13 Carroll, Bryson M14 31:50.1 14 Glaeser, Julian M14 32:29.3 15-19 Results - Men 5000 Run 1 Hertz, Hayden M15 21:42.5 2 Pellicciotti, Alec M16 22:00.4 3 Clarke, Kyle M15 22:11.4 4 Carroll, Ben M16 22:52.3 5 Mead, Connor M18 23:12.3 6 Rodoff, Darren M15 23:34.7 7 Leonhartt, Matt M16 23:56.2 8 Jascur, Joe R. M15 23:56.7 9 Sims, Ethan M15 24:13.7 10 Sched, Evan M15 24:44.0 11 Gauthier, Daniel M15 26:21.0 12 Ledbetter, Sean M17 28:42.7 13 Kaiser, Lucas M15 32:05.9 20-29 Results - Men 5000 Run 1 Bull, Ryan M23 18:46.8 2 Selby, Kevin M22 29:59.0 3 Litfin, Mark M27 30:11.2 30-39 Results - Men 5000 Run 1 Dyson, Mark M36 23:51.4 2 Schoneweis, Dylan M32 24:13.3 3 Jun, David M31 29:08.6 4 Glaeser, George M38 30:58.8 40-49 Results - Men 5000 Run 1 Miller, Ken M47 23:52.7 2 Epler, Chad M42 24:04.6 3 Dovel, Ed M47 25:44.6 4 Hosford, Kevin M40 37:52.7 50-59 Results - Men 5000 Run 1 Hertz, Carl M53 22:31.3 2 Zietowski, David M54 26:26.6 3 Ventura, Robert M50 26:34.8 4 Kaiser, Joel M51 28:15.1 5 Linde, John M53 28:30.4 6 Crisp, Simon M50 28:49.7 7 Holt, Robert M58 29:58.6 8 Ledbetter, Paul M51 30:58.3 9 Padula, Nick M50 31:19.7 10 MacGregor, Sean M51 34:11.5 60+ Results - Men 5000 Run 1 Jones, David M60 30:59.8