Liberty Reservoir Expedition
Liberty Reservoir Expedition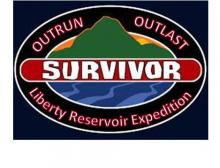 Join the Eldersburg Rogue Runners as they cover 50 miles of trails around our beautiful resource, the Liberty Reservoir. A series of 12 different trails run at different times. You can take advantage of our guided runs or opt to do this on your own (Please don't run alone). You can walk or run the trails at your own pace.
DO NOT SWIM IN THE RESERVOIR!!! You will be fined.
Make sure you bring water with you and wear appropriate attire for hiking in the woods, Bug spray is a must!
There will be weekly times posted on the ERR Facebook site as to when, where, and how long each run is.
This is a fun series we encourage you to try. It is not a race. There is no fee. If you would like a cool running hat they are $20 for nonmembers and $10 for ERR members.
You can download an order form and mail it in or you can stop by or call Tri Sport Junction, 7568 B Main St Sykesville, 21784/ PH410-549-1704 to reserve your hat.
The Series begins on May 13, 2018 continues through the summer and will end when hinting season begins.
Times and meeting places will vary, Follow us on the Eldersburg Rogue Runners Facebook page .