C2 Celtic Canter 2017
C2 Celtic Canter 2017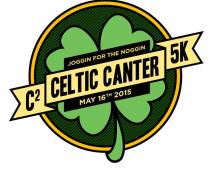 Join us for the 3rd Annual C2 Celtic Canter to benefit Cathy Chiaramonte and Brain Cancer Research. This year Be A Match is joining us! Registration for the Bone Marrow Registry will be available all morning long!
Cathy Chiaramonte was diagnosed with a brain tumor in January of 2015. She underwent surgery, chemo and radiation. Cathy was able to enter into a trial therapy that kept her tumor at bay for over a year! She and her family are now looking into new trials to fight off this disease.
Cade Wineke, a previous beneficiary of the 5K proceeds, was diagnosed last year and underwent similar therapies to Cathy. Cade is now cancer free! He and his family are joining us this year as a cancer survivor and a symbol of what your participation can do!
Thank you!!!!!
https://bethematch.org/about-us/ 
Registration including same-day starts at 8:00am. The 5k will start at 8:45am and the Fun Run at 9:45. The C2 festival which will include fun games and activities for the whole family will take place on the school grounds. Tickets for the festival will be sold at the event.
Race shirts are for 5K participants and only guaranteed if registration is post marked by May 1, 2015. Refreshments and Door Prizes will be provided for 5K participants. Awards given for age groups and overall winners.
Cost: 5K - $35.00
1M Fun Run - $12.00
T-shirt only $12.00. Contact c2celticcanter@gmail.com
Pre-Registration/Packet Pick-up: Friday, May 12th 6:00-8:00 pm at EES.
Eldersburg Rogue Runners Hy-Tek's MEET MANAGER 11:46 AM 5/13/201 C2 Celtic Canter - 5/13/2017 Eldersburg Elementary School Rankings Event 1 Mixed 5k Run RR ======================================================================= Name Age School Finals Points ======================================================================= Overall Top Female 1 Mellstrom, Lauren W15 23:08.9 Overall Top Male 1 Mower, Hogan M16 18:54.8 12 & Under Results - Women 5000 Run 1 Hawkins, Jillian W11 31:23.3 2 Rusk, Megan W11 31:32.6 3 Pedulla, Katie W10 35:44.7 4 Thompson, Samantha W9 36:42.0 5 Richards, Molly W9 36:52.2 6 Barden, Samantha W8 37:21.2 7 Kare, Abhira W9 41:11.1 8 Pepin, Brenna W7 42:13.5 9 DeMay, Madelyn W10 43:03.2 13-15 Results - Women 5000 Run 1 Mulholland, Erin W14 24:42.4 2 Mulholland, Caitlin W15 31:51.8 3 Bull, Mikayla W15 32:30.6 4 Rea, Elizabeth W15 32:47.0 5 Pedulla, Alessia W14 37:44.1 6 Nichols, Sally W15 37:46.4 7 Mullineaux, Karleigh W15 37:51.2 8 Karcz, Jackie W14 39:23.6 9 Ashby, Samantha W14 40:19.7 10 Gemmell, Taylor W15 55:45.6 11 Williamson, Emma W15 57:14.2 16-19 Results - Women 5000 Run 1 Kraus, Emily W18 28:28.2 2 Musser, Erin W16 30:23.7 3 Simon, Abigail W18 31:29.8 4 Hittel, Christina W17 33:20.3 5 Bulakites, Emma W17 33:24.9 6 Smith, Emily W16 40:01.7 7 McCain, Peyton W16 40:19.4 8 Mulholland, Shannon W17 41:13.2 9 Karcz, Jessie W18 43:47.5 10 Conaway, Lauren W16 49:02.0 11 Putt, Delaney W16 50:38.5 12 Hendrix, Mackenzie W16 50:38.9 13 Gemmell, Sydney W19 55:47.5 20-29 Results - Women 5000 Run 1 French, Liz W24 24:17.7 2 Taylor, Stephanie W22 26:22.6 3 Quirin, Samantha W28 30:44.2 4 Griffiin, Sadie W28 38:30.7 5 McCormick, Maggie W24 38:36.1 6 Hollasch, Alex W29 39:23.9 7 Meador, Andrea W25 40:01.4 8 Salas, Gabi W26 51:32.7 9 Stenger, Gena W24 56:16.4 10 Sunkel, Jordan W24 56:45.0 30-39 Results - Women 5000 Run 1 Markovic, Maria W36 27:54.4 2 Nolan, Stacy W38 30:59.0 3 Parsons, Sarah W36 31:44.8 4 Lewis, Jessica W31 32:50.9 5 McConville, Emily W32 34:16.3 6 Meliones, Caroline W30 35:08.2 7 Whetham, Erin W30 35:09.6 8 Weddle, Sarah W32 42:48.3 9 Wojtyniak, Michelle W33 43:03.6 10 Harkins, Carly W35 51:33.0 11 Anderson, Kate W30 52:33.1 12 Buechli, Elizabeth W30 52:33.4 13 Lakarosky, Sara W35 52:33.7 14 Vanderhoof, Ashleigh W35 55:43.9 15 Walsh, Mary kate W34 56:12.7 16 Newton, Tessa W33 56:45.7 40-49 Results - Women 5000 Run 1 Pedulla, Heather W40 24:36.5 2 Martin, Maria W44 27:32.6 3 Scott, Ellen W45 29:22.8 4 Wolf, Laura W47 29:59.2 5 Bulakites, Mary W49 33:10.3 6 Schwartz, Michele W42 36:21.1 7 Mead, Alyssa W44 36:38.4 8 Bull, Michele W44 36:41.7 9 Jones, Laurie W42 37:05.8 10 Cozzolino, Kari W49 37:19.5 11 Stanton, Kristin W49 38:10.6 12 Shatto, Colette W42 43:15.6 13 Hoffacker, Maria W48 56:21.1 14 Gemmell, Jayme W40 57:13.2 15 Singer, Michelle W49 57:25.3 16 Barrows, Deborah W48 57:49.5 50-59 Results - Women 5000 Run 1 Klausmeyer, Jennifer W51 35:09.9 2 Williamson, Margaret W54 35:46.0 3 Szydlowski, Lorraine W58 36:18.0 4 Bohn, Diane W56 37:17.2 5 Rubinstein, Diane W57 37:25.4 6 gillen, laura W53 38:10.3 7 Griffin, Meg W56 38:30.4 8 Slagle, Amy W53 39:58.2 9 Taylor, Betsy W53 41:13.6 10 Belanger, Rose W53 43:47.0 11 Neubecker, Melissa W52 48:36.3 12 Bosnic, Brenda W58 56:44.1 13 Sadacca, Amy W53 57:23.6 14 LeVee, Susan W51 57:24.0 15 Regan, Patricia W59 57:24.3 16 Stecher, Terri W51 57:25.6 17 Linthicum, Karen W57 57:49.0 18 Costolo, Kim M54 58:59.4 19 Krebs, Susan W57 1:00:03.4 60+ Results - Women 5000 Run 1 Westervelt, Debbie W63 48:59.8 2 Snodgrass, Pat W62 49:01.4 3 Williston, Nancy W61 58:12.6 4 Johnson, Lisa W62 58:14.1 5 Bastress, Diane W70 1:00:03.9 12 & Under Results - Men 5000 Run 1 Rodoff, Garrett M11 22:56.4 2 Butler, Ronan M11 24:13.6 3 Cozzolino, Cade M12 33:52.5 4 Schneider, Christopher M10 35:22.8 5 Schneider, Patrick M9 36:21.3 6 Luo, Maxwell M7 41:10.7 7 Vanderhoof, Jaxon M8 41:53.8 8 Vanderhoof, Brody M4 55:46.7 13-15 Results - Men 5000 Run 1 Mellstrom, Matthew M15 19:03.2 2 Armstrong, Sean M15 20:13.2 3 Epler, Tristan M15 20:58.7 4 Shatto, Jacob M14 25:43.7 5 Phillips, Jordan M15 25:53.9 6 Musser, Ben M13 30:22.0 7 Connolly, Sean M15 34:57.7 8 Gemmell, Tyler M15 55:46.2 16-19 Results - Men 5000 Run 1 Rodoff, Darren M16 19:14.6 2 Burrows, Ryan M17 20:44.1 3 Williamson, Thomas M16 23:18.7 4 Butler, Reilly M19 27:23.6 5 Shatto, Zachary M17 30:07.1 6 Rubinstein, Sam M17 31:00.2 7 Connolly, Ryan M17 32:16.0 8 Finnamore, John M19 55:48.0 20-29 Results - Men 5000 Run 1 Costabile, Craig M23 23:02.9 2 Markosky, Benjamin M26 23:15.0 3 Rubinstein, Eric M23 24:08.0 4 Burrows, Kyle M20 24:29.4 5 Taylor, Joe M24 25:35.8 6 Hollasch, Rob M29 26:13.1 7 Meliones, Keith Cuttone M27 26:15.0 8 McCarthy, Eddie M24 26:21.7 9 Mathas, Robbie M29 33:25.1 10 Gosnell, Michael M22 34:22.9 11 Bulakites, Connor M25 41:11.4 12 Smith, Jonathan M27 56:20.5 30-39 Results - Men 5000 Run 1 O'Brien, Steve M32 22:24.7 2 Pierce-Williams, Jamie M36 24:29.1 3 Chiaramonte, Matt M31 24:35.0 4 Whetham, Kevin M33 26:22.2 5 Drury, John M32 26:50.4 6 Chiaramonte, Michael M35 30:06.4 7 Kane, Mike M39 32:50.3 8 Vanderhoof, Ben M34 41:43.6 9 Pepin, John M35 42:30.6 10 Espinoza, Luis M34 51:26.1 11 Walsh, Mike M35 56:12.4 12 Newton, Tim M32 56:45.4 40-49 Results - Men 5000 Run 1 Burns, Kevin M48 20:44.4 2 Simon, Daniel M43 22:11.4 3 Fuhr, Adam M43 25:51.9 4 Seekford, Mac M46 26:52.4 5 Seekford, Kirk M44 27:54.7 6 Rea, William M49 31:15.0 7 Williamson, George M45 31:35.9 8 Eisenklam, Michael M43 34:23.3 9 Elburn, Jeff M41 34:55.4 10 Schneider, Michael M43 36:38.2 11 Shatto, Andrew M43 43:18.1 12 DeMay, Brian M48 48:52.6 13 Gemmell, Paul M48 57:12.8 50-59 Results - Men 5000 Run 1 Mulholland, Jim M50 22:44.7 2 Kohr, Scott M55 23:14.8 3 Wilmore, Michael M54 27:50.9 4 McCormick, Dennis M53 28:22.8 5 Armstrong, David M52 28:56.4 6 Burns, Gregory M57 29:57.7 7 Taylor, Ross M54 30:12.9 8 Butler, Michael M55 31:44.5 9 Kasper, Tom M59 32:40.0 10 Rubinstein, Rich M55 37:21.4 11 Willey, Robert M58 37:46.6 12 gillen, tom M54 37:58.2 13 Preis, Michael M54 38:36.2 14 Butler, Patrick J. M52 38:50.8 15 Kenny, John M54 43:18.4 16 Neubecker, Ken M53 48:36.8 17 Singer, Ed M52 56:21.8 18 Stecher, Will M56 58:13.1 19 Krebs, Mark M57 59:01.1 60+ Results - Men 5000 Run 1 Meliones, Keith M63 26:21.2 2 Hartson, James M61 29:56.0 3 McConville, Michael M62 30:37.0 4 Barnett, Bob M66 37:25.6 5 Bastress, Bob M72 1:00:03.0