C2 Celtic Canter 2016
C2 Celtic Canter 2016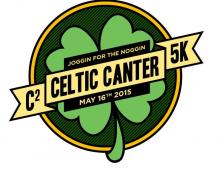 Join us for our 2nd Annual Celtic Canter on May 14, 2016 to help us raise money for Cathy Chiaramonte, Cade Wineke, and brain cancer research.
Cathy Chiaramonte was diagnosed with a brain tumor in February 2015 and is thriving from last year's race support and the continual care from her family and community.
Cade Wineke, who will be turning 2 years old soon, was recently diagnosed with a brain tumor. We would like to support the Wineke family with Cade's journey to reco...very and good health!
Register at the link below. This year, the EES Spring Festival will follow the 5K and mile run and will continue the race day festivities. The Spring Festival is hosted by the EES PTA, a major supporter and partner of the 5K team.
Please help us spread the word about this event by sharing the link to the registration site on your page. With everyone's help, we can match or exceed our registration numbers from last year. Thanks!!!
http://www.imathlete.com/events/EventDetails.aspx?fEID=36801
Eldersburg Rogue Runners Hy-Tek's MEET MANAGER 11:16 AM 5/14/201 C2 Celtic Canter 2016 - 5/14/2016 EES Sykesville MD Rankings Event 1 Mixed 5k Run RR ======================================================================= Name Age School Finals Points ======================================================================= Top Female Finisher 1 Cline, Laura W32 22:34.9 Top Male Finisher 1 Rodoff, Darren M15 20:04.3 2-10 Results - Women 5000 Run 1 Hayunga, Ashley W8 28:52.6 2 Unger, Sophia W9 31:32.1 3 Seligman, Elyse W10 32:21.4 4 Schneider, Kamryn W6 38:36.5 5 Willson, Liliana W9 41:48.5 6 DeMay, Madelyn W9 43:28.5 7 Connolly, Kerry W9 52:29.9 11-15 Results - Women 5000 Run 1 Mulholland, Erin W13 25:21.5 2 Harpine, Caitlynn W15 27:35.0 3 Musser, Erin W15 29:19.0 4 Bull, Alexandra W13 29:33.1 5 Sutherland, Morgan W14 31:59.1 6 Cohen, Jenna W11 35:33.2 7 Ptak, Sierra W15 36:32.3 8 Mulholland, Caitlin W14 37:35.5 9 Bull, Mikayla W14 38:09.0 10 Mullineaux, Karleigh W14 38:16.1 11 Knill, Cassidy W13 39:22.0 12 Conaway, Lauren W15 53:05.7 13 Putt, Delaney W15 53:06.4 14 Hendrix, Mackenzie W15 53:13.3 15 Smith, Emily W15 53:27.7 16 Williamson, Emma W14 54:39.3 16-19 Results - Women 5000 Run 1 Bost, Kasey W18 25:30.1 2 Hertz, Valerie W19 25:30.9 3 Murphy, Julia W17 25:31.2 4 Arndt, Cassandra W18 25:54.3 5 Hittel, Christina W16 32:06.5 6 Cronin, Jess W16 32:20.4 7 Charikofsky, Christina W17 32:20.9 8 Simon, Abby W17 32:50.1 9 Kraus, Emily W17 32:56.8 10 Kelsh, Molly W19 43:22.2 11 Bulakites, Emma W16 44:35.2 12 Catlin, Kayla W17 50:34.3 13 Catlin, Kendall W16 51:16.5 14 Leonard, Sara W17 55:57.4 15 Ball, Carolyn W16 55:58.5 20-29 Results - Women 5000 Run 1 Bost, Sammy W20 25:30.5 2 French, Liz W23 26:18.2 3 Hollasch, Alexandra W28 28:40.7 4 Skrincosky, Ananda W29 29:07.0 5 Olsen, Emily W27 29:58.9 6 Sutherland, Lauren W23 32:14.3 7 Hof, Nicole W29 34:30.8 8 Quirin, Samantha W27 36:00.8 9 Harrison, Callie W28 40:10.1 10 Waterman, Jacqueline W25 43:29.0 11 Butler, Emily W20 49:47.0 12 Powell, Christina W29 52:08.0 13 Knill, Felicia W25 52:11.0 14 Hunt, Rachel W20 54:40.6 15 Martin, Terre W27 55:41.3 16 Czajkowski, Christy W21 56:17.7 17 Chatfield, Melinda W27 58:08.0 18 Sunkel, Jordan W23 59:08.8 19 Krebs, Caitlin W25 59:37.9 20 Locklear, Lauren W28 59:37.9 21 Krebs, Stacey W28 59:37.9 30-39 Results - Women 5000 Run 1 Cecil, Bridget W37 24:10.7 2 Farrell, Jillian W33 24:24.3 3 Wood, Lisa W35 25:42.0 4 Butler, Jennifer W37 26:42.2 5 Humphreys, Liz W35 27:59.8 6 Sandoval, Krista W30 29:22.9 7 McConville, Emily W31 29:47.7 8 Niver, Cynthia W37 30:27.6 9 Dougherty, Tifani W32 30:38.2 10 Sanders, Cheemen W35 31:56.3 11 Lewis, Jessica W30 33:18.9 12 Nolan, Stacy W37 33:45.9 13 Comes, Kerry W30 34:55.8 14 Tribbitt, Katie W33 36:42.0 15 Wojtyniak, Michelle W32 38:31.8 16 Parsons, Sarah W35 38:37.8 17 Lisiewski, Liz W36 48:58.9 18 Butler, Meghan W30 54:41.8 19 Kelley, Erin W33 57:13.9 20 White, Heather W35 59:36.9 40-49 Results - Women 5000 Run 1 Shatto, Colette W41 25:32.1 2 Armstrong, Sisou W42 26:55.7 3 Hillis, Krista W44 28:23.1 4 Graham, Lynn W49 28:57.1 5 Bull, Michele W43 30:36.0 6 Willis, Audrey W41 31:24.4 7 Holcombe, Michele W44 32:03.9 8 Bowling, Karen W48 34:36.3 9 Cohen, Amy W41 35:53.0 10 Mead, Alyssa W44 36:15.2 11 Jones, Laurie W41 36:17.1 12 Cozzolino, Kari W48 38:56.0 13 Holmes, Alisa W42 39:07.1 14 Bulakites, Mary W48 39:23.2 15 Iannone, VJ W45 39:30.2 16 Seligman, Kendra W40 44:50.6 17 Mower, Tricia W45 49:12.5 18 Butler, Kelly W41 50:20.6 19 Knill, Debbie W49 53:28.3 20 DeShong, Julie W45 55:12.5 21 Boone, Brenda W46 55:31.5 22 Miller, Michelle W47 55:41.9 23 DeMay, Carolyn W48 55:56.0 24 Mullineaux, Petra W44 57:16.5 25 Singer, Michelle W48 59:09.3 26 Mussari, Regina W49 59:37.9 50-59 Results - Women 5000 Run 1 Spinoso, Doreen W57 31:15.9 2 Butler, Jean W52 32:13.2 3 Pentz, Rose W55 32:44.2 4 Hertz, Stacey W51 32:57.7 5 Klausmeyer, Jennifer W50 33:03.8 6 Harvatine, Dawn W54 33:12.3 7 Ruark, Debbie W59 35:03.5 8 Bohn, Diane W55 36:13.3 9 O'Brien, Deb W53 39:50.7 10 Foster, M Dona W54 43:23.5 11 Castillo, Andrea W55 44:54.0 12 Mayo, Jeanne W52 45:10.9 13 Harrigan, Diana W51 49:11.4 14 Bowersox, Jayne W54 52:08.4 15 Connolly, Mary Beth W52 52:29.4 16 Belanger, Rose W52 53:04.9 17 Horn, Ann W54 54:25.5 18 Hunt, Brenda W55 54:40.2 19 Slagle, Amy W52 55:56.3 20 Wineke, Sherry W59 56:19.1 21 Watson, Ava W50 57:34.3 22 Mussari, Mary W51 59:37.9 23 Grella, Denise W51 59:37.9 60+ Results - Women 5000 Run 1 Pfaff, Margaret W67 33:23.1 2 Spears, Patty W62 51:17.1 3 Chatfield, Bonnie W61 55:32.0 2-10 Results - Men 5000 Run 1 Butler, Ronan M10 24:34.5 2 Rodoff, Garrett M10 26:29.8 3 Lisiewski, Braeden M9 30:18.0 4 Ruane, Conor M6 31:23.9 5 Mower, Adam M10 32:22.0 6 Schneider, Konnor M8 44:22.7 7 Schneider, Christopher M9 46:57.5 8 Schneider, Patrick M8 48:56.7 9 Vanderhoof, Brody M3 59:36.2 11-15 Results - Men 5000 Run 1 Mower, Hogan M15 20:34.7 2 Williamson, Thomas M15 23:11.0 3 Arndt, Ethan M14 23:19.3 4 Simon, Nicholas M15 23:30.7 5 Born, Matthew M15 23:39.7 6 Bulakites, Jack M15 23:40.8 7 Epler, Tristan M14 24:20.9 8 Shatto, Jacob M13 25:13.5 9 Rekus, Joseph M15 25:34.7 10 Diehl, Jacob M15 26:20.2 11 Harrigan, Mick M15 26:24.3 12 Butler, Eian M13 29:25.0 13 Flannery, Tyler M12 29:27.2 14 Ciampaglia, Cameron M15 30:43.0 15 Parris, Michael M15 31:25.0 16 White, Alex M15 31:25.7 17 Smoot, Trent M15 31:33.7 18 Will, Brandon M15 31:34.6 19 DeShong, Andrew M12 31:43.7 20 Cozzolino, Ryan M13 35:58.6 21 Cozzolino, Cade M11 38:10.4 16-19 Results - Men 5000 Run 1 Hertz, Heyden M16 20:06.4 2 Burrows, Ryan M16 21:05.9 3 Carr, Andrew M17 22:32.1 4 Burrows, Kyle M19 24:08.3 5 Wagner, Derek M17 27:02.4 6 Shatto, Zachary M16 32:45.7 7 Czajkowski, Nick M17 56:18.4 20-29 Results - Men 5000 Run 1 Wineke, Tim M26 22:21.2 2 Mew, Connor M23 23:06.1 3 Markosky, Benjamin M25 25:09.7 4 Jackson, Steve M27 28:00.9 5 Gosnell, Michael M21 29:47.2 6 Swartz, Brad M29 31:14.2 7 Selley, Kevin M23 32:19.7 8 O'Brien, Steve M29 32:30.9 9 Butler, Joe M22 33:30.7 10 Bulakites, Connor M20 38:40.5 11 Harrison, Ryan M29 40:00.4 12 Krebs, Brian M26 59:37.9 30-39 Results - Men 5000 Run 1 Pepin, John M34 24:04.0 2 Smith, Brian M37 26:38.9 3 Giese, John M36 27:47.7 4 Chiaramonte, Michael M34 32:12.1 5 Stine, Jay M35 34:09.3 6 Haripuram, Hari M37 38:38.5 7 Powell, Eric M30 51:51.4 8 White, Sean M32 56:47.8 9 Kelley, Damon M36 56:48.9 10 Vanderhoof, Ben M33 59:25.1 40-49 Results - Men 5000 Run 1 Burns, Kevin M45 21:28.9 2 Simon, Daniel M42 21:34.1 3 Evans, Brad M46 22:50.4 4 Mulholland, Jim M49 22:54.6 5 Fuhr, Adam M42 26:46.6 6 Tysinger, David M43 27:03.4 7 Unger, Henry M40 31:31.8 8 DeShong, Roger M47 31:43.3 9 Eisenklam, Mike M42 34:25.0 10 Cozzolino, David M47 36:04.7 11 Bowling, James M46 37:20.6 12 Willson, David M49 40:10.5 13 Shatto, Andrew M42 41:53.6 14 Catlin, Robert M49 54:31.0 15 Williamson, George M44 54:39.7 50-59 Results - Men 5000 Run 1 Hertz, Carl M53 22:39.8 2 Fitzgerald, Mike M54 27:18.4 3 Burns, Greg M56 28:24.5 4 Butler, Michael M54 30:33.5 5 Kasper, Tom M58 32:22.6 6 Hassien, Michael M55 35:20.0 7 Pullen, Gary M54 37:01.5 8 Butler, Joseph M56 38:12.6 9 Mongold, Donald M50 43:27.9 10 Bull, Nelson M55 43:29.6 11 MacGregor, Sean M51 44:49.4 12 Mayo, Bob M51 46:57.1 13 Harrigan, Mike M52 49:12.0 14 Bowersox, Steve M52 52:10.5 15 Kenny, John M53 53:04.1 16 Krebs, Mark M56 57:17.2 17 Welsh, Terrence M56 57:34.9 18 Singer, Ed M51 59:02.7 60+ Results - Men 5000 Run 1 Chiaramonte, Paul M61 31:14.9 2 McConville, Michael M61 31:44.3 3 Wineke, Randy M60 38:17.6 4 Spears, Howard M63 51:18.0 5 Hastings, Richard M71 55:13.0 6 Gardner, Wayne M62 56:19.8