2016 Run of the Century
2016 Run of the Century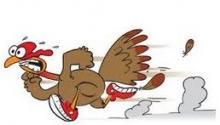 Join us for this 5K Road Race to benefit Century High School Athletics and Juvenile Diabetes! Good Race to start the Turkey Season!
5K starts at 8:45AM and 1 Mile Run starts at 9:30 AM
Pre register on Active or mail registration form  $25.00   T-shirt guaranteed for pre-registered. Pre registrations must be post marked before November 1,2016
Race day registration will be at 8:00 am. Shirts are not guaranteed so PRE REGISTER! A very limited supply of shirts are available. 
Pre registration and packet Pick up  Friday November 18th 5-7 pm at Tri Sport Junction , 7568 B Main Street, Sykesville MD.   10% discount on purchases, to all pre-registrants during packet pick-up.  
Eldersburg Rogue Runners Hy-Tek's MEET MANAGER 10:04 AM 11/19/20 Run of the Century - 11/19/2016 Century High School Rankings Event 1 Mixed 5k Run RR ======================================================================= Name Age School Finals Points ======================================================================= Top Overall 1 Herbert, Trever M17 18:32.7 1 Stick, Sherry W38 18:41.2 12 & Under Results - Women 5000 Run 1 Leimkuhler, Allison W11 24:32.6 2 Firor, Nadya W12 25:41.8 3 Hollenberger, Brynn W11 26:55.8 4 Guzman, Mikayla W8 35:32.5 5 Grayson, Kinaya W9 36:36.4 6 Garnett, Tanell W9 38:30.7 7 Ray, Lakelynn W8 38:40.2 8 Charles, Amaya W9 39:21.1 9 Chilimindris, Leah W9 39:54.4 10 Edwards, Monet W8 40:53.5 11 Jenkins, Kristan W9 41:15.3 12 Vinencie, Madelyn W10 42:20.9 13 Quick, Alyssia W9 42:22.9 14 Crauly, Erika W 42:32.8 15 Harried, Jabra W9 42:33.2 16 Badger, Priscilla W9 42:43.6 17 Sulibhavi, Naman W9 42:44.6 18 Mughal, Rabiya W9 42:45.1 19 Shah, Prisha W9 42:45.6 20 Kaur, Ramneet W9 43:39.7 21 Bond, Greta W9 44:36.5 22 Ford, Davia W9 45:55.9 23 Martin, Alyssa W12 46:16.2 24 Martin, Kayla W8 46:19.3 25 Shah, Haeli W10 47:16.5 26 Rajani, Isha W11 47:18.4 27 Sanyi, Nathania W8 48:25.3 28 Gonzalez, Jennyfer W9 48:26.7 29 Corley, Camryn W10 48:49.9 13-15 Results - Women 5000 Run 1 Jordan, Emme W13 22:03.7 2 Everton, Allison W15 22:51.6 3 Leimkuhler, Isabelle W15 24:12.8 4 Leimkuhler, Erika W13 25:41.5 5 Mower, Emilia W13 30:24.8 6 Heller, Sophia W15 35:15.3 7 Malin, Samantha W14 46:02.5 16-19 Results - Women 5000 Run 1 Thomas, Amelia W17 26:30.8 2 Heller, Allison W17 35:00.1 20-29 Results - Women 5000 Run 1 Linde, Maura W23 19:53.5 2 Debinski, Rebecca W20 21:36.4 3 Smink, Cassandra W23 23:15.6 4 Putterman, Kimberly W28 26:35.6 5 Painter, Katlyn W24 30:24.0 6 Sadri, Alaleh W26 39:19.2 7 Williams, Rachael W27 40:12.3 30-39 Results - Women 5000 Run 1 Rhodes, Becky W37 20:53.0 2 Duvrovich, Joy W37 26:47.73 3 Lavelle, Erin W38 28:42.7 4 Guilfoyle, Rachel W33 28:57.1 5 Niver, Cindy W37 29:58.8 6 Godman, Denise W33 33:00.8 7 Guzman, Angie W35 35:32.8 8 Hache, Maria W31 39:11.4 9 Lacko, Jesse W31 39:19.7 10 Hofferbert, Ashley W30 39:54.8 11 Oland, Michelle W33 40:30.5 12 Vicencio, Christine W37 42:20.6 13 Figola, Meagan W34 42:41.0 14 Moser, Becky W34 46:09.5 15 Harrison, Danielle W32 49:59.0 40-49 Results - Women 5000 Run 1 Pedulla, Heather W40 25:38.6 2 Pellicciotti, Vicki W46 25:44.4 3 Leimkuhler, Sherri W45 26:43.7 4 Armstrong, Sisou W43 26:49.1 5 Dercola, Pamela W41 30:36.0 6 Huber, Lisa W45 30:37.8 7 Brunner, Sharon W48 33:18.7 8 Bresnahan, Sandra W49 33:53.6 9 Remeikis, Nikki W44 36:10.9 10 Mead, Alyssa W44 38:40.6 11 Fava, Sharon W48 38:43.1 12 Rajani, Keylin W42 47:18.9 13 Corley, Christy W44 48:51.8 50-59 Results - Women 5000 Run 1 Capria, Marcia W54 27:00.9 2 Williams, Elizabeth W58 27:06.6 3 Tolley, Mary W51 28:26.3 4 Berman, Stacey W53 28:31.9 5 Wolman, Margot W52 30:14.8 6 Kurtenbach, J W50 32:10.9 7 Harvatine, Dawn W54 33:01.6 8 Spinoso, Doreen W58 36:43.7 9 Spencer, Vickie W55 37:32.0 10 Wilson, MaryEllen W56 39:37.4 60+ Results - Women 5000 Run 1 Shand, Phyllis W67 36:42.6 12 & Under Results - Men 5000 Run 1 Fleming, Ryan M11 23:40.5 2 Hagan, Anthony M12 23:46.7 3 Hiebler, Ryan M11 24:59.4 4 Lavelle, Salvatore M9 26:00.7 5 Lavelle, Dario M6 26:43.0 6 Swisdak, Owen M10 27:54.1 7 Mower, Adam M11 32:45.6 8 Robbins, James M8 44:36.1 9 Rajani, Nishil M8 47:08.9 13-15 Results - Men 5000 Run 1 Lucas, Jake M13 19:59.6 2 Hiebler, Ben M13 20:51.5 3 Pellicciotti, Michael M13 21:41.7 4 Hollenberger, Brett M14 21:43.7 5 Shatto, Jacob M13 23:31.3 6 Petenbrink, Luke M13 24:08.4 7 Panagiotopoulos, Niko M15 24:18.1 8 Firor, Andrei M15 27:47.3 9 Fleming, Andrew M14 27:56.9 16-19 Results - Men 5000 Run 1 Grapenhoff, Joe M16 22:41.6 2 Fleming, James M16 27:51.8 3 Romero, Francisco M19 28:22.6 4 Malin, Joseph M17 32:12.0 20-29 Results - Men 5000 Run 1 Lawler, Tommy M27 26:42.4 2 Spencer, Nick M29 32:25.7 30-39 Results - Men 5000 Run 1 Roy, Kevin M36 21:16.3 2 Metzger, Justin M35 23:25.6 3 Guilfoyle, Nate M37 23:41.6 4 Titus, Matthew M38 24:43.3 5 Schaum, Jason M35 25:22.4 6 Galli, Frank M31 25:58.7 7 Moats, Francis M32 27:20.1 8 Edwards, Shawn M37 50:00.1 40-49 Results - Men 5000 Run 1 Miller, Ken M48 22:22.5 2 Leimkuhler, Matt M44 22:30.8 3 Pedulla, Marc M46 22:35.5 4 Hagan, Michael M44 23:47.3 5 Huber, Mark M46 26:30.2 6 Hollenberger, Rod M49 26:56.2 7 Painter, Keith M49 27:15.0 8 Swisdak, Stephen M41 28:27.7 9 Petenbrink, Mark M47 29:25.6 10 Wood, Mark M48 31:56.7 11 Pangburn, Russ M46 32:18.0 12 Mower, Clifton M48 32:55.4 13 Hillis, Jack M48 33:05.8 14 Bishop, Joseph f M47 36:11.2 15 Grayson, Warren M40 36:36.8 16 Fleming, Douglas M46 38:46.6 17 Quick, Derek M47 42:48.9 18 Dumay, Carelyn M46 46:10.2 50-59 Results - Men 5000 Run 1 Degenhardt, Sheldon M51 19:28.6 2 Thomas, Mark M53 24:52.2 3 Turgeon, Andy M54 25:43.4 4 Crisp, Simon M50 26:02.4 5 Arbelaez, Bill M59 26:13.6 6 Capria, Steven M53 27:01.4 7 Armstrong, David M52 27:50.0 8 Ledbetter, Paul M52 28:07.6 9 Holt, Robert M59 28:17.8 10 Balch, David M51 28:51.5 11 Wandishin, John M56 29:20.1 12 Debinski, Mark M51 32:53.5 60+ Results - Men 5000 Run 1 Bafford, Ted M63 27:35.3