14th Annual Labor Day Race
14th Annual Labor Day Race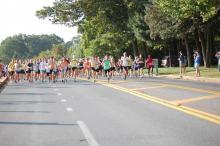 The Labor Day Race is the Eldersburg Rogue Runners primary fundraiser. Please enjoy this event and help us continue to support our area runners, walkers and bike riders.
ERR  provides opportunities for group runs, training, scholarships, community service opportunities, community event support, and Youth Track and Cross Country Programs.
5K/10K Starts  8:30 AM 1 Mile is immediately after about 9:15 AM. 
Packet Pick up and registration will be available ( Cash, Check, Credit Card) Saturday 9/2 at 2-5 PM and Sunday 9/3 at 11AM - 2 PM At Tri Sport Junction 7568 Main St , Sykesville. 10% discount on purchases, to all pre-registrants during packet pick-up.  Packet pick up and registration will also be available Race Day at 7:30 AM( Cash, Check, or Credit Card)
​Online Registration: http://www.itsyourrace.com/event.aspx?id=9571
Eldersburg Rogue Runners
Hy-Tek's MEET MANAGER  2:48 PM  9/4/2017  Page 1
Labor Day Rogue Race 2017 - 9/4/2017
Liberty High School
Rankings
Event 1  Mixed 5k Run RR
=======================================================================
    Name                     Age School                  Finals  Points
=======================================================================
Top 3 Women
  1 Rhodes, Becky            W37                        20:27.7
  2 Machiesky, LeeAnn        W38                        20:43.9
  3 Plitt, Jennifer          W41                        21:43.7
Top 3 Men
  1 Blassino, Adolfo         M21                        16:35.8
  2 Nevius, Ben              M14                        18:41.8
  3 Kraus, Caleb             M27                        20:40.2
10 & Under Results - Women 5000 Run
  1 Hayunga, Ashley          W10                        26:48.9
  2 Walsh, Caroline           W8                        27:15.4
  3 Plitt, Carlie            W10                        32:21.3
  4 Katcoff, Ariella          W8                        34:10.9
  5 Plitt, Cassie             W7                        43:19.2
  6 Rubin, Paige              W9                        43:38.1
  7 Naill, Thora              W9                        59:39.9
11-15 Results - Women 5000 Run
  1 Leimkuhler, Allison      W12                        22:45.7
  2 Lucas, Isabelle          W12                        22:49.6
  3 Firor, Nadya             W13                        26:56.7
  4 Hawkins, Jillian         W11                        28:53.7
  5 Seligman, Elyse          W11                        28:55.8
  6 Gauthier, Rebecca        W12                        30:26.7
  7 White, Lanc-a-lot        W14                        33:31.3
  8 Katcoff, Wriley          W11                        42:36.9
  9 Hayunga, Julia           W12                        43:05.0
16-20 Results - Women 5000 Run
  1 Leimkuhler, Isabelle     W16                        24:58.3
  2 Ledbetter, Nina          W18                        26:05.7
21-25 Results - Women 5000 Run
  1 Sullivan, Casey          W23                        23:32.8
26-30 Results - Women 5000 Run
  1 Griffith, Katie          W30                        34:03.6
  2 Griffith, Rachel         W30                        35:53.6
36-40 Results - Women 5000 Run
  1 Walsh, Michelle          W39                        27:15.9
  2 Boer, Jennifer           W40                        28:54.2
  3 Lavelle, Erin            W39                        29:55.6
  4 Hayunga, Michele         W37                        30:18.1
  5 Rubin, Tennile           W40                        31:21.7
  6 Fischer, Laura           W36                        33:50.0
  7 Isacco, Martha           W39                        34:08.8
  8 Miller, Amanda           W38                        36:31.3
  9 Katcoff, Robin           W39                        36:51.7
41-45 Results - Women 5000 Run
  1 Shatto, Colette          W43                        25:03.2
  2 Sullivan, Shannon        W42                        27:32.7
  3 Hillis, Krista           W45                        28:47.2
  4 Nugent, Patricia         W45                        38:51.2
  5 Swartzfager, Deanna      W43                        40:00.1
  6 Kilby, Holly             W43                        59:05.3
46-50 Results - Women 5000 Run
  1 Batees, Renee            W50                        22:07.9
  2 Everton, Andrea          W49                        27:10.9
  3 Livesay, Patrice         W49                        32:49.6
  4 Brocious, Tracey         W49                        33:52.9
  5 Fitzgerald, Kim          W46                        35:13.0
  6 Mobley, Sherry           W46                        37:44.1
  7 Lannone, VJ              W46                        39:45.8
  8 Hendricks, Liz           W46                        43:29.2
51-55 Results - Women 5000 Run
  1 Sipocz, Patricia         W54                        25:36.2
  2 Vander Linden, Caree     W52                        30:54.5
  3 Wolman, Margot           W53                        31:30.1
  4 Bloom, Miriam            W55                        32:20.9
  5 Fiorelli, Tina           W54                        33:52.4
  6 Mason, Rebecca           W51                        35:03.0
  7 Millison, Jill           W52                        35:57.5
  8 Young, Patricia          W53                        37:56.2
  9 Gaffney, Susan           W52                        39:13.7
56-60 Results - Women 5000 Run
  1 Ausfresser, Terri        W58                        31:14.1
61-65 Results - Women 5000 Run
  1 Violette, Cindi              W63                        41:10.4
66-70 Results - Women 5000 Run
  1 Pickett, Cheryl          W67                        55:11.7
10 & Under Results - Men 5000 Run
  1 Walsh, Bennett           M10                        21:56.4
  2 Boer, Gavin              M10                        22:47.0
  3 Burkhouse, Aiden          M8                        24:49.9
  4 Lavelle, Dario            M7                        24:51.1
  5 Kowalewski, Evan         M10                        25:47.1
  6 Martin, Colin             M9                        27:10.3
  7 Unknown, Unknown          M2                        30:16.4
  8 Rhodes, Lucas             M8                        30:32.2
  9 Livesay, Cameron          M6                        32:03.3
11-15 Results - Men 5000 Run
  1 Shatto, Jacob            M14                        22:36.3
  2 Weiner, Jacob            M12                        23:12.4
  3 Hagan, Anthony           M13                        24:29.1
  4 Fleming, Ryan            M12                        25:34.0
  5 Bloom, Sam               M15                        25:48.3
  6 Petenbrink, Luke         M14                        26:26.3
  7 Swisdak, Owen            M11                        27:25.5
  8 Firor, Andrir            M15                        28:01.3
  9 Martin, Michael          M11                        28:48.3
 10 Martin, James            M14                        32:42.2
 11 Young, Kyle              M11                        37:54.7
 12 Hendricks, Carter        M11                        40:42.3
 13 Rubin, Dylan             M11                        41:01.6
16-20 Results - Men 5000 Run
  1 Gauthier, Daniel         M16                        22:37.8
  2 Shatto, Zachary          M17                        22:43.6
  3 White, Ethor             M16                        26:33.3
  4 Fleming, James           M17                        49:00.7
21-25 Results - Men 5000 Run
  1 Dangel, Alex             M21                        26:13.8
26-30 Results - Men 5000 Run
  1 Taylor, Brian            M29                        26:12.7
31-35 Results - Men 5000 Run
  1 Seitz, Richard           M35                        22:37.4
  2 Cook, Tim                M31                        22:52.0
  3 Skees, James             M35                        36:07.2
36-40 Results - Men 5000 Run
  1 Szakmeister, John        M40                        25:04.4
  2 Walsh, Brian             M40                        26:03.2
  3 Fischer, Jason           M36                        30:41.2
  4 Katcoff, Jason           M39                        34:10.1
  5 Mergenthaler, Eric       M40                        34:14.1
41-45 Results - Men 5000 Run
  1 Leimkuhler, Matt         M45                        22:47.7
  2 Lucas, Matt              M42                        23:36.6
  3 Swisdak, Marc            M44                        23:39.2
  4 Boer, Mike               M41                        23:58.6
  5 Hagan, Michael           M45                        24:31.4
  6 Kowalewski, Matt         M43                        25:47.5
  7 Swisdak, Steve           M42                        27:46.7
  8 Rubin, Michael           M42                        31:50.7
  9 Tully, Gregory           M44                        32:11.9
 10 Barrow, T. Clay          M45                        39:46.3
46-50 Results - Men 5000 Run
  1 Brian Lawton          M47                       30:16.4 47 
  2 Hillis, Jack             M49                        31:38.8
  3 Fornadel, Bryan          M50                        32:55.7
  4 Opauski, Joe             M49                        38:29.7
  5 Fleming, Doug            M47                        49:02.0
  6 Nugent, Jimmy            M48                      1:04:04.4
51-55 Results - Men 5000 Run
  1 Turgeon, Andy            M55                        24:53.2
  2 Sullivan, Stephen        M52                        25:02.7
  3 Dangel, Ross             M54                        28:08.9
  4 Dugan, Patrick           M52                        28:46.6
  5 Gonzales, Carlos         M55                        29:12.0
  6 Holiday, Frank           M55                        29:20.7
  7 Balch, David             M52                        30:18.5
  8 Millison, Jim            M51                        32:06.0
56-60 Results - Men 5000 Run
  1 Lewis, Chris             M57                        24:01.4
  2 Katzen, Ronald           M59                        27:12.1
  3 Monaghan, Rick           M59                        27:54.4
  4 Holt, Robert             M60                        29:03.0
  5 Wandishin, John          M56                        29:35.6
61-65 Results - Men 5000 Run
  1 Sadler, Bruce            M61                        25:36.9
66-70 Results - Men 5000 Run
  1 Myslinski, Norbert       M70                        37:31.1
  Event 2  Mixed 10k Run RR
=======================================================================
    Name                     Age School                  Finals  Points
=======================================================================
Top 3 Women
  1 Stick, Sherry            W39                        38:47.1
  2 Hinton, Alyssa           W31                        47:57.3
  3 Morse, Kerri             W41                        48:52.9
Top 3 Men
  1 Klaschus, Matt           M30                        37:23.2
  2 Mead, Chris              M30                        38:48.4
  3 Clarke, Kyle             M16                        42:01.6
11‑15 Results ‑ Women 10000 Run
  1 Willson, Liliana         W11                      1:02:48.3
21‑25 Results ‑ Women 10000 Run
  1 Lins, Chloe              W21                        56:08.9
26‑30 Results ‑ Women 10000 Run
  1 Callaghan, Hannah        W29                        50:37.9
  2 White, Katie             W27                      1:03:41.6
31‑35 Results ‑ Women 10000 Run
36‑40 Results ‑ Women 10000 Run
  1 Dubrovich, Joy           W38                        54:41.8
  2 Swift, Tanya             W40                      1:03:33.7
  3 Woolford, Rebecca        W40                      1:05:32.6
41‑45 Results ‑ Women 10000 Run
  1 Martin, Maria            W44                        54:03.8
  2 Hamilton, Jennifer       W45                      1:00:24.2
  3 Stump, Karen             W42                      1:09:26.3
  4 Mead, Alyssa             W44                      1:12:20.5
46‑50 Results ‑ Women 10000 Run
  1 Young, Karen             W49                        50:23.5
  2 Leimkuhler, Sherri       W46                        55:00.3
  3 Grauel, Jaime            W48                      1:09:53.4
51‑55 Results ‑ Women 10000 Run
  1 Romeo, Loel              W53                        58:14.5
  2 Ledbetter, Kate          W54                      1:05:23.2
  3 Oshea, Argie             W53                      1:11:16.8
  4 Muller, janice           W51                      1:15:45.4
56‑60 Results ‑ Women 10000 Run
  1 Smink, Jean              W57                        57:53.2
  2 Swensen, Susan           W56                      1:03:06.2
61‑65 Results ‑ Women 10000 Run
  1 Whittington, Karen       W65                        57:52.8
10 & Under Results ‑ Men 10000 Run
  1 Lavelle, Salvatore       M10                        50:37.9
11‑15 Results ‑ Men 10000 Run
  1 Epler, Tristan           M15                        52:11.8
  2 Armstrong, Sean          M15                        53:58.9
  3 Grimelli, Matthew        M15                        53:59.4
16‑20 Results ‑ Men 10000 Run
21‑25 Results ‑ Men 10000 Run
  1 Kaste, Dan               M22                        45:54.5
26‑30 Results ‑ Men 10000 Run
  1 Ruppal, Jacob            M28                        42:50.5
31‑35 Results ‑ Men 10000 Run
  1 Guthland, Josiah         M32                        56:45.1
41‑45 Results ‑ Men 10000 Run
  1 Simon, Daniel            M43                        44:16.7
  2 Sfanos, Ben              M42                        50:06.0
  3 Marbut, Michael          M45                        54:15.4
  4 Guyer, Chris             M44                        54:38.7
  5 Diz, Richard             M43                        56:09.3
46‑50 Results ‑ Men 10000 Run
  1 Cohn, Matthew            M48                        55:43.1
  2 Stump, Doug              M49                      1:01:52.3
  3 Boyer, John              M48                      1:02:06.7
  4 Willson, David           M50                      1:03:05.7
  5 Weiner, Jeff             M47                      1:09:28.4
  6 Mead, Norman             M46                      1:14:34.2
51‑55 Results ‑ Men 10000 Run
  1 Pullen, Gary             M55                      1:08:47.8
56‑60 Results ‑ Men 10000 Run
  1 Russell, Paul            M56                        49:22.5
  2 Henretty, Jim            M57                        59:40.3
  3 Burns, Gregory           M57                      1:01:44.6
61‑65 Results ‑ Men 10000 Run
  1 Sharpe, Steve            M65                        47:55.1
66‑70 Results ‑ Men 10000 Run
  1 Jacobson, Joe            M70                      1:01:05.0